What Do I Need to Submit my Planning Application?
By Ken Dijksman published
Planning consultant Ken Dijksman explains what you'll need when submitting your planning application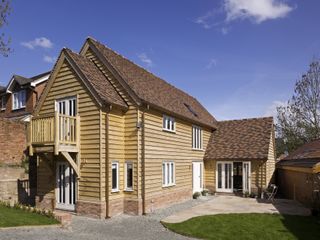 (Image credit: Jeremy Phillips c/o Border Oak)
To submit your planning application there are some items and details you will need to pull together.
This guide explains everything you need to know.
(MORE: Secrets to Planning Success)
Surveys and Specialist Consultants
Once you have chosen your designer, and have begun formulating ideas as to how you want your extension or self build to look and function, the next step is to work out what surveys you might need.
This may include site surveys, ecology surveys and TPO surveys, for instance — as well as specialist consultants you may need to bring on board.
1. A Site Survey
At the outset you will need a measured survey of the existing site or property as the plans you submit need to be absolutely accurate and to scale.
2. The Design
I would strongly recommend avoiding trying to produce the plans yourself, unless you're competent in computer-aided design (CAD). On that note, in my experience, CAD drawings are essential and the use of hand-drawn plans alone should be avoided. So, I will assume you have found someone to design your extension or new home, and you've worked together to come up with a design that you like, can afford, and that can be built.
3. Specialist Surveys
Some surveys need to be done before you can submit an application. For instance, you may need to provide technical evidence that you can satisfy foul and surface water drainage, and this may need on-site investigations filtration tests prior to submission of the application. You need to think whether any trees or protected species (such as bats) are affected. You may have to undertake a flood risk survey, too. So, you may need to employ specialist consultants to deal with these issues.
These consultant-led reports should be commissioned at the outset, so the design of the house or extension take into account any of these technical matters. But there is no point in instructing people to provide a report in support of a scheme if it is contrary to their professional advice.
It perhaps should go without saying but you need to have a fully functioning site with safe access in and out and good visibility splays (sightlines). Because visibility splays are different in different locations, you need to talk to your architect and perhaps a highways consultant.
Application Fees and Other Costs
Householder Application
This covers small-scale changes to a single private house, including extensions, loft conversions, outbuildings, and other alterations to a single domestic property.
Current Application fee: £206 / £202 in Scotland
Full Application
This is a detailed application for a new development, such as a single new house. The drawings typically include both existing and proposed, usually providing details of the intended drainage, access, parking, and the retention and protection of trees.
Current Application fee: £462 / £603 in Scotland
Outline Application
This is used to establish the principle of a development, without the need to submit all the details of what is proposed. This is normally used to avoid the expense of providing all the design details necessary for a scheme where the principal might still be in doubt.
Current Application fee: £462 per 0.1 of a hectare of the site area
Making a planning application is a risky business, and it becomes riskier the less you're prepared to spend. This is because accurate survey drawings and correct technical information don't come cheap, but they are a prerequisite to both getting permission and being able to build what you get permission for.
Cutting corners might save you a few pounds on getting consent, but if it transpires there are errors which mean it can't be built or developed this could be much more expensive longer term.
As well as the fee to pay for the application itself, there are other costs to factor in. It's difficult to quote numbers but your average specialist consultant's report is normally a couple of thousand pounds, and planning drawings for a new house are unlikely to be less than £3,000 and can stretch to £10,000+ for a large new house.
You are unlikely to make a planning application for a single dwelling for less than £25,000. An application for a modest domestic extension will be a lot less, around £2,000-£3,000.
(MORE: How to Get Planning Approval)
Items to Include in Your Application
The planning application (for an extension or single house) is submitted online and will consist of:
Application forms
Site plans: as existing and as proposed
Floorplans and elevations of the house, as existing and as proposed (this includes full drawings of any house you intend to demolish and replace)
Drainage information: in a town this may be very simple; in a rural area (in the absence of mains drains, for instance) you may need to demonstrate precisely and technically how you will deal with foul water drainage on site
Design & Access Statement (not usually required for householder applications but can be useful in some instances): this explains the rationale behind the design and siting of the new house and it describes the policies that apply and how it complies with them.
Possible supplementary information you will need to include:
Tree survey showing root protection zones
If you're demolishing any buildings that may contain bats or removing trees and developing ground that may have ecological value you will likely need an ecological survey
Community Infrastructure Levy forms. CIL is a tax on each square metre of new development, it only kicks in if you build 100m² or more of net additional floor area and it can generally be avoided on a new build if you obtain self build exemption. This means filling in various forms and following the process to the letter; there is no flexibility and no discretion. If you commence the development in any way prior to obtaining written confirmation of self build exemption and prior to serving formal notice of your intention to commence development, this exemption will be lost.
Continue reading this article
One-off payment: £4.99 for six months full access to The Planning Hub
The Planning Hub offers in-depth guides to planning permission in England, brought to you by Homebuilding's planning experts
Instant access to planning permission information, vital to the success of your project

Independant advice from leading Homebuilding & Renovating planning experts

Discover what you need to know to get your plans approved with minimum hassle

Get to grips with complex planning rules with our easy-to-read guidance
Continue reading this article
One-off payment: £4.99 for six months full access to The Planning Hub
Ken, a former planning officer, is a planning consultant and owner of Dijksman Planning LLP. He is also the author of The Planning Game.
Homebuilding & Renovating Newsletter
Get the latest news, reviews and product advice straight to your inbox.
Thank you for signing up to Homebuilding. You will receive a verification email shortly.
There was a problem. Please refresh the page and try again.