System Boilers: A Beginner's Guide
By David Hilton published
System boilers cleverly heat your home and provides hot water in one handy system. Here's the lowdown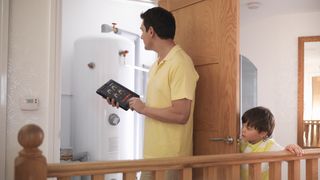 (Image credit: Getty Images)
System boilers are ideal for larger families and homes with multiple bathrooms thanks to its ability to store large amounts of hot water.
System boilers are also a great choice for homeowners who like power showers and often find themselves running multiple taps in kitchens, bathrooms and utility rooms.
Whether you are looking for a new heating system or want something to better suit your growing family's needs, read on to discover everything you need to know before choosing a system boiler.
How Does a System Boiler Work?
System boilers heat up your home and your hot water in one system.
There are two key components to a system boiler:
The boiler (the white box on the wall) and the cylinder (around 1.5m tall by around 600mm wide and often found hiding in the airing cupboard) which are connected directly to the main water supply for high-pressure water use.
The hot water is not instantaneous and you therefore could be limited by the capacity of the cylinder so that needs to be carefully sized to match the occupancy of the property.
The boiler heats the water in the cylinder indirectly via a closed loop pipe and also delivers heat to the central heating system.
(MORE: Hot Water Storage)
How Much Does a System Boiler Cost?
A system boiler ranges in cost depending on the quality and output of the boiler and the capacity of the cylinder.
Typically a system boiler ranges between £700 and £1,200 for the boiler itself and between £500 and £1,100 for the cylinder.
All cylinders have a certain amount of heat loss due to the quality of the insulation and the size of the cylinder. This is known as 'standing loss' and can vary between different products.
The efficiency of a system boiler is the same as a similar quality to combi boilers but the standing losses make system boilers slightly less efficient.
To get a free quote for a system boiler, visit boilerguide.co.uk.
What Kind of Properties are System Boilers Best Suited to?
Boilers and Heat Loss
All cylinders have a certain amount of heat loss due to the quality of the insulation and the size of the cylinder. This is known as 'standing loss' and can vary between different products
System boilers are suitable in all properties where there is a main water supply with good pressure.
However they are best suited to larger properties with more than one bathroom, or in properties where there is a requirement for higher pressure showers as well as enough space for the cylinder.
System boilers are available in a range of different output capacities to suit your property size.
The boiler should be specified by a suitably qualified heating engineer who will do a heat loss calculation on the property bearing in mind the local weather conditions and also take into account the potential number of occupants in the property when specifying the size of the cylinder.
A gas boiler should ideally also be able to reheat the water in the cylinder in half, to three quarters of an hour.
(MORE: Choosing a New Boiler)
Pros and Cons of a System Boiler
Like every heating system you need to weigh up if it's right for you.
Pros:
One system - This one system does both your heating and hot water so it's easy to maintain
Constant hot water - System boilers have a cylinder to store hot water so they can hold large amounts so it's ready when you need it
High pressure - A system boiler is powerful so is suited to properties with high pressure showers
Great capacity - Works well where more than one tap is used at one time
Larger houses - This is typically larger properties such as four bed homes with more than one bathroom
Cons:
Needs good existing pipework - The water pressure to the property needs to be good to fully support a system boiler and the pipework also needs to be able to accommodate the flow rate.
Must plan ahead - The hot water demand must be carefully specified to make sure that the hot water cylinder has enough capacity to support all the hot water use in the property.
Requires space - A system boiler is not suitable in any property where there is low water pressure or no space for a hot water cylinder.
Efficiency - The boiler part of system boilers are just as efficient as combi boilers but the system itself is less efficient due to heat loss in the pipework and the losses in the cylinder store.
Boilers and Underfloor Heating
All boilers are compatible with wet underfloor heating but system boilers are specifically suited to the addition of solar thermal panels or even to the capture of surplus generation from solar photovoltaic (PV) panels.
Are System Boilers and Regular Boilers the Same?
At first glance a system boiler and a regular boiler look very similar in that they both have a hot water cylinder and a boiler, but a regular boiler will have the addition of header tanks in the loft.
System boilers are directly connected to the main water supply, which will therefore be higher pressure.
Regular boilers are better suited to areas with low water pressure or low main water flow rates.
It is also often required to connect a power pump (often referred to as a power shower) to deliver decent pressure to showers and upstairs bathrooms.
What's the Difference Between a System Boiler and a Combi Boiler?
A system boiler has a hot water cylinder to store hot water whereas a combi boiler heats water instantaneously by 35°C at a given flow rate.
A 24kW combi boiler will typically lift water by 35°C at 11 litres per minute.
A system boiler will slowly heat a hot water store and the water can then be used at multiple points simultaneously (subject to volumetric pressure in the property) but you could be limited by the storage capacity of the cylinder.
Replacing a combi boiler with a system boiler:
It is fairly common practice to replace a combi boiler with a system boiler especially if you are adding an extension to the home or you require a better flow rate and pressure in the shower.
What Size Hot Water Tank do I Need with a System Boiler?
The hot water cylinder is often sized at around fifty litres of hot water per person per day. The number of people is calculated by the number of bedrooms in the property, plus one.
Therefore a four-bed house would be calculated at five (four plus one) times fifty litres which is two hundred and fifty litres.
If you are storing the water at a lower temperature than 60°C then you will need to increase the stored capacity because you will be using more water from the hot water cylinder.
In simple terms a shower is approximately 40°C.
If the water in the cylinder was stored at 40°C then you would not mix in any cold water and you would use the water at around 12 litres per minute which means that your hot water would last 20 minutes in a 250 litre cylinder.
If, however, the water was stored at 70°C and the cold water was 10°C then the 70°C water would be blended with the cold water to deliver 40°C and the hot water would therefore last for 40 minutes in the 250 litre cylinder.
Where Should I Locate my System Boiler?
A system boiler can be sited in a number of different places. On a new build you may choose to plan in a plant room for the boiler and cylinder plus any other technologies such as ventilation systems, solar equipment and any smart controls.
The plant room can also be a shared space with the utility room. The boiler and cylinder can also be put in a loft area so long as it is boarded out and has a permanent loft ladder and proper lighting.
The roof must also be designed for the weight load. Many properties have the hot water cylinder in the airing cupboard and this is still an option with system boilers but in an existing home you will need to be sure that the pipework can be run to the airing cupboard without too much disruption if it needs changing.
Choosing a System Boiler Supplier
As a consumer it is often best to get a supply and installation deal from the installer so that there is absolutely no grey area when it comes to specification, commissioning and warranty.
Many merchants will now not sell boilers and other controlled products to unqualified persons. Ask the installer if they have any maintenance contracts that may include annual servicing so that you can be sure that the boiler is being kept at its optimised best.
Make sure however that you know what is and is not included in any contract. It is also important to make sure that if you are changing a boiler that the new system boiler is compatible with any existing heating controls and thermostats.
As is the case with most technologies you get what you pay for so it is best to go with reputable brands that have good product support and are recommended by installers and also other users.
Can I Install a System Boiler Myself?
All system boilers are required to be installed by a suitably qualified and accredited member of the relevant competent person scheme.
Gas, LPG, heating oil, electrical installation works and unvented (high pressure) water systems are all regulated and controlled so you cannot legally fit a system boiler on a DIY basis.
(MORE: Find a Plumber)
What Maintenance Does a System Boiler Need?
As with all boilers and central heating systems, an annual service is recommended for system boilers to check for any signs of leaks and also check the quality of the fluid in the closed system.
It may also be recommended to soften the water in hard water areas to ensure that the heat exchanger in the boiler and the heat exchanger coil in the cylinder does not get coated in limescale and lose efficiency.
(MORE: How to Repressurise a Boiler)
Get a Free Quote for a New Boiler
Homebuilding & Renovating has partnered with boilerguide.co.uk to provide a free quote for your new boiler.
David is a renewables and ventilation installer, with over 35 years experience, and is a long-standing contributor to Homebuilding and Renovating magazine. He is a member of the Gas Safe Register, has a Masters degree in Sustainable Architecture, and is an authority in sustainable building and energy efficiency, with extensive knowledge in building fabrics, heat recovery ventilation, renewables, and also conventional heating systems. He is also a speaker at the Homebuilding & Renovating Show.
Passionate about healthy, efficient homes, he is director of Heat and Energy Ltd. He works with architects, builders, self builders and renovators, and designs and project manages the installation of ventilation and heating systems to achieve the most energy efficient and cost effective outcome for every home.
Homebuilding & Renovating Newsletter
Get the latest news, reviews and product advice straight to your inbox.
Thank you for signing up to Homebuilding. You will receive a verification email shortly.
There was a problem. Please refresh the page and try again.