Cowboy Builders: 8 Ways to Avoid Them!
By Jack Woodfield published
Cowboy builders can be identified through several telltale signs. Here's how to avoid them to ensure you don't get ripped off or left with poor quality work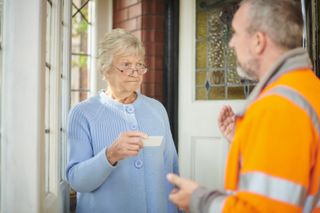 (Image credit: Getty Images)
Cowboy builders can turn your dream extension or renovation into a living nightmare, leaving you with uncompleted work and a diminished budget. Avoiding them is vital for your project to be a success, and there are several red flags to look out for.
When you begin your search to find a builder, it's important to remember that not all builders are the same. Cowboy builders can ruin your home and your finances, as Richard Holmes discovered this year. Richard, based in Stoke-on-Trent told Homebuilding & Renovating that his builder abandoned a single-storey extension job having taken a £10,000 deposit up front.
"He illegally tampered with the gas mains and relocated it, he has left us with dangerous wiring, and he is in total breach of the contract that he set out with me. He has taken around £13.5k of my money without any justification, and his excuse was that he felt that he wouldn't be paid for the final work - this is completely unfounded."
So follow these expert tips to help you avoid cowboy builders and increase the likelihood of your project being a success.
1. Beware Cowboy Builder's Prices That Sound too Good to be True
If a builder gives you a quote that makes you think "wow, can it really be that cheap?" then the answer is probably no.
Brain Berry, chief executive of the Federation of Master Builders (opens in new tab), says: "When comparing different firms, be cautious of prices and timescales that sound too good to be true. Seek more than one quote but be mindful that good builders are often very busy."
2. Don't Expect Builders to be Available Immediately
Reputable builders generally shouldn't be available on the day, or the day after you talk to them.
Terry Huggett of Terry Huggett Developments (opens in new tab), which specialises in self build projects, renovations and restorations, says: "You sometimes have to wait months for good builders to be available, because they'll always be working on jobs. It's pretty suspicious if a builder is waiting by the phone and says they can start immediately."
3. Don't put Down Large Deposits up Front
It's not normal practice for builders to ask for large deposits up front. Established, reliable builders will be happy to buy the required materials and complete several aspects of the job, if not all of the job, before either being paid on completion or in stages as work progresses.
4. Check out Their Previous Projects
Start with a builder's website and check out their completed projects. Are there lots of recent examples? Is the work high-quality?
Terry says one red flag to look out is if there's only one or two projects listed from a while back, which would make him question why there are no recent images. "You don't know if this was something they did for a family member or friend, or it may be that they had someone working for them who ended up leaving."
5. Vet Your Builder Thoroughly
"Anyone looking to commission building work can take steps to ensure they don't fall foul of a cowboy builder, particularly through vetting and inspecting builders," says Brian.
Do they have references/testimonials?
Do they have a registered business address?
Testimonials are important because you can see whether their previous customers have been satisfied with their work. And proof their business is fully registered is vital so you know they aren't just completing all jobs out of the back of their van.
6. Be Cautious of Doorstep Builders
Following the advice that all good builders will likely be very busy, it's better to be wary of builders who knock on your door and offer a quick fix for something they've spotted, such as problems with your roof tiles.
They may say they've been working nearby in your area and could quickly fit you in, and incredibly they have the required materials in their van! But even if you consider them for your job, you shouldn't neglect to follow the tips above.
7. Look out for Unmarked Vans
"If someone isn't brave or professional enough to put their company's brand on their van then that should be a warning sign," says Terry.
"Good builders will want to show off their logo, so when they park up for a job it's visible to neighbours, and when they do a good job they might be able to pick up extra clients living nearby."
8. Make Sure You Set up a Contract
Cowboy builders aren't likely to want to set up a building contract, but you should always get things in writing. "Once the background checks are done and a customer wants to move forward with a project, it's vital a contract is in place setting out a payment schedule for work," says Brian.
This contract should include estimates of how much the work will cost and how long it will take, and key responsibilities for the builder to ensure a dispute-free build. You may also need to take out additional self build insurance or renovation insurance.
How do you Deal With Slow Builders?
One thing you could include in your contract is a late penalty clause, which can help to prevent builders from going too slowly. If a builder's pace has slowed, this clause means it is within your rights as a customer to ensure the project is finished on time.
The FMB has this advice when it comes to slow builders: "If you have any concerns before, during or after building work, it is important to raise these directly with your main point of contact as soon as possible, so that issues can be discussed and resolved early on."
Cowboy Builder's Law Latest
The FMB has been campaigning to introduce a cowboy builder's law to protect consumers, which proposes to outlaw cowboy builders and provide compensation for consumers.
However, the Bill was not backed by the government in November, in a move the FMB described as "disappointing".
Jack has worked in journalism for 11 years and is the News Editor for Homebuilding & Renovating, a role he has had since 2019. He strives to break the most relevant and beneficial stories for self builders, extenders and renovators, including the latest news on the construction materials shortage and hydrogen heating. In 2021 he appeared on BBC's The World at One to discuss the government's planning reforms.
He enjoys testing new tools and gadgets, and having bought his first home in 2013, he has renovated every room and recently finished a garden renovation.
Homebuilding & Renovating Newsletter
Get the latest news, reviews and product advice straight to your inbox.
Thank you for signing up to Homebuilding. You will receive a verification email shortly.
There was a problem. Please refresh the page and try again.