Painting Aluminium Windows: A Step-by-step Guide
By Steve Jenkins published
Painting aluminium windows can help transform old, damaged frames and even introduce a new colour to your home's exterior. Here's how you do it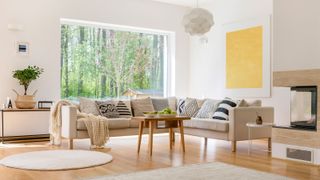 (Image credit: getty images)
Painting aluminium windows and doors will transform them, giving them a fresh look as if they've only just first come out of the factory.
When done not only will they look great but you'll be adding a protective layer that will make them last a good few years longer. But doing the prep right and choosing the right paint is essential to a good finish. One tip, don't use the same sort of interior paint you'd use for painting a wall on exterior windows as it simply won't last as long.
Follow our step-by-step guide to help make the right decisions for your aluminium windows and get a great, pro-looking finish
What is the Best Paint for Painting Aluminium Windows?
There are several options you could try for painting aluminium windows. You can use a brush or roller to get a similar finish to wooden windows or spray paint to get a factory-like finish.
If using a brush for painting windows, a good primer is Zinsser Bullseye 1-2-3 Primer-Sealer from Amazon which offers excellent adhesion to all surfaces and is ideal for interior and exterior. Once you have applied the primer you can use pretty much any interior gloss or satin paint like Dulux Quick-Drying Satinwood. For exterior windows, Sandtex 10 year exterior gloss or Dulux Weathershield Satin are good choices.
If going to spray JENOLITE Universal Etch Primer from Amazon is a universal primer that works on aluminium.
For a top coat, Hammerite Direct to Rust Metal Paint is a good choice and comes in a variety of colours.
How to Paint Aluminium Windows
1. Preparation
The basis of all good paint jobs is preparation and aluminium is no different. First you will need to give the windows a good clean with warm soapy water - washing up liquid is good for this - and a kitchen sponge or microfiber cloth. Stubborn marks can be removed by using the abrasive side of the sponge. Use a fine wire wool, especially if the window is not powder coated, to help paint adhere to the surface. Alternatively use a fine grit sandpaper. Then, wipe down the window with a dry cloth to clean and dry the surface. If painting indoors make sure to open the windows to get decent ventilation, leaving open if you can, and access to inside edges.
2. Add primer
To get the best finish on an aluminium window you need to use a primer. This can be applied with a brush, one of the best paint sprayers or a spray can. If using a brush, put painter's or masking tape on the glass, nice and tight to the frame to get a clean edge. If spraying the window, again add tape, but also cover the glass with paper to stop any spray settling on the pane. Also mask off the edges of the frame to stop paint getting on the walls. Now get your primer and apply. Start at the top in one corner, work across then down and finally along the bottom. Use up and down strokes (for brush and spray) to cover evenly.
3. Apply top coats
Let the primer dry and use a fine grit sandpaper to knock off any small lumps so you have a smooth finish to add the top coat to. Don't forget to vacuum/wipe away any dust or debris. Apply the first coat in the same fashion as the primer — start in one of the top corners and work across, down and across. Try to keep as even as possible and apply a thin coat rather than a thick coat. This will help stop runs and give a tougher finish. If using a brush dab paint into difficult to reach areas and then smooth out with the brush. Leave to dry as instructed. Then rub down lightly, clean and apply the second coat. If a third coat is needed, apply as before.
Steve is an avid DIYer with over 20 years of experience in transforming and renovating homes. He specialises in painting and decorating, but has strong all-round building skills, having previously worked in the industry for 10 years.
Homebuilding & Renovating Newsletter
Get the latest news, reviews and product advice straight to your inbox.
Thank you for signing up to Homebuilding. You will receive a verification email shortly.
There was a problem. Please refresh the page and try again.