Oak Frame: Is it Right For You?
Oak framing has enjoyed a long tradition in the UK, being the favoured homebuilding method for centuries past. Mark Brinkley answers some common questions about oak frames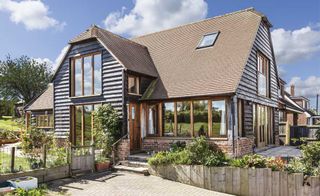 (Image credit: Simon Maxwell)
Oak frame, has become increasingly popular with self builders, and its appeal seems to keep growing. But how do you know if it the right construction material for your own self build project?
Here we answer the most common questions and misconceptions around oak frame to help you decide.
(MORE: How to build an oak frame home: step-by-step)
Is Oak Frame Expensive?
It is. You don't have to use timber post and beams to hold a house up — there are much cheaper ways of doing it. And oak is one of the most expensive timbers you can use. People don't build this way to save money. Oak framed homes tend to cost upwards of £1,400/m² – maybe 30% to 50% more than developer standard – although it's possible to build one for as little as £1,000/m².
Editor's Note: If you're looking for a quote for your oak frame, simply tell us a bit about your project in the questionnaire below and we'll match your requirements with the services and prices that our partners offer. And don't worry, only partners that match your needs will reach out to you.
Is Oak an Affordable Option for Those on a Budget?
It doesn't have to be all or nothing. Where oak really comes into its own is in large open plan spaces, especially ones with vaulted ceilings. There is nothing to stop you going for a conventionally built home and adding an oak framed extension, enabling you to get the 'wow factor' on a budget.
Do I Have to Use Oak Over Other Timbers?
You don't have to. Post and beam homes in other countries rarely do. In North America, they usually use Douglas fir or some other softwood species, and there is no reason why you can't use something cheaper than oak.
But the British market has developed a preference for oak because it was the traditional material used in Tudor times. There is something about the look, feel and smell of oak which is innately appealing to both traditionalists and modernists, and people love the fact that it's such a naturally long-lasting material.
Get a tailored quote for your oak frame project
How Much Oak Gets Used During Construction?
Oak trees are harvested when they are around 80 years old. Each one will produce roughly 15ft³ of construction-grade oak. The typical oak-built family home uses 800ft³ of oak — the produce of around 50 trees.
Almost all of the oak used in British green oak homes is sourced from sustainable plantations in France and Germany, with companies replanting many trees to compensate.
English oak is available but it's more expensive and it tends not to grow so tall and straight, which makes it more suitable for furniture than construction. The species is identical.
Get a tailored quote for your oak frame project
Why is it Sometimes Referred to as Green Oak?
Newly felled timber is referred to as being green because it has a high moisture content and it's much easier to work. With oak, you have to work it in its green state because, after four or five years, it becomes so hard that you can no longer cut or machine it.
Much of the skill in working with green oak is to know how the timber will shrink and to make the joints so that they get tighter as the timber hardens.
Doesn't Oak Shrink?
During its first few years, oak shrinks by as much as 5% radially (that is across the grain), but the length of each piece remains the same. Good designers will take this into consideration when putting frames together.
However, when detailing the joints connecting the posts and beams, the shrinkage factor is used to make the joints tight. The pegs used to fix the joints are always tapered and the holes between the timber are normally offset, allowing the shrinkage to gradually draw them into a strong alignment over time.
Another area where shrinkage is a factor is glazing and joinery. Oak builders have become adept at designing weatherproofing details which can cope with a backing frame which is set to shrink.
Get a tailored quote for your oak frame project
Who Builds Oak Homes?
All oak framed housebuilders offer a bespoke service. Some are very small, little more than one-man bands, whilst others are now well established as design and build businesses, catering mostly to the self build market.
Perhaps the biggest difference between them is whether they use machine cutting or stay with traditional handmade work. Computer-controlled cutters are faster and potentially more accurate, but they usually require the oak to be planed beforehand, which gives the wood a rather different look. On the other hand, machine cutting can sometimes achieve levels of complexity which would not be easy to replicate traditionally.
The designs can also vary from traditional, Tudor-style farm houses and cottages to stunningly contemporary, open plan homes, with lots of built-in glazing. Some businesses specialise, others are happy to work in any style.
Get a tailored quote for your oak frame project
What Problems Occur with Oak Frame Construction?
Much like any other form of construction, oak frame carries its own inherent, potentially problematic, properties, but being aware of these from the start will stand you in good stead to eliminate any difficulties.
First of all, with oak you've simply got to love beams, and accept that they will get in the way sometimes and that you'll have to design around them. There's also a limit to the room's open depth without encountering a post: around 4.5m.
Internally, oak can be difficult to light, especially with vaulted ceilings, so lighting design needs to be factored in early on. When building, the foundations tend to have to be very precise; a mass concrete strip footing is normally used, with a dwarf wall above. On the plus side, oak is very well suited to sloping sites.
Get a tailored quote for your oak frame project
Oak Frame Design FAQs
Oakwrights designer, Pete Tonks, joined us for a live Facebook Q&A. You posted your questions on designing an oak frame home and here are his answers.
Q. What do I need to consider if building an oak frame bungalow?
My wife and I are planning to build a 'lifetime home' (nice way of saying something with no steps for our knees) and so a bungalow seems like the obvious choice. Have you got any tips on layout to make the most of the space if we are sticking to one storey? And what nice design features could we include to make it look less like a traditional bungalow?
A. I could take you on a completely different design journey for a single-storey dwelling which would be quite different perhaps from your perception of a bungalow. It's all about the flow and transition between zones and spaces. We would avoid corridors completely and look to get lines of sight through the various spaces and out to the garden — it's about space and connectivity. You could consider a barn, coach house, or stables design direction and use different roof heights to break things up a bit.
Q. Is oak suitable for an energy-efficient extension?
We want to put a significant extension onto an old cottage. Two questions: (a) is an oak frame appropriate in this scenario? and (b) can an oak framed building achieve insulation and air tightness at the same levels as a SIP constructed build (which is the other option we are looking at)?
A. We can definitely do oak frame extensions. Air tightness and insulation are optimum with oak frame as we externally wrap the frame with insulated panels.
Q. How do you create an exposed oak frame?
With regards to wrapping the frame, how do you achieve the look of the exposed frames externally are there two sets of oak frames?
A. Yes, exactly that! Historically, the open frames that we all know and love would have been infilled as small panels into each of the frame apertures. As building regulations have progressed so has the technology behind oak framing where air tightness is key.
If a client wants a framed facade then this is achieved with the main structure being fully integral and in effect a half-width frame within the encapsulation build up. Elements of the elevations such as barge boards, fascias, soffits and rafter feet etc., are also fitted after the encapsulation to avoid the structure puncturing through the encapsulation panel system.
Get a tailored quote for your oak frame project
Q. How do I insulate the roof of an oak frame building?
I'm building a rear kitchen extension. Tiled, pitched roof with 8×2 roof joists what size/type of insulation should I use? How much air flow do I need?
A. If your roof is vaulted which I guess it might be then with an 8×2 rafter you can either decide to insulate within the structure or above the structure. If you insulate between the rafters you could use 6″ and then over board inside with a 1″ board and then your plasterboard. If you do a warm roof (i.e. outside of structure) then you can go as thick as you want but keep an eye on visual build up. Generally air flow gaps should be 50mm to meet Building Regulations.
Q. How do I incorporate lighting in a vaulted ceiling with exposed timber beams?
With an exposed timber frame and vaulted ceiling, what are the best ways to incorporate lighting? I can see how spotlights could be easily installed, but I really want a big pendant and can't see any other way to wire it than to run wires along the beam on the internal ridge.
A. Lighting an exposed oak frame with vaulted ceiling can be really cool. You should consider LED strips around the top of the frame before the roof slopes in at wall plate level. These are much more available nowadays and sensibly priced. If you know where you want the pendant you can get the hole drilled and first fix wiring in place before the roof gets tiled. That way, the cable can just drop straight through.
Q. Is a timber home more likely to burn down?
Obviously timber is quick to burn, what concerns about fire safety should there be when building an oak framed home?
A. Structural timber is in fact not quick to burn. Research shows that fire fighters would rather enter a timber frame building on fire as timber has a known and predictable burn and char rate and is not explosive. All timber frames commercially available have to be manufactured and erected in accordance with all regulations and warranties. Lenders and insurance companies do not differentiate between timber frame and masonry construction.
Q. What is the maximum span for a timber truss?
We're building a house in north Wales. We want three oak arch brace trusses in the living room (upper floor with the bedrooms on the ground floor). We've been told that such trusses aren't feasible owing to the size of the span (10 metres although each timber will be no longer than approx. 8 metres). Is this right, or are these trusses a viable option?
A. 10 metres is a big span if it's a clear span? You could perhaps subdivide that span into a main central frame of 5 metres with a 2.5m aisle each side. This would work if you were happy to have some posts within the building. The pitch of the roof at 10m span this could otherwise end up being very high.
Q. Is oak frame expensive?
Do you think an oak frame home would be feasible for a first-time self builder? I love the look but think it may be out of my budget.
A. Oak frame is feasible for anyone and as always, we design a house that we know can be built for the client's budget. This sometimes involves advice from my side as to perhaps making the house smaller so as to allow the inclusion of an oak frame.
Oak frame is such an amazing thing to live with that I do find my clients are happy to accommodate design changes if it means they can have it. We are also experiencing that an oak framed house when finished is realising resale costs of around 20% more than average market value.
Get a tailored quote for your oak frame project
Q. Can we extend up and out using oak frame for a budget of £125,000?
Timber frame homes
Timber frame is also an increasingly popular construction method with self builders and extenders. Find out more here.
We have a two/three bed bungalow that needs complete refurbishment and would also like to extend up (loft conversion), but the foundations and the height of the roof are not sufficient. We would also like to extend out to the front to make the most of a great view. We have no garage and also would like a kitchen ext.
How does a budget of £100,000–125,000 sound and who is the best person to get to help design and budget cost for what we can afford? It's silly doing a design and getting planning before costings. We have never done this before. We both love oak and glass and live in a small rural village.
A. With your budget, it is unrealistic to consider a replacement dwelling and therefore extend/remodel is your only option. I would sit down with you to discuss the exact requirements and we would then do a design/cost analysis to see where we can most effectively concentrate our design efforts versus budget. We are shortly going to be undertaking our third extension and across all three, I guess we would have spent a similar amount to your budget. But we have doubled the size of the house, and we really love it!
A good designer/architect would be able to do a feasibility to get you comfortable prior to going through the planning application process.
Looking for an Oak Frame Supplier?
Homebuilding.co.uk partners with the UK's best oak frame suppliers to match your requirements with their products and services.
Simply answer a few questions about your project below and we'll put you in touch with the most suitable partner.
Homebuilding & Renovating Newsletter
Get the latest news, expert advice and product inspiration straight to your inbox.
Thank you for signing up to Homebuilding. You will receive a verification email shortly.
There was a problem. Please refresh the page and try again.