Oak Frame: Is It the Right Choice for Your Project?
Oak frame is more popular than ever as a method of construction for self builds. Here, we give you all the information you need if you are considering taking this route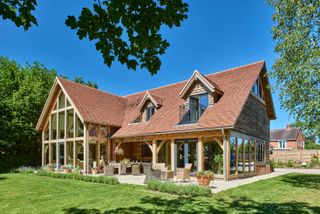 (Image credit: Oakwrights © Richard Kiely)
Oak frame, has grown and grown in popularity amongst self builders — and it isn't hard to see why. 
Oak is both naturally resistant to insect and fungal attack and impervious to the weather. It requires virtually no maintenance and is one of the few materials that actually increases in strength and beauty with age. But is it the right construction material for your own self build project?
Here we answer the most common questions and misconceptions around oak frame to help you decide.
(MORE: How to build an oak frame home)
How Much Does Oak Frame Cost?
First things first. People don't build with oak frame to save money.
You don't have to use timber post and beams to hold a house up — there are much cheaper ways of doing it. And oak is one of the most expensive timbers you can use. Oak framed homes tend to cost in the region of  £1,696 – 2,120 per m² – although it's possible to build one for as little as £1,000/m².
Designers will develop your ideas and work with you to refine the design until it delivers exactly what you want in terms of look, usability, size and budget.
There are multiple ways to make savings or splash out on high-end features, but you can expect the cost of the timber frame to be between 18-33% of the total build cost.
A guide figure would be £20-£45 per square foot for the skeletal frame design, fabrication and erection
With regard to budgeting for a full build, the cost averages at approximately £160-200 per square foot (£1696–2120 per square metre) 
If you are planning to manage the project yourself using local tradesmen rather than a main contractor you can save 15-20%
If you decide to undertake some of the work yourself there is scope to make further savings – potentially the full cost of labour if you have the time and skill, amounting to 50%. 
Editor's Note: If you're looking for a quote for your oak frame, simply tell us a bit about your project in the questionnaire below and we'll match your requirements with the services and prices that our partners offer. And don't worry, only partners that match your needs will reach out to you. 
What Are the Different Types Oak Frame?
Oak frame comes in several different forms and the type of oak frame you choose will ultimately be decided by whether you'd prefer a traditional or modern finish.
This will largely come down to whether you opt for a hidden or on-display (exposed) frame.
With exposed frames, the principal characteristic  is that the oak is (usually) exposed both internally and externally. Internally the principal walls, floor joists, trusses and roof members can all be visible.
Between the exposed oak timbers are the render panels. These consist of extremely thermally efficient foam panels fixed to board and set within the panel timbers.
Hidden framed houses are usually based on a heavy oak frame, although it could be Douglas fir, and they invariably have a more open feel to the structure. They are a perfect match for large glazed areas.
External finishes can be a combination of infill panel insulation, external cladding and large scale glazing. Fully vaulted roofs are a feature of this design echoing the spacious feel of the original barn. A major attraction of this style is the flexibility it allows in design and usage.
Is Oak Frame Eco-Friendly?
There are a number of areas where an oak framed house can deliver on those all important eco-credentials.
Glazing
What is important in glazing is airtightness. Airtightness refers to the infiltration of cold/hot air into the building and/or the loss of heated/cooled air from inside through gaps, cracks, holes, etc in the building fabric. By limiting the leakage of heated/conditioned air from buildings, it is possible to reduce energy consumption and costs.
Face glazing is a system of applying glass to the exterior face of oak frames to give a contemporary finish. Despite its simple clean look there are many factors to take into account to achieve an air and watertight seal and provide a maintenance-free finish.
Insulation
It's likely that your oak frame supplier will have various insulation systems to offer, which differ in cost and performance.
You'll be shown values such as U Value, Passivhaus standard, carbon performance, airtightness, fire resistance, acoustic insulation and whether the insulation is made from recycled materials.
Clever Design and Technology
There may also be some technology that allows for the natural changes in size of the oak frame through the seasons. Some systems are delivered in a cassette format, slotting in to walls, floors and ceilings in a way that fits together in order to maximize airtightness.
You could integrate solar panels to produce hot water and/or electricity, or consider installing a heat pump which operates well with low-heat-demand heating systems such as underfloor heating.
Get a tailored quote for your oak frame project
What Are the Design Options for Oak Frame Homes?
Most oak frame companies have a collection of styles that suit most plots and applications, with a number of floor layouts, from small to quite spacious. There will be options to enable you to pick how much oak framework you would like to see on your home.
Externally, each design can be enclosed with any number of finishes – including brick, stone, render, tile hanging or weatherboarding or varying combinations of the above. This allows the designs to meet the local vernacular and the finish you desire.
There will usually also be the option to come up with a completely bespoke design. 
Can I Build a Budget Oak Frame Home? 
It doesn't have to be all or nothing. Where oak really comes into its own is in large open plan spaces, especially ones with vaulted ceilings. There is nothing to stop you going for a conventionally built home and adding an oak framed extension, enabling you to get the 'wow factor' on a budget.
Do I Have to Use Oak for a Timber Frame House?
Not at all. Post and beam homes in other countries rarely do. In North America, they usually use Douglas fir or some other softwood species, and there is no reason why you can't use something cheaper than oak.
But the British market has developed a preference for oak because it was the traditional material used in Tudor times. There is something about the look, feel and smell of oak which is innately appealing to both traditionalists and modernists, and people love the fact that it's such a naturally long-lasting material.
How Much Oak is Used to Build an Oak Frame House? 
Oak trees are harvested when they are around 80 years old. Each one will produce roughly 15ft³ of construction-grade oak. The typical oak-built family home uses 800ft³ of oak — the produce of around 50 trees.
Almost all of the oak used in British green oak homes is sourced from sustainable plantations in France and Germany, with companies replanting many trees to compensate.
English oak is available but it's more expensive and it tends not to grow so tall and straight, which makes it more suitable for furniture than construction. The species is identical.
What is a Green Oak Frame?
Newly felled timber is referred to as being green because it has a high moisture content and it's much easier to work. With oak, you have to work it in its green state because, after four or five years, it becomes so hard that you can no longer cut or machine it.
Much of the skill in working with green oak is to know how the timber will shrink and to make the joints so that they get tighter as the timber hardens.
Will an Oak Frame Shrink?
During its first few years, oak shrinks by as much as 5% radially (that is across the grain), but the length of each piece remains the same. Good designers will take this into consideration when putting frames together.
However, when detailing the joints connecting the posts and beams, the shrinkage factor is used to make the joints tight. The pegs used to fix the joints are always tapered and the holes between the timber are normally offset, allowing the shrinkage to gradually draw them into a strong alignment over time.
Another area where shrinkage is a factor is glazing and joinery. Oak builders have become adept at designing weatherproofing details which can cope with a backing frame which is set to shrink.
How Do I Find an Oak Frame Supplier?
All oak framed housebuilders offer a bespoke service. Some are very small, little more than one-man bands, whilst others are now well established as design and build businesses, catering mostly to the self build market.
If you have decided that an oak frame house is for you, what should you be looking for when it comes to choosing a supplier? 
Look for a company that can produce the type of home you want, by looking at their brochures and website
Try and visit their finished houses in person
Check the company is reputable with a solid trading history
Find out what the payment terms are. How much will you need to pay as an upfront deposit? How will your money be held? 
Choose a company with plenty of experience of building timber frame post and beam and working with self builders
It is essential that you get on well with them and they have an understanding of your project. 
Perhaps the biggest difference between suppliers is whether they use machine cutting or stay with traditional handmade work. Computer-controlled cutters are faster and potentially more accurate, but they usually require the oak to be planed beforehand, which gives the wood a rather different look. On the other hand, machine cutting can sometimes achieve levels of complexity which would not be easy to replicate traditionally.
The designs can also vary from traditional, Tudor-style farm houses and cottages to stunningly contemporary, open plan homes, with lots of built-in glazing. Some businesses specialise, others are happy to work in any style.
What Are the Disadvantages of Oak Frame Houses?
Just as with any other form of construction, oak frame has a few potentially problematic properties — but being aware of these from the start should mean you can avoid them. 
First of all, with oak you've simply got to love beams, and accept that they will get in the way sometimes and that you'll have to design around them. There's also a limit to the room's open depth without encountering a post: around 4.5m.
Internally, oak can be difficult to light well, especially with vaulted ceilings, so lighting design needs to be factored in early on. When building, the foundations tend to have to be very precise; a mass concrete strip footing is normally used, with a dwarf wall above. On the plus side, oak is very well suited to sloping sites.
Is an Oak Frame Home More Likely to Burn Down? 
Structural timber is in fact not quick to burn. Research shows that fire fighters would rather enter a timber frame building on fire as timber has a known and predictable burn and char rate and is not explosive. 
All timber frames commercially available have to be manufactured and erected in accordance with all regulations and warranties. Lenders and insurance companies do not differentiate between timber frame and masonry construction.
Homebuilding & Renovating Newsletter
Get the latest news, reviews and product advice straight to your inbox.
Thank you for signing up to Homebuilding. You will receive a verification email shortly.
There was a problem. Please refresh the page and try again.