How to Grout Tiles: The Ultimate DIY Guide
By Emma Downer published
Looking to learn how to grout tiles? Our DIY expert's step-by-step guide will show you how to get a professional finish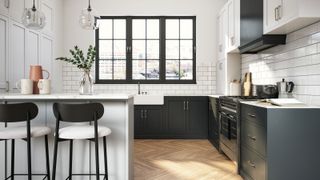 (Image credit: Getty Images)
Grouting tiles is a perfect job to DIY and it only requires a few tools to get started.
Applying grout is an essential element of tiling, whether you are grouting newly laid tiles or re-grouting to transform your bathroom or kitchen design. This is because it prevents water ingress and stops tiles from touching and cracking.
Follow this step-by-step guide to grouting tiles and discover everything you need to know to get a professional grade finish.
How to Grout Tiles: Tools List
Follow these lists of the tools and materials you'll need to grout tiles effectively.
Tools
Grout float/spreader
Grout ball finishing tool
Sponge
Cloth
Grout rake
Sponge brush or roller
Bucket
Scraper
Materials
Step 1: Preparation
TOP TIP
If you have natural stone tiles like slate you will need to seal your tiles too and can use an all-in-one tile and grout sealant.
The most common type of grout available, and the easiest to use, is a cement-based grout which is porous and requires sealing to prevent water ingress. Think of it like the surface of a pumice stone with holes that can catch dirt and take up water.
Another type is Epoxy grout, which does not require sealing, but is usually much more expensive and trickier to apply.
Both premixed grout, such as UniBond's Ultra Force Wall Tile Grout , and powdered grout typically comes in a white or grey colour to match or compliment tiles. However, it's also possible to get black or bright colours for a contrasting, more impactful look.
Before you start, protect your surfaces and hardware such as taps to stop stray compound from drying on or discolouring your surfaces.
If you are re-grouting you'll want to scrape out the old grout using a manual grout rake such as this one from Amazon, or an electric version. Be careful as you work to ensure you don't slip and damage the tile face or cause chips.
Step 2: Mixing the Grout
Mix the water and powder together in a bucket using the scraper tool, then add the water first and mix only as much as you can use in about 30 minutes. This will prevent the mixture from drying out.
Step 3: Applying the Grout
TOP TIP
For strong colours such as black be prepared to rinse the sponge a few times before the grout is removed fully.
Apply a small amount of mixed product to the grout float or spreader and use a pumping action to push the grout into the seams.
Move the float diagonally to stop the grout falling into the gaps, and go over the same lines a few times in multiple directions. The aim is to make sure the gap is filled entirely, not just the top layer.
Remove as much product as possible with the float and then use a damp sponge to remove the rest. Wring the sponge out well; you don't want it to be too wet as this may dribble and remove the grout as you wipe.
Next, run a grout finishing tool along the seams. This ball removes excess grout and will give an even and professional finish. Wipe away any excess again with the sponge.
Once you have allowed the grout to dry and cure - leave it for between 48 to 72 hours - you'll then need to polish the top of the tile with a dry cloth to remove the powdery film left on the tile.
Step 4: Sealing the Grout
Sealing the grout makes tiles easier to maintain as the dirt and moisture aren't picked up by the porous holes in the grout.
Using a grout sealer you can apply the sealant with a foam brush, foam roller or even a pipette to the seams, removing any excess sealant from the tile itself.
Depending on the sealant brand you may need to apply more than one coat.
Sprayable sealant products are available for this job, though keep in mind that the application will be less precise, so have the cloth handy to remove the excess from the tile.
The sealer will usually dry within 48 hours. A great way to test to see if the sealant has worked is to add a drop of water onto the grout line to see if it pools.
Do I Need to Reseal Grout?
Yes, you should aim to reseal the grout every one to two years.
Can You Put New Grout Over Old Grout?
Yes, you can. You'll need to remove the existing grout, however, to at least a couple of millimetres, and make sure the area is dust free before you begin.
How Often Does Grout Need Cleaning?
Grout should be cleaned as part of your regular cleaning schedule and as long as it has been sealed correctly you shouldn't notice discolouration.
You can use one of the best grout cleaners to easily do this. Alternatively, you can use a 50/50 bleach and water mix and scrub with a toothbrush. Or, for a harsher clean, you can try a bicarbonate of soda and distilled white vinegar mix. Make sure you reseal the grout afterwards to prevent further discolouration.
Emma is a UK-based DIY educator and director of the social media brand ''DIY With Emma'' whose primary mission is to help more people get into DIY through sharing DIY Hacks, How-to's, and Follow-Along projects.
Homebuilding & Renovating Newsletter
Get the latest news, reviews and product advice straight to your inbox.
Thank you for signing up to Homebuilding. You will receive a verification email shortly.
There was a problem. Please refresh the page and try again.