How Much Tile Adhesive Do I Need? What You Need To Know
By Steve Jenkins published
'How much tile adhesive do I need?' is a key question to answer before you start tiling. Here's how to work out the amount you'll need for walls and floors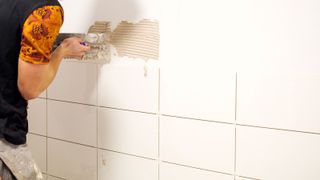 (Image credit: Getty Images)
Asking 'how much tile adhesive do I need?' is crucial to the success of a tiling project. Buy too little and you'll need to rush and buy more adhesive, adding unwanted stress and time to the job.
Buy too much and you'll have spent more money than needed and you could be left with a load of tile adhesive that never gets used. And you will have to dispose of at some point.
If you know how to tile a wall you will have a good idea of how much tile adhesive you need. But what if you are using large tiles? What about floors? Different elements mean different adhesive needs.
Here we take a look at the different factors you need to consider, how much adhesive you will need and how to apply it.
How Much Tile Adhesive Do I Need? What To Consider First
It's not as simple as you think; there are a host of factors to consider when working out how much tile adhesive is needed for a job. First, are you laying wall or floor tiles? As a general rule you will need less adhesive for wall tiles than you will floor tiles.
The size of the tile will determine how much tile adhesive is needed, too. The larger the tile the more adhesive will be needed to hold it in place. Then you will need to consider what the tile is made of i.e. porcelain vs ceramic. Porcelain tiles are typically more dense than ceramic, so heavier and need more adhesive.

What type of adhesive – powder or ready mixed – will make a difference. Ready mixed is only good for internal walls, so means you need less. If tiling a floor, powder adhesive is the recommended choice and you will need more as you will typically need a greater depth.

To a smaller degree, the size of the spacing you choose will make a difference. If using 2mm rather than 3mm or 5mm spacers you will use slightly less adhesive. Obviously, the larger the area being tiled the more this will affect how much tile adhesive is needed.

If ever unsure about how much tile adhesive you need, check the packaging. This will give you a good indicator of how much the bag/container will cover. And a general rule that if in doubt buy more than you need.
Also make sure that you have the best tiling tools to apply the adhesive. This is especially true when picking a tiling trowel. A standard 10mm notched trowel is good for walls, while you typically need a floor trowel for laying floor tile adhesive.
What Area Will 20kg of Adhesive Cover?
If tiling a wall, expect to use around 2-3kg per m2. This means you will be able to cover an area of around 6-10m2 with 20kg of tile adhesive. This will be enough to tile the length and width of a bathroom from the bath to ceiling.
If you are tiling a floor you will need more adhesive per square metre. Expect to use around 4-6kg per m2 meaning that 20kg will cover around 3 to 5m2.
Ready mixed tiling adhesive is typically more expensive than powder adhesive. But it is more convenient, while powder is good for both walls and floors. You can get 20kg of powder adhesive such as Mapei rapid set wall floor adhesive (opens in new tab) for around 20-40% less than a ready mixed solution.
Should I Use Powder or Ready Mixed Tile Adhesive?
This depends on what you are tiling — floor or wall. As a general rule, ready mixed is good for walls and is easier to use than powder adhesive. There's no mixing involved and you can get straight to the job of tiling, but it typically takes longer to dry. Look for a waterproof adhesive if tiling a bathroom.

If laying floor tiles it is recommended to use powder adhesive as this dries differently to ready mixed adhesive and is better suited to areas where moisture is present i.e. bathrooms.
How Thick Should Tile Adhesive be Laid?
As a general rule you need around 1-3mm thickness of tile adhesive for most wall tiles. Typically wall tiles need less adhesive than floor tiles because they endure less stress than a floor tile. However, if you are putting up large wall tiles you will typically need more adhesive to hold the tile in place.
Floor tiles will come under more pressure due to having people walk across them and are typically larger than wall tiles, which means they will need more adhesive to hold firmly in place — typically around 3-5mm.
But again it depends on the size of the tile. When looking at bathroom floor tile ideas you might go for a common size or go large. Larger tiles typically need more adhesive to be held in place. They are generally heavier meaning that they compress the adhesive more.
Do You Put Tile Adhesive on the Tile or Wall?
Tilers work in different ways, some put adhesive directly on the wall while others put the adhesive directly onto the tile. Putting adhesive on the wall is common practice as this gives a more even layer.
This is also a good choice if you are tiling around a window. You can pre-cut the tiles and put on the adhesive meaning you aren't in awkward to reach areas for so long.
But, some experienced tilers prefer to put adhesive directly on the tile. This allows for just the right amount for each tile — the back of the tile needs to be covered with adhesive to get a strong secure finish. This option takes a bit more practice to get right, so perhaps isn't the best route of the DIYer.

Both options work perfectly well – when done properly – but for those new to tiling, putting adhesive on the wall is the easier option. Just make sure to do a few practice runs.
Steve is an avid DIYer with over 20 years of experience in transforming and renovating homes. He specialises in painting and decorating, but has strong all-round building skills, having previously worked in the industry for 10 years.
Homebuilding & Renovating Newsletter
Get the latest news, reviews and product advice straight to your inbox.
Thank you for signing up to Homebuilding. You will receive a verification email shortly.
There was a problem. Please refresh the page and try again.