How To Paint Skirting Boards With Carpet: Keeping Them Clean
By Steve Jenkins published
Follow our step-by-step guide on how to paint skirting boards with carpet down to get a professional looking finish and keep your carpet paint-free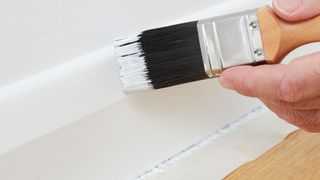 (Image credit: Getty Images)
Learning how to paint skirting boards with carpets down is a skill that any DIYer needs to know. Nobody wants to get paint on their carpet. It doesn't look good and it's a real pain to remove, especially once it has dried. But with the right preparation and techniques you won't need to worry about getting paint on the carpet.
The popular – and easiest option – is to lay down masking or painters' tape when painting skirting boards. This is quick and relatively easy to get right, especially if you're a component DIYer. It will give you a neat sharp finish, and of course, peace of mind that your carpet is going to stay paint free.

Read on and follow our guide on how to get the best finish without getting paint on your carpets.
How To Paint Skirting Boards With Carpet: A Step-By-Step Guide
1. Prep the skirting board
Before you lay down any tape, dust sheets or carpet protector, rub down the skirting boards as needed. Once finished, get a dry brush and sweep off as much dust as possible. To finish vacuum around the edges of the skirting and carpet to get rid of as much dust as possible.
The more dust and debris you leave behind the more likely it is to be brushed onto the skirting board leaving a finish spoiled by unwanted debris.

2. Lay down painters' tape
The easy option here is to use masking/painters' tape. You can pull back the carpet and clean and vacuum ready for painting if you wish, but this leaves you having to refit all the carpet edges.

Start in one corner – with a straight edge on the tape – push the tape into place with a little overlap on to the skirting board. Now push the tape down into the gap with your fingers or paint scraper.
When you get to the other end of the skirting board cut a straight edge and push the tape down into the gap. Repeat this process along each skirting board you are going to paint.
Once you have all the necessary masking/painters' tape in place, lay down any dust sheets or carpet protection before you start painting.
3. Paint the skirting boards
Now with all the necessary protection in place it is time to paint your skirting boards. Plan ahead to make sure that you can get the first coat done in one go and then look to choose the best gloss paint if looking for a high sheen finish.
How Can I Protect Carpet When Painting Skirting Boards?
Masking tape is the first line of defence when you need to protect your carpet. Lay down the tape with a millimetre or two on the skirting board. Push down with the edge of a putty knife or paint scraper to get a tight fit.

Next get clean dust sheets and lay down next to the tape and make sure it's overlapping but not too close to the skirting board. Alternatively, use specialist carpet protection. These are typically rolls of clear plastic that stick to the carpet — very useful if you are painting a wall at the same time as the skirting boards.
How Do You Paint Skirting Boards Without Masking Tape?
If you are a confident DIYer with a steady hand you can paint a skirting board without the need for tape. Use a 3 or 4 inch scraper (opens in new tab), push down between the skirting board and carpet and pull towards you to push the carpet edge far enough away from the skirting board to cut in next to the carpet.
If you are not so confident but don't want to use painters'/masking tape you can use a paint shield/guard. These aren't perfect but will help keep paint off the carpet and they're not very expensive.
How Long Can I Leave Painters' Tape on the Carpet?
You can leave painter's tape on for a few weeks if you have a big project on or don't have the time to finish in one go. But, ideally you want to be removing the painters tape when the paint becomes touch dry. The longer you leave the tape on the more chance there is of pulling up paint and getting a poor edge.
One tip is to use a paint scraper or Stanley knife and neatly run along the edge before you pull up the tape. This will help stop any cracking along the paint line.

While you are waiting for the paint to dry – assuming you don't have another paint job to do – you need to know how to clean paint brushes so they stay in good condition ready for your next paint project.
Steve is an avid DIYer with over 20 years of experience in transforming and renovating homes. He specialises in painting and decorating, but has strong all-round building skills, having previously worked in the industry for 10 years.
Homebuilding & Renovating Newsletter
Get the latest news, reviews and product advice straight to your inbox.
Thank you for signing up to Homebuilding. You will receive a verification email shortly.
There was a problem. Please refresh the page and try again.