How To Fix Trellis To a Fence: A Quick and Easy DIY Guide
By Steve Jenkins published
Learn how to fix trellis to a fence and give yourself more privacy and provide the perfect platform to add some plants to create a natural barrier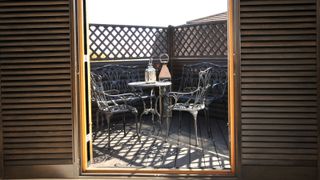 (Image credit: Getty Images)
Find out how to fix trellis to a fence and your privacy will be restored if you're fed up with people looking over your fence. There is a host of different trellis styles that will block out those nosy neighbours and passing pedestrians. But it's not just your privacy that a trellis protects; it can add a touch of style and help transform your garden into a tranquil and appealing space.
A trellis is a great place to add climbing plants and flowers to renew your boundary and create a natural haven for wildlife. It's also a great time to learn how to paint a fence so you can smarten up your garden with a contemporary colour and blend it with your new foliage.

Fixing trellis to your fence is not a difficult job, it is something any DIYer can tackle. You just need to make sure that you have the right tools and fence hardware and our quick guide below to make it happen.
How To Fix Trellis to a Fence: A Step-By-Step Guide
1. Treat your trellis
Before you fix your trellis to a fence it is a good idea to treat or paint it. This helps ensure that you get into all the cracks and crevices of the trellis giving it maximum protection against the elements. (If you decide to treat after fixing it will be more difficult and you might get unwanted splashes on your fence.) Leave to dry for an hour before fixing.
If your fence is in poor condition it might be a better idea to replace fence panels before you think about adding your trellis.
2. Fix the trellis: the quick way
In an ideal world you will have thought about your garden fence ideas and left enough room on the fence posts to fix the trellis — remembering that you can't go over two metre height limit without permission. For example, you will have a five foot fence with six foot of fence post. This will leave you with enough room to attach the trellis to the post.

If this is the case you will need a couple of U brackets and four 35mm screws to fix each bracket. Make sure to measure the width of your fence panel to get the right size bracket — commonly 50mm.
Place the bracket centrally midway between the fence and the post with the 'fins' of the bracket vertical and the two holes against the post. Add the two screws to fix the bracket and add a second bracket on the opposite post. Now slide in the trellis to finish
3. Fix the trellis: extending the posts
If your fence and post are the same height you will need to extend the posts to accommodate the trellis. Purchase a post the same width as your current post and get a couple of universal fence post extenders.
These are large L-shaped metal brackets with pre-drilled holes. Fix this centrally on the existing posts — half will be attached to the old post and the other half to the new post. Cut your post to the same height as your trellis and attach to the post extender.
Now follow the instructions in the previous step on how to add the U brackets and slide in your new trellis.
Is it OK to Put Trellis on Top of a 2 Metre Fence?
Regardless of the fence type you have, the permitted height limit is two metres without having to get your local council involved. If you have a two metre fence you will not be able to add any trellis on top without getting planning permission.
You can put up a fence and trellis with a combined height of two metres. For example a four foot (circa 1.2m) fence panel can have a two foot (circa 0.6m) trellis.
A fence with planning permission is, in theory, allowed to be up to 100 (circa 30m) feet. So you could add a 1.8 metre trellis on top of your two metre fence if you wish, with planning permission.
But if you don't want to do much work after adding your trellis then think about some low maintenance garden ideas to keep your garden looking good with the minimum of fuss.
Can I Put Trellis on My Side of the Fence?
Yes, if it has been established which fence you are responsible for – typically the left – you can do as you please within the limits of the law.
But, fence rules are not quite as straightforward as you might think, so you will need to check any local rules and regulations to make sure.
Can I Put Trellis On My Neighbour's Fence?
No — if the fence you want to put trellis on is the responsibility of your neighbour then you will need to get permission from them. A simple and sensible chat with your neighbour should resolve the issue. If they do agree don't forget that you need to stick to the legal two metre height limit.

If you put it up without their permission they are perfectly entitled to ask you to take it down or take it down themselves.
Steve is an avid DIYer with over 20 years of experience in transforming and renovating homes. He specialises in painting and decorating, but has strong all-round building skills, having previously worked in the industry for 10 years.
Homebuilding & Renovating Newsletter
Get the latest news, reviews and product advice straight to your inbox.
Thank you for signing up to Homebuilding. You will receive a verification email shortly.
There was a problem. Please refresh the page and try again.