Fence Rules: A Guide To Your Rights And Responsibilities
By Steve Jenkins published
Fence rules are not as simple as you might think. Here we tell you which side of the fence is yours, how high your fences can be without planning and more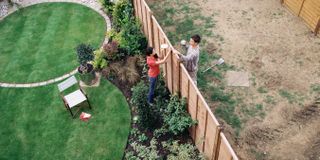 (Image credit: Getty Images)
Fence rules are not as straightforward as you might think. "Is that my fence on the left or the right?", "Do I need planning permission for a new fence?" are both key questions homeowners commonly ask.
A fence determines the boundary between your home and neighbouring properties. So you need to make sure that you know which side you are responsible for and maintaining (whether that's replacing broken posts or painting your fence).
A simple and sensible conservation with your neighbour can help, but it's always worth checking your title deeds to establish what's legally your responsibility.

Here we give you answers to some of the most commonly asked questions to help stop any disputes and stay on good terms with your neighbours.
Fence Rules: Which Side of the Fence is Mine?
It is commonly accepted that the boundary on the left of a property – looking from the road – is the owner's responsibility. While this is true in a lot of cases it is not always the case. In some cases owners can be responsible for the fence on the right.
You can speak to your neighbours to establish which fence they are responsible for and continue with that theme. But before you get carried away with your garden fence ideas, to determine which boundary you are legally responsible for you will need to check your property deeds.
The deeds will have a scale plan of your home and surrounding properties, and will highlight the boundary lines with a T-shaped symbol. The tip of T will point to the property that is responsible for that boundary.

Not only will the property deed determine which side of the boundary is yours to deal with but it will also establish who is responsible for the fence at the end of the garden. Again this will be indicated with a T symbol.
How High can a Fence be?
Typically a fence can be up to two metres without planning permission. That's why most fence panels you can buy from your local garden centre are no taller than six feet (circa 1.8m). However, with planning permission a fence can be

But, it's not quite as straightforward as it sounds. The two metre limit applies to areas that don't front a road — typically a rear garden. And you cannot add a trellis on top of a two metre fence without getting planning permission. But a fence and trellis with a combined height of two metres is perfectly acceptable.
For areas that front a road, a footpath or public highway – typically front gardens where a visibility splay is needed for safety – the maximum permitted height is one metre without planning permission.
Planning permission is also required for new fences to listed homes.
Fence Rules: Can I Paint Or Hang Plants On My Neighbour's Fence?
Yes you can, but you need to ask their permission before you do either. Painting a fen is rarely an issue as your neighbour is unlikely to see your side of the fence, but it's still civil to ask.
Hanging plants is a little different. The extra weight on the panels could lead to damage on the fence, which will need to be repaired or replaced. You will most likely be expected to pay for the damaged fence, or factor in the cost to install a fence should damage be significant. Discuss this with your neighbour when you ask for permission.
Where Can I Get Information On Who Is Responsible For A Boundary Fence?
Your property deeds establish who is responsible for a boundary fence. If you don't have a copy you can request documents online via the HM Land Registry website.
Here you can find out if the property or land is registered (it most likely will be) and download a copy of the title register and title plan which displays the boundaries of your property.
What Can I Do If My Neighbour Won't Repair Their Fence?
If it has been established that the fence that needs repairing belongs to your neighbour there is very little you can do. You cannot make them spend money on repairs if they don't want to. There is no law that can be enforced to make them repair the fence.
If you are fed up of looking at your neighbour's ugly fence the simple solution is to put up a new fence on your side of the boundary to hide their fence. (And check out our best fence paints to make sure that your fence looks better than your neighbour's!)
Steve is an avid DIYer with over 20 years of experience in transforming and renovating homes. He specialises in painting and decorating, but has strong all-round building skills, having previously worked in the industry for 10 years.
Homebuilding & Renovating Newsletter
Get the latest news, reviews and product advice straight to your inbox.
Thank you for signing up to Homebuilding. You will receive a verification email shortly.
There was a problem. Please refresh the page and try again.