How to Replace Fence Panels and Repair Damaged Wood Fencing
By Amy Reeves published
Find out how to replace fence panels and repair storm-damaged, rotten or otherwise broken timber panels in our quick guide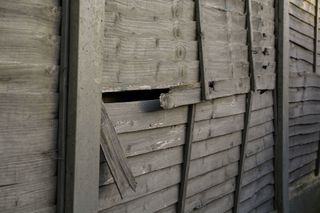 (Image credit: Getty Images)
With the increase in unprecedented weather over UK winters, knowing how to replace fence panels on a DIY basis can come in very handy; even strong wooden fencing can be prone to damage during storms.
Perhaps the most popular way to line a boundary divide in garden design, fences can require maintenance following high winds — and replacing or repairing damaged fence panels is one of the most common issues homeowners encounter after such weather events.
Depending on the damage and scale of the work, Checkatrade estimate the cost of a repairing or replacing a fence panel at £40 - £1,839, so taking on the task yourself can be tempting.
It is a fairly simple job to undertake so find out below what you need to know before getting started. Plus, we provide a couple of tips of how to maintain your garden fences to ensure their longevity.
Should You Repair or Replace Fence Panels?
Knowing when to repair and when to replace a fence panel will save time and money, so before rushing to buy a new fence or hiring a professional to install one for you, pay attention to what is wrong and assess properly.
Wobbly fence
A wobbly fence can be resupported using a 600mm repair spur. Fix against post using galvanised nails and, if added security is required, concrete into the ground or bolt onto post and existing concrete.
Damaged panel
Use arris rails to support damaged panels. Metal products will need a simple series of screws in the allocated holes and can be picked up for a fairly low cost. For instance, these Blooma Steel Arris Rails cost just £2.50 from B&Q.
Broken wooden arris rail
Use metal arris brackets to support wooden rail at each end and afix with galvanised screws.
Mould, mildew and rot
If the fence panel is covered in mould, try to clean it off with a pressure washer, or tough-bristled brush. Minor damage can easily be repaired, but if a panel has become rotten it will be too far gone to save.
Treatments (like this Green Mould and Algae Remover from Amazon) can also be helpful for a quick fix.
How to Replace a Fence Panel
Replacing fence panels follows much the same process of how to fit a garden fence.
While it can be done on a DIY basis, always get help where you can and wear protective glasses and gloves.
1. Remove the old panel
Place a crow bar between the damaged fence panel and the post and pry until the nails are exposed. Use a hacksaw to cut through, hammer into the wood or pull out with pliers so the panel is safe to handle. Repeat on other side of panel and remove.
2. Install the new panel
Fortunately, most fence panels come in standard sizes and fairly uniform styles. If you find a new panel is a little too big, use a plane to trim to size.
There are two main ways of installing a new fence panel between timber posts:
If using clips, (like these from B&Q,) attach these to the posts either side of where the new panel will sit and lift the panel into place (you'll need another person or two to aid here). The panel should slot into place (ensuring it's 50-75mm above the ground); new galvanised screws can then used to secure the panel in place.
If not using clips, measure and drill six pilot holes at an even distance down each post. Position the new fence panel and use bricks or second pair of helping hands to raise it 50-75mm above the ground. This will help prevent damp. Use a spirit level to check it is properly level and then hammer in galvanised nails into the pilot holes to secure the panel in place.
3. Finishing the fence
Use a good exterior wood paint to protect the new panel and blend in with older units.
Assistant Editor Amy began working for Homebuilding & Renovating in 2018. She has an interest in sustainable building methods and always has her eye on the latest design ideas. Amy has interviewed countless self builders, renovators and extenders about their experiences for Homebuilding & Renovating magazine. She is currently renovating a mid-century home, together with her partner, on a DIY basis, and has recently fitted her own kitchen.
Homebuilding & Renovating Newsletter
Get the latest news, reviews and product advice straight to your inbox.
Thank you for signing up to Homebuilding. You will receive a verification email shortly.
There was a problem. Please refresh the page and try again.