New Heat Pump Could Make it Cheaper and Easier to Replace Gas Boilers
By Jack Woodfield published
A high temperature heat pump is to be rolled out which could directly replace natural gas boilers in our homes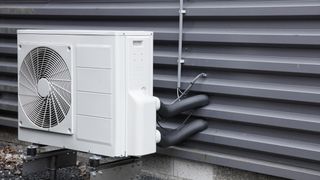 (Image credit: Vattenfall)
A new heat pump that provides the same high temperature as gas boilers could help to make it easier and cheaper for homeowners to switch to low-carbon heating, according to its developers.
Air source heat pumps and ground source heat pumps have been championed by the UK government in the drive towards net zero, with ministers pushing to ensure 600,000 heat pumps are installed in homes by 2028.
Visit the Homebuilding & Renovating Show
Heating accounts for 47% of all energy consumption in the UK, 55% of which is used by domestic homes, and currently over 80% of domestic heating is provided by natural gas boilers, according to National Grid. The combustion of fossil fuel is a significant contributor to climate change and air pollution, and heat pumps are a low-carbon heating system which would significantly reduce harmful emissions.
Swedish energy specialists Vattenfall, which has developed the heat pump in partnership with its Dutch subsidiary Feensta, a heating technology company, will be launching the system in the Netherlands in the next few months. And because of the similarities between gas central heating in the UK and the Netherlands, Vattenfall says its high temperature heat pump could be suitable for UK homes, particularly in suburban and rural areas.
"The high temperature heat pump solution is innovative, simple to install and could be the solution to help decarbonise homes in the UK that are heated using traditional gas boilers," said Mark Anderson, commercial and development director at Vattenfall Heat UK.
Efficiency is Key, However
Vattenfall says the heat pump can offer a straight swap for conventional gas boilers. It can achieve temperatures between 60-80°C (the same as most gas boilers), exceeding the 44-55°C range achieved by many conventional heat pumps.
Significantly, the company adds that the heat pump is designed to remove the cost and complexity for homeowners because they won't have to install new insulation or replace their radiators to make the pump work efficiently. This can often be required when installing lower temperature heat pumps.
The system's buffer works as a heat battery which provides heat to radiators and generate hot tap water. Full technical details have not yet been disclosed, though.
One major concern of high temperature heat pumps, however, is that they are less efficient than lower temperature heat pumps. And this could mean homeowners experiencing higher running costs, potentially wiping out savings made by retaining existing radiators and insulation.
James Standley, managing director of Kensa Heat Pumps, said: "Rather than being a cost-saving low-carbon solution, high temperature air source heat pumps are likely to have a larger carbon footprint and cost people more to run. Simply put, running heat pumps at higher temperatures requires more electricity because the unit has to work harder to increase the source temperature further."
In the Heat & Buildings Strategy published last summer, the government pledged it would aim for low-carbon heating systems such as heat pumps to cost the same to buy and run as fossil fuel boilers by 2030. It also said that big cost reductions of between a quarter and a half by 2025 are expected, as the market expands and technology develops.
The Boiler Upgrade Scheme will launch this April, which will provide eligible homeowners with government grants of £5,000 for the purchase of air source heat pumps and biomass boilers, and grants of £6,000 for ground source heat pumps.
Jack has worked in journalism for 11 years and is the News Editor for Homebuilding & Renovating, a role he has had since 2019. He strives to break the most relevant and beneficial stories for self builders, extenders and renovators, including the latest news on the construction materials shortage and hydrogen heating. In 2021 he appeared on BBC's The World at One to discuss the government's planning reforms.
He enjoys testing new tools and gadgets, and having bought his first home in 2013, he has renovated every room and recently finished a garden renovation.
Homebuilding & Renovating Newsletter
Get the latest news, reviews and product advice straight to your inbox.
Thank you for signing up to Homebuilding. You will receive a verification email shortly.
There was a problem. Please refresh the page and try again.