15 Ways to Get the Best From Your Builder
By David Snell published
Striking up the right rapport with your builder is one of the most important parts of any self build. Our self build expert offers his relationship advice for a successful partnership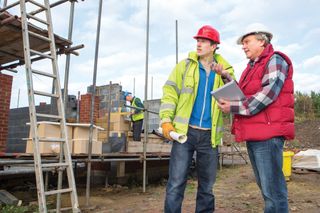 (Image credit: getty images)
Self building is as much about building relationships as it is building houses. The one that you have with your builder is often the most important, as it is the most likely to be fraught with danger.
It's an odd relationship, especially if it's your first self build. While you are, ostensibly, the principal partner – remember the ultimate decisions including the authorisation of payment, are all yours – it's often the builder who is the expert that you are relying on and the source of the advice and the knowledge that enables you to make those decisions.
Finding a builder you have the right rapport with to get the most out of your partnership has never been more of a challenge, with extreme workloads and a lack of labour meaning fewer good builders are available. Right now, it's important to keep your cool and wait, even if it's for several months or more, for the right builder to become available, for the best chance of success in your project.
(MORE: How to Find a Builder)
Here's 15 top tips to navigate the relationship between self builder and builder and make sure that you avoid any pitfalls along the way.
1. Research Builders
The 'go to' route for anything these days seems to be the internet and there are several companies, many of whom advertise on television, offering lists of builders and tradespeople who have registered with them and, presumably, been checked out and rated accordingly. There are also the various trade organisations and warranty providers who can provide you with details of their members.
However, you might actually find that recommendation, especially from another self builder, is the best way of obtaining names.
Either way, always make your own enquiries by talking to your longlisted builders' previous customers and looking at their previous work
2. Get the Best Quality Quote
Don't be surprised if you hear nothing for ages after requesting a quote. If it goes on too long then it's a pound to a penny that they don't want the job and if you badger them too much you will get a price but it'll probably be ridiculously high.
Size matters when it comes to builders. The bigger builders may get back to you quicker, but they also have overheads that'll mean that the prices will be higher. The medium builders may put your plans out to a quantity surveyor (QS) and the price may be inflated because the QS will want to cover against all eventualities. The smaller builders will give the best prices but have less opportunity to pore over plans and price things up.
(MORE: 7 Reasons Your Builders' Quotes are Beyond Budget)
Help them and yourselves by sending your plans to one of the estimating companies, such as Estimators Online, which provides you with a list of costs, itemised by trade, and an indication of the builder's profit, which will need to be added.
3. Keep an Eye on the Plans
As the project progresses, the plans will undoubtedly change. Always retrieve old plans and specifications and replace them with the up to date ones. Failure to do so leads to disputes and, worse still, to things being done incorrectly.
For example, if the electrician has a plan showing a door opening one way and the carpenter has another showing it opening the other, the light switch will be on the wrong side. Before any trade starts it pays to make sure they have the right plans.
4. How to Approach the First Meeting
When you have an acceptable quotation, the next move is to meet and thrash out any questions that you may have and make sure that this is the right person or company for you. Remember, this relationship will have to last at least six months and, should everything go well, will potentially result in future work on other projects — you may decide to extend further down the line or take on another self build, perhaps.
But be under no illusions. Meetings that take place before the contract is signed are a two-way street. While you will be sizing them up, they will also be assessing you and weighing up whether you are going to be a suitable client or whether you are going to cause them trouble they could well do without.
(MORE: 5 Things to Never Say to Your Builder)
5. Build a Working Relationship Quickly
The long-term partnership that you and the builder are entering into is one that has to run smoothly. If you take an instant dislike to the person, then the only thing to do is stop and proceed no further. Equally, if they don't like you or they think you're not 'good for the money' then they'll refuse to take the job.
But when you do enter into this partnership you need to understand that it'll never be an equal one, given that you both have different objectives — aside from getting the house built. You are embarking on potentially the most daunting project of your life that will bring rewards in both occupation of that home and the accumulation of the monetary value in that home. The builder, on the other hand, gets no share in the eventual value. All they get is that one stab at earning a living from this project, before moving on to the next.
Once you understand that, it's easier to build up a working relationship that satisfies both parties' objectives.
6. Make up Your Mind Before Building Begins
Nothing is more annoying for a builder or tradesperson than going back on or taking down work that has already been done. Even the fact that you'll pay for it does nothing to mitigate the frustration. That said, for you, this is a once in a lifetime experience and you may make the decision to insist on what you want.
Don't do it too often or it will lead to a breakdown in trust and your relationship — and tradespeople, and subbies working for the builder, may be reluctant to come back on the job. If there are changes or extras, make sure that before they are enacted they are agreed and that a price has been given. That'll help avoid nasty shocks at the end of the job.
7. Get to Know the Hierarchy
Most builders will employ subcontractors for specific trades. If you have a contract with a builder, you do not have a contract with their subcontractors and as such cannot directly instruct them.
Agreeing changes or extras with a subcontractor will annoy the builder. You have to go through the builder for that and accept that they may want any price to include their cut.
8. Be Patient
A good builder always has work and is in demand. They may give an indication of a start date and that may slip. If it slips because they have misled you then that may give you cause to look elsewhere and even terminate your proposed relationship — if you can find another builder. But if it slips because the preceding job has taken longer than anticipated, you may want to comfort yourself with the thought that at the end of your job they won't go off to another and leave you in the lurch.
9. Know What to Expect
Your builder may not always be on site. It's likely that a medium-sized builder will have more than one job on the go at any one time. But the mark of a good builder is one who maintains continuity on every site.
Don't just assume that because your builder isn't always on site they are not working for you. They may be picking up or sourcing materials. They may be off arranging for plant. The job's not all on site.
10. Make Sure you pay
Your builder works for you for their wages. They also work to pay the wages of the people or subcontractors they employ and to pay off the large materials bills they accrue.
Most builders who get into financial difficulties have viable businesses and the reason they get into trouble is cashflow.
(MORE: How to Pay Your Builder)
Ultimately your end of the bargain with your builder is that you pay them promptly and in the manner and amount that has been agreed. Don't pay upfront — but equally don't make payments late that may send your builder into cash problems and sour your relationship.
11. Establish Contact Times
Small builders leave home early, get home late and often fall asleep as soon as they've had their tea. Most work a five-day week and try to keep their weekends free.
But you are going to have to talk to them from time to time and possibly even meet them. So work out, right at the beginning, the best times for you to do this and, genuine emergencies apart, stick to those times.
12. Respect Breaks
You'll obviously visit site in working hours and during that visit you'll be able to talk to your builders and the subcontractors. But respect their break times.
If they're on a tea or lunch break they'll want to sit and eat their 'snap', read the paper or chat about other things. They won't want to talk business. Sit with them.
Join in their general conversation and leave what you want to talk about until their break is over. They'll really appreciate that.
13. Think About Material Costs
Recognition of the self build market by major suppliers and merchants has meant that the self builder can now enjoy discounts that may equal or even exceed those that the builder can get. This is simply because the builder may have a spread of suppliers, with relatively low amounts amortised between them, while the self builder is likely to be spending a lot in one place.
Additionally, because the self builder may be an attendee of the self build exhibitions, they may well choose materials or equipment that are not generally stocked by the builder's regular sources. In which case these items may well be purchased more advantageously by the self builder direct.
(MORE: 5 Things all Self Builders Need to Know Before Breaking Ground)
Material costs are at an all-time high right now, so keep that in mind when looking at quotes, and don't be surprised if your budget has to stretch to accommodate these rising prices.
14. DIYing Alongside Your Builders
It may seem like a great idea for the reasonably competent among you to undertake some of the work on site yourself or attempt to mitigate costs by working alongside the builders and operatives.
Invariably, the involvement of a nonprofessional slows the job down and results in costs to the builder. Don't, therefore, be surprised if they agree to it at your insistence but are reluctant to agree a full refund.
Don't, also, be surprised if a whole day working alongside the people working on site gets you no thanks and no reward other than the feeling of satisfaction brought about by you having put the sweat of your brow into the project.
(MORE: DIY - What to Leave to the Professionals)
15. Be a Good Client
There are cowboy builders. There are builders who fail to finish or fail to finish on time. There are builders who don't do a very good job cosmetically. But, because of the regulations and the overseeing of the statutory and warranty inspectors, there are very few structural disasters. That's why you have to make your initial enquiries, talk to previous clients and inspect their previous work.
But there are also cowboy clients. Clients who are late payers. Clients who withhold payment for trumped up reasons. Clients who deduct amounts that are disproportionate to their perceived grievance. Don't be one of those.
The author of Building Your Own Home, David is a serial self builder and has been building homes for 50 years. He has just finished his fourteenth self build project.
Homebuilding & Renovating Newsletter
Get the latest news, reviews and product advice straight to your inbox.
Thank you for signing up to Homebuilding. You will receive a verification email shortly.
There was a problem. Please refresh the page and try again.