Cost to Paint a House: The Price of Painting Inside and Out
By Steve Jenkins published
The cost to paint a house will be influenced by a number of factors. If looking to paint the interior or exterior of your home, we guide you through the costs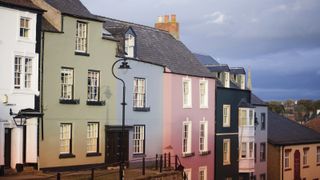 (Image credit: Future)
Considering the cost to paint a house is essential if you hope to sell your property and want to make a good impression with potential buyers, or simply want to give your home a refresh.
Whatever the reason you need a new paint job, be it painting a wall or elsewhere around your home, you'll surely be wondering what it's going to cost.
Here, we look at the cost of painting both the exterior and interior of a home. From one room to the whole house inside and out, we give you an insight into the costs of a professional painter, and how much you can expect to spend if you do it yourself.
How Much Does It Cost to Paint a House?
This will vary from project to project but, on average, will cost a couple of thousand to paint the exterior or interior of a home.
There are a whole host of factors to consider, including the more obvious ones like the size of your house, the age of the property, and your location; typically, tradespeople charge more in London than other areas of the country.
Then there are other, less obvious factors to think about. Is it a simple repaint with basic prep needed? Or is there a lot of prep work involved, which obviously takes longer, meaning that it will cost more? Are you just having walls painted, or are you painting a ceiling, doors, windows and trim as well? Does joinery only need basic prep, or do windows and doors need to be stripped back to bare wood?
Then there is the cost of the paint itself. This can vary greatly depending on what product you choose, but the best wall paint on the market today will of course be pricey.
In general, a painter or decorator's hourly rate is around £15-£25 per hour. However, most trades will give a day rate or a price for the whole job based on the day rate. Typically, an independent painter will be cheaper than a contractor.
Painting the House Exterior: How Much Does it Cost?
The price will again depend on what's being painted, prep time and what 'hidden' costs are included, but as a safe bet, budget for around £1,000-£3,000 for painting the exterior of a house.
One typical often overlooked extra is scaffolding. This may be included in a quote, but some painters expect you to sort this. Expect to pay between £40-£150 a day, depending on the size, height and shape of the house. Scaffolding to a terraced house will cost less than a semi-detached home, and so on.
You can save money by doing the job yourself, but you will still need to buy equipment — namely, the best paint rollers, brushes, trays, masking tape, ladders, and of course paint. You may need to pay out for scaffolding as well.
Then you need to think about how long it will take and set this time aside (maybe even book time off work).
Do it yourself and you will have equipment and paint costs to pay out for, but you will also save on labour costs. However, if you can afford it, go with the experts to ensure a first-rate finish top to bottom.
What Factors Influence the Cost of Painting the Exterior of a House?
Access, and the condition of the exterior walls, windows and doors, are all factors that influence the cost of painting the exterior of a house. The render type will definitely make a difference, too.
For example, pebbledash is more labour-intensive to paint and will likely require more paint, so the job will cost more. However, if you have nice smooth render, that is easy and straightforward to paint, the job will therefore be less time-consuming, which a quote should reflect.
If you live in an older house with lime plaster, this may also affect costs, as a breathable paint suitable for use with plaster will be required.
If the render is in poor condition and needs a lot of preparation, the costs can rise significantly. The same applies if you have wooden windows, doors, fascias and soffits. If they only need basic prep – i.e. a quick rub down – costs stay down. But if they need a lot of prep or have been newly fitted and need a primer, undercoats and top coats, the price will rise.
Areas that are hard to reach even with scaffolding and ladders again add hours to a job, which means increased costs.
How Much Does it Cost to Paint the Interior of a House?
Like most paint projects, this is determined by how many days it will take, the price of materials, and what is to be included — e.g. doors, windows, trim, etc. As a rough guide, it will cost around £2,000-£3,000 to paint a three-bedroom house. This will take a painter around 10 days to two weeks to complete, with the cost of paint included.
If you only want a single room or part of your house painting, costs differ by room type, how much paint is required, and how many hours are needed. The cost to paint an average living room (4m x 3m) will be around £200 for two coats of emulsion on four walls.
If you are looking to include doors, windows and painting skirting boards, expect to pay at least double this.
Kitchens and bathrooms are usually cheaper because there is less to paint, but a hallway will cost more, because they typically have greater surface area as well as areas that are more difficult to reach.
For most competent DIYers, interior painting is something they can tackle and reduce costs by doing the job themselves. As an example, to paint a 4m x 3m room, it usually costs around £30-£40 for emulsion and equipment, whereas a pro will charge around £150-£200. But it will take at least a day, more likely a day and a half, of your time.
Which Factors Influence Interior Painting Costs?
New houses with new flat plastered walls are much easier to paint than older, ageing walls in a period property.
The older a wall, the more prep is likely to be needed. But if recently wallpapered with a lining paper, the paint job should be just as quick and easy. Older properties typically have more unusual obstacles, such as high ceilings and awkwardly shaped rooms, which also add time to a paint job.
Windows, doors, skirting boards and trim should not be forgotten either. They will at least double the cost of a room. If you have woodwork with layers and layers of paint on it, this will need to be stripped for a good finish. This is a time-consuming task and will add further expenses to the project. Expect to pay around £100 extra for an average room.
How Much Do Decorators Charge?
The average hourly rate for a painter or decorator in the UK is £24, but this varies across different locations around the country. A professional normally costs around £150-£200 a day, so that's £450-£600 for three days work.
Prices will also differ if the painter is VAT-registered. Always check this when asking for a quote.
A painter's hourly rate typically applies to all jobs. A more labour-intensive paint job takes more hours than a less intensive job, so more hours will be added, which increases costs.
For example, if painting a room, does this include the ceiling? More than one colour? Woodwork and coving? How much square footage needs to be covered? A lounge area typically needs more paint than a kitchen or bathroom. These jobs will add hours to the overall project, so the price goes up.
Ask your painter to give you a breakdown of costs. If working outside, weather interruptions might affect the price, too.
An hourly rate is really only applicable to smaller jobs, though. A painter will typically give you a price for the whole job, e.g. painting a room, or a day rate. If you have a bigger project, it is better to get a quote for the whole job, so you know exactly what you will be paying.
If you are thinking of doing the job yourself, weigh up the pros and cons before you start. The pros are you will save on labour costs, but on the downside you will need to buy painting equipment as well as paint.
The right painter and decorator will have all the items they need, give a professional finish, and get the job done in a specific timeframe (generally quicker than most DIYers), but ultimately cost more than doing it yourself.
Will Painting a House Add Value?
The simple answer is yes, though how much value is hard to determine, given the current fluctuating market.
But it's the intangible benefits that a repaint brings that are a real plus. If you are selling, it will make a good first impression to potential buyers. It indicates that your property is a well-maintained and well looked-after, which suggests that they are getting good value for money.
There is also the appeal of being able to move straight in without having any work to do until they want to.
Steve is an avid DIYer with over 20 years of experience in transforming and renovating homes. He specialises in painting and decorating, but has strong all-round building skills, having previously worked in the industry for 10 years.
Homebuilding & Renovating Newsletter
Get the latest news, reviews and product advice straight to your inbox.
Thank you for signing up to Homebuilding. You will receive a verification email shortly.
There was a problem. Please refresh the page and try again.