Permitted Development: Two-Storey Extensions on Homes to be Fast-Tracked From September
The announcement that Permitted Development rights will extend is hugely significant for extenders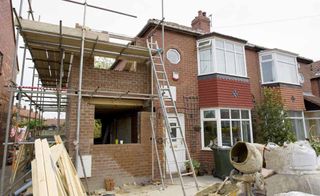 (Image credit: Getty Images)
Permitted Development rights will be extended to enable homeowners to add up to two additional storeys to their home through a fast-track approval process, the government has confirmed.
The new rules will come into effect by September to help homeowners gain more living space - with a requirement to carefully consider the appearance of the extension and how this could impact neighbours.
The widely-expected announcement follows an update to Permitted Development in June, which will allow two-storey upwards extensions to blocks of flats from 1 August.
This is extremely significant news for homeowners. However, while on the one hand, this is positive for extenders who want to extend up and support a growing family, concerns have been raised about the aesthetic impact of these extensions, giving neighbours fewer means to challenge the developments.
The details of the fast-track system have not yet been expanded on, and it is unclear whether the extensions will be allowed under prior approval - a formal submission to a local planning authority to seek confirmation that specified parts of a development are acceptable, before work can commence.
Cutting the Red Tape
The new rules will also mean full planning applications will not be required by developers to demolish and rebuild unused buildings, which the government hopes will aid high streets and town centres by providing more space for new businesses.
Housing secretary Robert Jenrick said earlier this year that he wanted to rip up the planning red tape to deliver much-needed new homes across England, and he reiterated this point on Tuesday.
Mr Jenrick said: "We are reforming the planning system and cutting out unnecessary bureaucracy to give small business owners the freedom they need to adapt and evolve, and to renew our town centres with new enterprises and more housing.
"These changes will help transform boarded up, unused buildings safely into high quality homes at the heart of their communities. It will mean that families can add up to two storeys to their home, providing much needed additional space for children or elderly relatives as their household grows."
Reaction to the Permitted Development Update
Paul Testa, founder of Paul Testa Architecture and contributor to Homebuilding & Renovating says the update is "worrying", and could lead to a lack of quality in future homes.
Testa said: "Permitted Development is such a blunt tool, at the best of times, I can't see how this will lead to the quality that we need and will make our high streets even bleaker.
"The idea also that we can build additional storeys on top of our homes is also worrying. There are very few locations where this wouldn't significantly impact on neighbour amenity.
"It will also change the character of streets overnight. Planners struggle to maintain architectural quality at the moment and with stretched budgets and relaxed rules this is a disaster for maintaining quality in our built environment."
The extension has been called "disgraceful" by the Royal Institute of British Architects (RIBA), which says the move could be damaging for the planning system.
Alan Jones, president of RIBA, said: "The extension of this policy is truly disgraceful. There is no evidence that the planning system is to blame for the shortage of housing, and plenty to suggest that leaving local communities powerless in the face of developers seeking short-term returns will lead to poor results.
"The extension of PDR is not just damaging – it's a missed opportunity. We will be writing to the Housing Minister as a matter of urgency."
"Worse Quality"
While the government extends Permitted Development against rising resistance, it also has to assuage fears following an independent government report published on Tuesday that revealed homes created through Permitted Development are of a lower standard of quality than homes which go through the planning system.
"Only 22.1 per cent of dwelling units created through PD would meet the nationally described space standards (NDSS), compared to 73.4 per cent of units created through full planning permission," reads the report. "Studio flats of just 16 metres squared each were found in a number of different PD schemes."

The independent report, based on interviews with officials in 11 local planning authorities across England, was commissioned by Mr Jenrick's Ministry of Housing, Communities and Local Government, and identify widely held concerns about Permitted Development.

"Permitted development conversions do seem to create worse quality residential environments," wrote the report's authors.
"All of the local planning officers interviewed had concerns about PDR, usually most acutely in concern to the quality of developments that were being produced through it."
Homebuilding & Renovating Newsletter
Get the latest news, reviews and product advice straight to your inbox.
Thank you for signing up to Homebuilding. You will receive a verification email shortly.
There was a problem. Please refresh the page and try again.