#KillaKilowatt Campaign Shows How Small Boiler Changes Make Big Differences
The campaign highlights how homeowners can cut their energy bills and make their homes more energy efficient by making a simple change to their boilers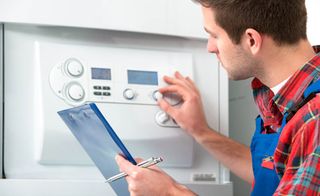 (Image credit: Getty Images)
A campaign called #KillaKilowatt has been launched by leading UK heating engineers to help homeowners increase their boiler efficiency.
The campaign is building momentum on social media as engineers collaborate on ways to change people's boiler usage to help impact the environment and save people money.
The idea was conceived by engineer Michael Walsh, founder of Walsh and Son Ltd, who believes making simple changes to the way our boilers work could have an important benefit.
The campaign comes ahead of the launch of the Green Homes Grant, in which homeowners may be able to claim up to £5,000 towards the cost of a new boiler.
What is #KillaKilowatt?
The leading message of the campaign is simple: drop the temperature flow on your boiler to 60°C. This refers to the temperature of the water flowing out of the boiler.
Doing this will essentially help your boiler to achieve higher efficiency. It does this because at 60°C your boiler is more readily able to condense water vapour and recover latent heat from this vapourisation, which would otherwise have been lost up the flue.
Heating engineers and plumbers who have joined the campaign report that most factory-made boilers have the temperature flow set around 75°C, which means the return temperatures are too high to condense as efficiently.
Top Tip
You should contact an engineer or a plumber to help you lower your temperature flow if you are unsure how to do it yourself
Getting your boiler to a temperature where it can condense water is a simple and cheap way of reducing carbon emissions and will also lower your energy bills.
This should not have any comfort issues for homeowners, Walsh says, and within a few weeks you should end up making a significant saving of 5200 million kW a year if 1kW is taken from every household.

Walsh told Homebuilding & Renovating: "This is my take on being better now, today. I understand heating and I want to do something good for the country and the world.
"We must look today at what we can now to impact the environment, and if it saves people some money as well then that's a bonus."
(MORE: How to boost the efficiency of your central heating system)
"It's Been in the Pipeline"
Nathan James Van Gambling, an engineer and host of the BetaTalk podcast which has advocated for the #KillaKilowatt campaign says the campaign has been a long time coming.
"It's been in the pipeline for a while," Van Gambling said. "One thing that's bothered engineers for years is that we can reduce people's emissions and increase energy efficiency.
Ideally, Van Gambling says, there would be a larger push towards installing low carbon heat pumps and renewable technology, but these have not reached a level of affordability that would lead to the average homeowner to purchase a new system.
(MORE: How to Choose Heat Pumps)
"The cost of low carbon heat pumps can be off-putting, and installation can seem invasive. But even smaller measures can start, and you can soon see a decrease in your bills. This is a first-step process. Once you've seen the benefits then the next step to go even further is to think about getting renewable technology."
The Next Steps
Van Gambling says the next steps of the #KillaKilowatt campaign involve similarly straightforward steps:
Review your boiler's weather compensation - this is a communication system between your boiler and an outside temperature sensor which tells the boiler to adjust the temperature of radiators to ensure you are not wasting heat, however, not all boilers have this system
Balance your radiators - you can learn how to balance your radiators on a DIY basis, which helps to make sure there's an even distribution of heated water making its way to each of the radiators in your house.
Ambition of the Campaign
Walsh and Van Gambling are in the midst of recruiting advocates, with many engineers and industry professionals appreciating the simplicity of the message.
Its a brilliant campaign by these guys & one that has excellent messaging and is totally free to the consumer!As HVAC design engineers we can fully support this initiative 👍#KillaKilowattMassive credit to Michael 👌July 21, 2020
You can support the campaign by using the #KillaKilowatt on Twitter.
Green Homes Grant
Further good news comes in the fact that from September, the launch of the Green Homes Grant scheme will enable homeowners to apply for vouchers for energy efficient improvements such as upgrading old boilers.
Once launched, the government will pay two-thirds of energy-efficient home improvements up to £5,000. This campaign will help to ensure homeowners increase the efficiency of their new boilers further.
Jack is News Editor of Homebuilding & Renovating and strives to break the most relevant and beneficial stories for self builders and renovators. Having bought his first home in 2013, he and his wife have renovated almost every room and recently finished a garden renovation. Jack reports on all of the latest news that could affect your project.
Homebuilding & Renovating Newsletter
Get the latest news, reviews and product advice straight to your inbox.
Thank you for signing up to Homebuilding. You will receive a verification email shortly.
There was a problem. Please refresh the page and try again.