Jack Grealish seeks planning permission for extension to his £5.6m mega mansion
Grealish seeks to make the property a "forever home" for him and his partner but this may prove to be difficult due to the homes prior history with failed applications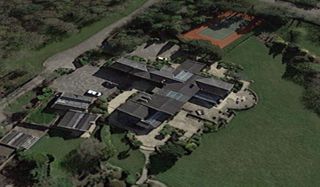 (Image credit: Google Earth)
England and Manchester City star Jack Grealish is seeking to install a 'leisure complex extension' into his £5.6m, 20-acre countryside, Cheshire mansion.
The footballer, 27, hopes to gain planning permission for a sauna, steam room, yoga studio, and other health and luxury amenities for the home he shares with his partner Sasha Attwood as they seek to make the property their "forever home" and "bring it up to today's standards of living, as well as better accommodating their lifestyle".
However, based on the property's previous failed applications and difficulties with neighbours, gaining permission may prove to be harder than he imagines.
'Leisure complex extension' will include sauna, steam room and a yoga studio
As well as the sauna, steam room, and yoga studio, the couple also want a cold plunge pool, a steam room, and a treatments room.
The submitted plans also shows a seating area and a gym with weights and exercise bikes.
Mr Grealish and Ms Attwood moved into the 23-acre property in October last year and submitted the application last month.
Home already has a garden temple and helipad
The reported plans for the property include a 'temple' in the garden, a fly-fishing lake, a floodlit tennis court, a wine store, a golf tee and green, and a helipad.
The five-bedroom property already includes a library, orangery, boot room, and family room.
The application states: "A material palette proposed to match the existing development will ensure it blends with the local rural area. The proposed pool part side and rear extension is respectful of the building, whilst offering a more modern but in keeping leisure facility to the remaining part of the home.
"The proposal to the garaging, proposing individual garage doors to the main space, will allow all members of the family to securely park in garaged facilities."
England star may find difficulty in gaining permission
There have been a couple of failed applications associated with the property before it was bought by the England attacking midfielder.
A single-storey outbuilding was refused in October 1997 and a proposed development of a retirement care community was refused in February 2022.
The application states: "Whilst this property has been subject to a number of planning applications with the previous owner, our clients are clear in their vision to make this property a forever home and as such, by making these slight increases, will allow them to achieve this."
Additionally, Grealish had a legal disagreement with his neighbours last year over the use of his 20-acre field whereby farmers were using his land to move farm animals such as cows and sheep across his land, which was allowed via an "ancient covenant" in the homes planning deeds.
However, when purchasing the house Grealish's team had this clause removed meaning the farmers could no longer use the land to move their animals.
Get the Homebuilding & Renovating Newsletter
Bring your dream home to life with expert advice, how-to guides and design inspiration, direct to your inbox.
Sam is based in Coventry and has been a news reporter for nearly 20 years. His work has featured in the Mirror, The Sun, MailOnline, the Independent, and news outlets throughout the world. As a copywriter, he has written for clients as diverse as Saint-Gobain, Michelin, Halfords Autocentre, Great British Heating, and Irwin Industrial Tools. During the pandemic, he converted a van into a mini-camper and is currently planning to convert his shed into an office and Star Wars shrine.