New 'WiFi Boiler' Can Run on Gas and Hydrogen
By Jack Woodfield published
The new boiler could help homeowners lower their energy bills and reduce their carbon emissions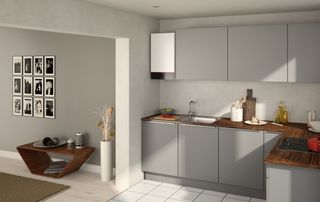 (Image credit: Viessmann)
A new boiler with built-in WiFi can run on gas and hydrogen, and could help homeowners to reduce energy bills and carbon emissions.
Around 14% of the UK's carbon emissions comes from heating our homes, and to help the UK reach net zero by 2050, the government will ban gas boilers in new-build homes from 2025, before phasing them out entirely by the mid 2030s.
Heat pumps and hydrogen heating are two advancing technologies for helping to decarbonise existing homes, and Viessmann has made a significant step as it prepares for the expected introduction of hydrogen to the UK gas grid in the near future.
The German-based company's new WiFi-integrated Vitodens 100-W gas condensing boiler is capable of running with a hydrogen mix of up to 20%, through Viessmann's Lambda Pro combustion control technology.
This not only helps to reduce carbon emissions, but ensures that the boiler will continue to operate efficiently if the UK gas grid supplies a blend of up to 80% natural gas and 20% hydrogen (this blend was trialled at Keele University last year).
How Energy Efficient is it?
Viessmann says that up to 94% of the fuel used by the Vitodens 100-W is converted into heat, and this efficiency can be increased with the addition of weather compensation controls. These controls ensure the boiler burns no more fuel than the exact amount required to match the heat lost from your home.
As the push to decarbonise boilers escalates, a microwave boiler was announced earlier this year that pledges to have an energy efficiency rating of 96%.
And it Can be Controlled via WiFi?
The built-in WiFi means the boiler can be completely controlled remotely, using your smartphone or tablet, via the ViCare app. And one of the benefits of this is that it makes servicing the boiler much easier.
(MORE: How to design a smart home)
You can use the app to glance whether there are any problems, and in the event of the boiler needing professional attention, the app will automatically notify your designated heating engineer. The engineer can then remotely access and make adjustments to the boiler.
How Much Will it Cost?
Viessmann doesn't state how much the boiler costs to install - this is attainable via a heating specialist calling to discuss your enquiry. But the company says that the Vitodens 100-W can help to reduce annual fuel bills by up to 15%, through low fuel consumption and low carbon emissions.
One of the ways it does this is through the ViCare app, which allows users to set preferred daily routines which are saved automatically, and look at gas consumption and cost savings to make informed decisions.
Is Hydrogen the Future of Gas Boilers?
Viessman is the latest big name to incorporate hydrogen technology into their products, and hydrogen heating could have a big role to play in the green future, especially as heat pumps won't be suitable for every household.
Baxi Heating and Worcester Bosch are currently trialling working prototypes of their hydrogen boilers, and they share a benefit with Viesmann's new boiler: they will be easy to replace gas boilers in existing properties.
As yet, their 100% hydrogen boilers are not yet available to purchase, but Boiler Guide estimates that pricing would be similar to natural gas boilers - somewhere between £400 to £3,000 before factoring in the installation.
However, a criticism of hydrogen heating is that it can be costly to produce, which means supply could be limited.
Jack has worked in journalism for 11 years and is the News Editor for Homebuilding & Renovating, a role he has had since 2019. He strives to break the most relevant and beneficial stories for self builders, extenders and renovators, including the latest news on the construction materials shortage and hydrogen heating. In 2021 he appeared on BBC's The World at One to discuss the government's planning reforms.
He enjoys testing new tools and gadgets, and having bought his first home in 2013, he has renovated every room and recently finished a garden renovation.
Homebuilding & Renovating Newsletter
Get the latest news, reviews and product advice straight to your inbox.
Thank you for signing up to Homebuilding. You will receive a verification email shortly.
There was a problem. Please refresh the page and try again.