House Prices: Annual Growth Hits Four-Year High, But Experts Fear Downturn
House prices have risen throughout the summer, but experts predict prices to stagnate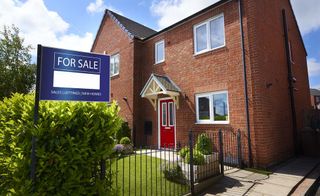 (Image credit: Getty Images)
House prices increased 5% in September, the fastest annual rise since September 2016, according to new Nationwide data. 
Pent-up buyer demand, the stamp duty holiday and behavioural shifts due to life in lockdown have all been attributed to the increase. 
The average cost of a house in the UK is now £226,129, a 0.9% month-on-month increase from August. London experienced a particularly notable rise, with asking prices hitting a record high of £480,857. 
It has been a positive summer for the housing sector, after house prices surged in July and then rose 1.6% in August (according to Halifax). And separate data published by the Bank of England this week showed that mortgage approvals rose in August to the highest level in almost 13 years. 
But, despite these new findings, uncertainty remains for first-time buyers and those looking to buy before renovating a house.
Uncertainty Over House Prices
The Covid-19 pandemic remains an unavoidable problem facing potential homebuyers and sellers, with potential employment growth, the end of the stamp duty holiday and rising lockdown restrictions all reasons for concern. 
The furlough scheme ends on 31 October, and independent forecasts collated by the Treasury predict that unemployment will hit 8% by the end of the year, which would most likely impact the number of active house buyers.  
Ross Counsell, chartered surveyor and director at regulated property buyers, Good Move, said: "We believe buyers will still take full advantage of the stamp duty holiday to save them money. However, whilst the stamp duty deadline of March is still six months away, buyers ideally need to purchase a home before Christmas to ensure they have enough time for completion ahead of the deadline."
House viewings remain possible under strict guidelines, and while local lockdowns such as those in Lancashire and Birmingham have not involved changes to property sector guidance, the threat remains that additional lockdown measures could yet impact the housing market.
Economic forecaster EY Item Club suggests that house prices could be about 5% lower than now by mid-2021 as the economy struggles to recover from entering recession.
Hansen Lu, an economist at Capital Economics, a consultancy, said: "Price gains are likely to slow as the pent-up demand driving the market now is expended. Looking ahead, we think a weak underlying economy and the end of the stamp duty cut will slow house price growth to a standstill by the end of 2021."
Homebuilding & Renovating Newsletter
Get the latest news, expert advice and product inspiration straight to your inbox.
Thank you for signing up to Homebuilding. You will receive a verification email shortly.
There was a problem. Please refresh the page and try again.