Energy Security Strategy to Accelerate Hydrogen and Heat Pump Development
By Jack Woodfield published
The government's new Energy Security Strategy has set out a new vision of how the UK will supply energy to homes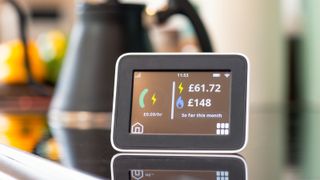 (Image credit: Getty Images)
The acceleration of heat pump development and new targets for hydrogen production have been pledged as part of the government's new Energy Security Strategy.
Announced on Thursday, the Energy Security Strategy does not include any new policies on saving energy through insulating bills, nor new plans to help homeowners navigate soaring energy price rises.
But the strategy does include key pledges which could transform the way the UK supplies energy to homes in the future, with new plans announced to reduce the UK's reliance on oil and gas.
However, business minister Kwasi Kwarteng confirmed that the strategy is "more of a medium three, four, five year answer", rather than an immediate fix to address the energy crisis.
New Investment in Heat Pumps
There will be a £30m "heat pump investment accelerator competition" to help the development of heat pumps as an alternative to gas boilers, the Energy Security Strategy has confirmed.
Boris Johnson has pledged that 600,000 heat pumps will be installed per year by 2028, and launched the Boiler Upgrade Scheme this month to encourage uptake.
The pledge has been welcomed by the Heat Pump Association (HPA). Phil Hurley, chair of the HPA, said: "In the context of the cost-of-living crisis and the tragedy in Ukraine, it has never been more important for heat pumps to be deployed at scale in UK homes. Not only can heat pumps reduce carbon now but their benefits will increase over time as the grid continues to decarbonise."
Hydrogen Production Targets Doubled
The government will double its target for hydrogen production to 10GW by 2030, with at half coming from green hydrogen and utilising excess offshore wind power to bring down costs.
Hydrogen boilers may not yet be available, but hydrogen heating technology is consistently advancing. Earlier this year, the Energy Networks Association (ENA), the industry body representing energy network operators in the UK, said that it is preparing capability to introduce 20% hydrogen into the regular gas grid from 2023.
If this 20% capacity is achieved, it would represent an equivalent reduction of taking 2.5 million cars off roads, in terms of reducing carbon emissions, the ENA says.
Mike Foster, CEO of the Energy and Utilities Alliance, said of the government's announcement: "The gas grid is gearing up for hydrogen, and boiler manufacturers have already made promises around price for consumers. Now it is up to the government to pull their finger out and prioritise UK people and their finances by progressing hydrogen as part of the UK's energy mix."
Solar Panels Reform
The government also said it will look at reforming rules for the installation of solar panels on homes and commercial buildings, to help increase the current solar capacity of 14GW grow up to five times by 2035.
Solar panels, along with heat pumps and insulation, are now 0% rated for VAT after the government changed VAT on retrofit rules in the Spring Statement.
What Else Has Been Announced?
Nuclear - Eight more nuclear reactors could be built to reduce the UK's reliance on oil and gas, while a new body, Great British Nuclear, will be launched to bolster the UK's nuclear capacity
Offshore wind - Planning reforms will be introduced to cut the approval times for new offshore wind and farms from four years to one, to help meet the ambition of delivering up to 50GW by 2030, which the government says will provide 'more than enough to power every home in the UK'
Oil and gas - A fresh round of licences for new North Sea oil and gas projects will launch this autumn; the government says producing gas in the UK has a lower carbon footprint than imported from abroad
What's the Reaction Been?
Brian Berry, chief executive at the Federation of Master Builders, said he was disappointed that the strategy failed to deliver significant measures to improve the energy efficiency of the UK's 29 million energy homes, which would help cut bills and lower emissions.
"The Energy Security Strategy completely misses the mark in tackling energy consumption in our homes. After the disappointment of the Heat and Buildings Strategy this was an opportunity for the government to implement a National Retrofit Strategy, focussing on improving the energy efficiency of the UK's draughty and leaky homes," he said.
"A broader, insulation led, retrofit strategy would have been an immediate solution to reduce energy consumption, boost the economy and importantly, help save homeowners money on their bills during a cost-of-living crises."
But Chris O'Shea, CEO Centrica, said that strategy is crucial for helping to tackle global rising energy prices on UK households.
"The geopolitical landscape means it's more crucial than ever that the UK has robust and secure supply chains for many things, including energy.
"The British Energy Security Strategy is something we can all get behind to protect the nation and help households today and over the long term. We welcome the government's boost for renewables and nuclear and the focus on kick-starting the hydrogen economy."
Jack has worked in journalism for 11 years and is the News Editor for Homebuilding & Renovating, a role he has had since 2019. He strives to break the most relevant and beneficial stories for self builders, extenders and renovators, including the latest news on the construction materials shortage and hydrogen heating. In 2021 he appeared on BBC's The World at One to discuss the government's planning reforms.
He enjoys testing new tools and gadgets, and having bought his first home in 2013, he has renovated every room and recently finished a garden renovation.
Homebuilding & Renovating Newsletter
Get the latest news, reviews and product advice straight to your inbox.
Thank you for signing up to Homebuilding. You will receive a verification email shortly.
There was a problem. Please refresh the page and try again.