Couple buy mansion filled with squatters for £225k and spend £2million restoring it
Reg and Elizabeth, a couple now in their 70s, bought the historic home, that was being used as a drug den, after making a "daft" low offer and spent a decade and £2million renovating it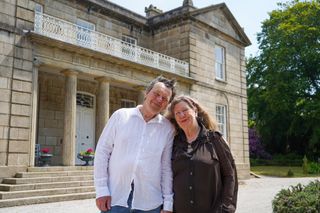 (Image credit: SWNS)
A Grade-II listed, 29-room, Regency home in Cornwall has been restored to its former glory.
Renovating a house is a daunting enough challenge for anyone, so taking on a rotting, asbestos-riddled mansion filled with squatters seems like an overwhelming challenge.
Reg, 73, and Elizabeth Price, 72, spent a decade and £2m renovating Roswarne House in Camborne, Cornwall, after making a "daft" offer of £225,000 in 2013.
200-year-old home was abandoned for six years
The stately home was built between 1810 and 1815, but was used as a squat and drug den after being left abandoned for six years.
Roswarne House had asbestos contamination and every window was smashed, doors were torn from their hinges, historic features destroyed, and the roof was falling in, when the Prices took over.
It was built between 1810 and 1815 by a family with business interests in copper mining and smelting.
Image 1 of 6
How 'silly offer' of £225,000 was accepted
Elizabeth told SWNS: "We came up here one day, there's six acres of grounds and all the flowers were out. It was just so beautiful so we fell in love with it.
"The former owners originally wanted £750k, but it was in such a derelict state, it was clear a lot of work would be needed to restore it.
"We made a daft offer of £175,000, and amazingly after some negotiation we got it for £225,000."
Image 1 of 9
29-bedroom manor house took 10 years to restore
The refurbishment was funded by the sale of another renovated derelict property in Waterloo, London. The couple spent nearly £250,000 to replace all the plasterwork and remove the asbestos.
The roof was caved in and needed replacing – a job which cost £100,000 alone. All columns and staircases were restored and every room has installed a fireplace once again. These eye-watering sums are at the upper end of house renovation costs.
Image 1 of 3
£2m doing it up — including £70k a year on security
In total the couple claimed to have spent £2 million renovating the property. Another part of this cost was in hiring a security firm which was hired to keep squatters out at a cost of £70,000 every year.
Reg stated: "When we bought the house there was no glass in windows, it was all boarded up. The first thing we did was to take off all the boards and put metal grills over the shattered windows to let in air to dry any rot. After that we replaced the roof to stop the leaks.
"For at least two years we had to maintain constant day and night security to keep youths and the homeless out. It was hard turfing people out, we felt bad, but we wanted to save the building."
Image 1 of 3
Get the Homebuilding & Renovating Newsletter
Bring your dream home to life with expert advice, how-to guides and design inspiration, direct to your inbox.
Sam is based in Coventry and has been a news reporter for nearly 20 years. His work has featured in the Mirror, The Sun, MailOnline, the Independent, and news outlets throughout the world. As a copywriter, he has written for clients as diverse as Saint-Gobain, Michelin, Halfords Autocentre, Great British Heating, and Irwin Industrial Tools. During the pandemic, he converted a van into a mini-camper and is currently planning to convert his shed into an office and Star Wars shrine.