Pioneering Low-Carbon Plasterboard to be Trialled in UK
By Jack Woodfield published
A UK biotechnology company's low-carbon, biogradeable plasterboard could become a sustainable building material for self builders and homeowners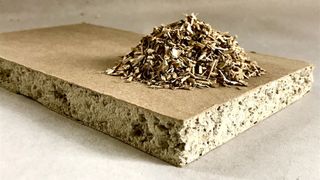 (Image credit: Adaptavate)
A carbon-absorbing plasterboard will be tested in pilot trials to assess its efficacy as an alternative to mainstream plasterboard products.
Adaptavate, a UK-based biotechnology company, has raised £2.2m to help develop a pilot line in Bristol that will test and scale production of Breathaboard, a bioscopic alternative to gypsum plasterboard to plastering walls, that could one day become a sustainable building material for those undertaking self build or renovation projects.
Breathaboard is a low-carbon plasterboard that passively regulates the moisture in an internal space, helping to reduce pollutants in the air as well as the likelihood of condensation, mould and mildew occurring, Adapatavate says.
The funding for the trials came from the Low Carbon Innovation Fund, as well as carbon-removal fund Counteract and a grant from the government. Once proof of concept is established, Adaptavate says it plans to licence its technology to manufacturers of building materials.
Thomas Robinson, managing director and founder of Adaptavate, said: "This investment will enable us to revolutionise the way construction materials are made without forcing any change on end users.
"We're using industrial carbon absorbing processes to produce a healthier, high performance product that is better for the health of people and planet and a genuine drop-in replacement for gypsum plasterboard. It's a fundamental rethink and redesign of the current system and we are excited to scale this approach around the world."
How Does Breathaboard Work?
Breathaboard is a sustainable and completely biodegradable plasterboard made from lime and food crop byproducts that can be used on walls, ceilings and floors in any room of a house. It is used and installed in exactly the same way as standard plasterboard.
Using Breathaboard would eliminate the need for gypsum-based products, which has a significant impact on carbon emissions. Plasterboard was responsible for 3.5% of the UK's annual emissions in 2017, according to a study from the University of Bath.
Moreover, the waste or cut-offs from Breathaboard can be used as a fertiliser so there's no costs involved for waste disposal, and its insulating properties provide a thermal performance that Adapatavate says could help to lower homeowners' energy bills amid soaring energy price rises.
The company now plans to test the scalable and continuous production process on Breathaboard, which is expected to be available in small batches by the end of the year. But those looking to embrace low-carbon plasterboard on current projects can purchase one of Adaptavate's other plasterboard products: Breathaplasta.
Breathaplasta is made from agricultural waste and a lime-based binding agent that absorbs carbon dioxide. Lime is a compound called calcium oxide which absorbs carbon dioxide to form calcium carbonate, which provides the plasterboard with mechanical strength as it solidifies.
Breataplasta also regulates moisture and helps reduce problems with condensation and mould, and offers a range of natural lime plaster finishes from smooth lime plaster skim applications to textured finishes and super-textured feature walls.
"Breathaplasta was initially designed to be easy to use for builders, specifiers and installers," Robinson said. "It has all the performance characteristics of a lime plaster, but using the same installation times and tools as standard gypsum based plasters. That means that every house could have a healthier wall, breathing with the people in the building."
Jack has worked in journalism for 11 years and is the News Editor for Homebuilding & Renovating, a role he has had since 2019. He strives to break the most relevant and beneficial stories for self builders, extenders and renovators, including the latest news on the construction materials shortage and hydrogen heating. In 2021 he appeared on BBC's The World at One to discuss the government's planning reforms.
He enjoys testing new tools and gadgets, and having bought his first home in 2013, he has renovated every room and recently finished a garden renovation.
Homebuilding & Renovating Newsletter
Get the latest news, reviews and product advice straight to your inbox.
Thank you for signing up to Homebuilding. You will receive a verification email shortly.
There was a problem. Please refresh the page and try again.