Amazon Prime Day Garden Tools Deals Too Good to Miss!
By Sarah Handley published
Amazon Prime Day doesn't disappoint when it comes to juicy deals on the biggest names in garden tools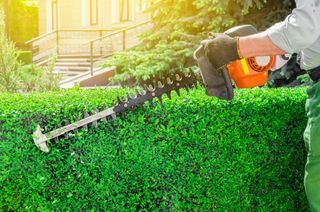 (Image credit: getty images)
Amazon Prime Day is back. Usually taking place in May each year, the rescheduled Amazon Prime Day extravaganza has finally arrived just in time to give us some exceptional bargains, but you'll need to be quick - the event ends at 11.59pm on 14 October.
You will need to be an Amazon Prime member in order to take advantage of the major discounts on offer (and if you aren't a member already, you can sign up for a free 30 day trial).
And if you don't have time to scroll through Amazon's listings to find the best deal, then worry not, because we've done it for you.
Here are the best Prime Day deals on garden tools, from major brands including Kärcher, Flymo and Bosch, to keep your garden looking good all year round. If you're looking for a lawnmower, hedge trimmer, pressure washer, strimmer or leaf blower, we've got you covered.
Not all deals are available for the 48 hour duration of Prime Day so act quickly to avoid disappointment.
Amazing Amazon Prime Day Deals!
Greenworks G40LM35K2 Cordless Lawnmower | RRP £284.99, NOW £139.99. SAVE 51%
If you are after a no-fuss lawnmower, then this cordless model from Greenworks is a great choice. Cordless lawnmowers offer great freedom of movement, especially if you have obstacles such plants or garden furniture that a cord would be forever snagging on, but are also great if you hate having to multitask by hooking the cord over your shoulder while trying to mow just so you don't accidentally mow the cable (we've all been there).
As well as having a 40l-capacity catcher bag, this low-noise lawnmower also has a mulching function (and you can easily switch between mowing and mulching modes). It's lightweight as well as being easy and compact to store.
If you plan on buying more tools, the 40V battery can be used with any 40V Greenworks tool.
Flymo Easilife 350 Robotic Lawnmower | WAS £699.99, NOW £549.99. SAVE £150
If mowing the lawn is the bane of your existence, then it's time to leave it to the robots. This robotic lawnmower from Flymo independently mow lawns up to 350m2 in size in ultra-quiet fashion, is self-mulching and can make easy work of even the most irregularly-shaped lawns (it can even tackle slopes with gradients up to 35 degrees).
You'll need to install a hidden boundary wire to define the cutting area, but then the Easilife 350 will do the rest, even adapting its cutting schedule to the weather. It adopts an irregular navigation system to ensure full coverage and no track lines.
Bosch AFS 23-37 Strimmer | RRP £124.99, NOW £82.99. SAVE 34%
Make quick work of tough grass, weeds, nettles, brambles and bushes with this corded Bosch strimmer.
Weighing it at 5.7kgs, this strimmer allows you to easily switch between the extra strong cutting line spool or the metal blade for great cutting performance. The metal blade has a cutting radius of 23cm while the cutting line spool has a radius of 37cm.
It has an adjustable strap and handle to offer optimal balance making it comfortable to use and easy to control.
Kärcher K7 Premium Full Control Plus Home Pressure Washer | RRP £699.99, NOW £339.99. SAVE 51%
The most powerful domestic pressure washer from Kärcher, the K7 pressure washer can get your patio, decking and garage doors (even caravans and bikes) looking like new in no time. You can easily select the right pressure for the job thanks to the LED display.
In addition to a 3-in-1 multi-jet lance that not only shifts dirt but also applies detergent, you also get an accessory kit including a patio cleaner attachment.
With an RRP of just under £700, the opportunity to save 50% really is too good to miss.
Flymo Easicut 460 Hedge Trimmer | RRP £52.99, NOW £35.39
Keep hedges under control with this Flymo Easicut 460 hedge trimmer. The powerful 450W trimmer weights just 2.6kg and with dual reciprocating blades, it makes light work of any bushes and hedges in your garden.
It has a central handle for easy control, a blade length of 45cm and a 10m power cable.
Murray 18V Lithium-Ion Leaf Blower (Bare Tool Only) | WAS £49, NOW £34
Keep your garden looking its best throughout autumn and winter with this Murray leaf blower. Despite its powerful 225km/h air velocity, it's lightweight and easy to control.
It'll run for 22 minutes on a single charge and is ideal for gardens up to 425m2 in size. With a 5Ah battery (sold separately), this leaf blower can be fully charged in two hours.
Flymo EasiMow 300R Electric Rotary Lawnmower | WAS £74.99, NOW £52.49
If you prefer a corded lawnmower, then this is a great deal. With a powerful 1000W motor this Flymo EasiMow lawnmower has a 30 litre capacity grass box and a 10m cable, making it a great choice for those with smaller gardens.
It has a rear roller to create that enviable striped effect and comfortable dual lever handles, which make it super-comfortable to use.
It has a variable cutting height (20-60mm) and is designed for close cutting across borders so you can get a perfect result every time.
Bosch EasyHedgeCut 18-45 Cordless Hedge Trimmer | RRP £119.99, NOW £75.99
Got small to medium sized hedges that need keeping in check? This Bosch hedge trimmer is the one for you. It's cordless, which means you have complete freedom of movement and its lightweight, ergonomic design means it's comfortable to use in various working positions.
With a 45cm blade length and 15mm tooth spacing, the EasyHedgeCut also has an anti-blocking system for clean, powerful cutting.
And for Prime Day, you can save a not-too-shabby 37%!
Sarah is Web Editor of homebuilding.co.uk. She began her career more than a decade ago, working on the editorial team of Public Sector Building magazine, before joining the wider Homebuilding & Renovating team as Social Media Editor in 2012. Since purchasing her first house in 2015, Sarah has been adding to the ever-increasing list of home improvements she needs to make; including extending over the garage, resurfacing the driveway, replacing existing flooring and revamping the kitchen. Fortunately, in her eight years on Team Homebuilding, including three as web editor, she is not short on design inspiration or top tips to tackle or project manage these tasks herself.
Homebuilding & Renovating Newsletter
Get the latest news, reviews and product advice straight to your inbox.
Thank you for signing up to Homebuilding. You will receive a verification email shortly.
There was a problem. Please refresh the page and try again.