A Unique DIY Home Built For Just £97K
By Alison Wall published
This barn and cow shed were creatively converted into a characterful home on a tight budget — complete with magical tree staircase and smallholding!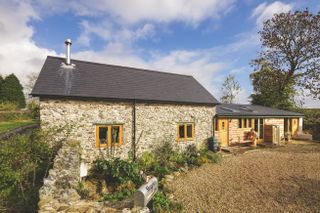 (Image credit: Simon Maxwell)
Set designer and theatrical prop maker Clare Barr and husband Gordon Coomber have converted a barn and cow shed into a wonderfully characterful home on a tight budget. Here, Clare talks to Alison Wall about the project
A Micro Barn Conversion Project
Project notes
Homeowners Clare Barr and Gordon Coomber
Location Somerset
Build time Apr 2015-Jan 2017
Size 111m2
Plot cost £200,000 (2013)
Build cost £97,300
Value £400,000
Clare and Gordon were looking for a property in Somerset with land so they could live in their vintage caravan and build a workshop. "We found the property while we were living in Brighton and bought it will some planning requirements signed off and, most importantly a big workshop — I make theatrical props and sets and my husband, who is a plasterer, also restores vintage cars and caravans."
The couple found themselves owning a two-storey hayloft not much bigger than the static caravan they lived in on site during the project, and an attached one storey cow shed. The shed was very dilapidated with just one solid back wall; the rest had collapsed.
The planners had said the cowshed was in too bad a state to repair and had to come down but they granted planning on the hayloft – the advice was to go ahead with that part of the conversion, turn it into a dwelling and then apply for an extension on the footprint of the cowshed – which is what Clare and Gordon did effectively.
"We went back to planning a third time to get permission to extend the curtilage of the barn, so we now have a decent-sized garden as well as three acres of agricultural land. I'd started with a fear of the planning process but everything went through and I've decided that it's not so scary!"
(MORE: Conversion Guide)
A Conversion for Under £100k
"We had a tight £100,000 budget, so my husband and I did everything ourselves over three years. I designed, project managed and did all the carpentry, painting and gardening, while my husband did all the heavy labouring, excavating and plastering (the bits no one pats you on the back for afterwards!) — he even learned about lime plastering as we had to scrape away all the old lime and repoint it with fresh."
(MORE: Self Build Project Management)
They both did the roof with the help of a 'how to slate your roof' video on YouTube, which was also their tutor on septic tank soakaways and underfloor heating design.
"We are both practical people but we'd never done anything like this before. I knew nothing about plumbing, drains, guttering, consolidating hardcore, Building Regulations or insulation, but I am good at research and asking questions, and I have a modicum of common sense — which it turns out is all you actually need!"
(MORE: 15 Ways to Stay on Budget)
A Tree Trunk Staircase
"I always wanted to live in a tree house so decided to 'fly in' an oak tree trunk while the roof was off the hay barn to use as part of a spiral staircase to our upstairs bedroom and bathroom."
Clare asked a friend to find a tree on his land that was exactly 30cm wide with a branch of 2m and a splayed root — somehow he came up with the goods!
"I think it's a great feature in what otherwise would have been a bit of a boring room. This was my most fun, yet challenging, part of the build."
Creating a Characterful Home
Clare wanted to retain the character of a farm building and not make it look like a new build. They put the glazing in themselves and alongside a new corrugated roof on the cowshed and some of the old roof inside, as the couple wanted it to look as though they had just moved into some stables. The corrugated roof was also much cheaper than the slate roof.
Clare spent a lot of time in architectural salvage yards looking for the right pieces like the wooden toilet cistern. "Lots of things I found on eBay, like the vintage 'English Rose' kitchen unit — I literally designed the kitchen around the shape of that. And I've been collecting stuff for years from my travels — there's even an Egyptian mummy that I brought with me from Brighton. It's Tim Burton meets Enid Blyton's 'The Magic Faraway Tree'!"
Homebuilding & Renovating Newsletter
Get the latest news, reviews and product advice straight to your inbox.
Thank you for signing up to Homebuilding. You will receive a verification email shortly.
There was a problem. Please refresh the page and try again.