Window Sizes Explained: How to Ensure a Perfect Fit
By Natasha Brinsmead published
The world of window sizes can be a little confusing — but our quick guide is here to explain everything you need to know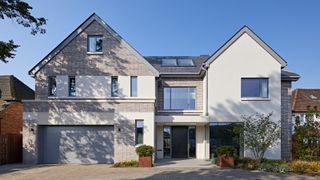 (Image credit: Urban Front)
Window sizes are just one aspect to consider when choosing windows for your home — along with style, material, colour and configuration.
The window sizes you choose will not only need to take into account the sizes of any existing openings in the case of renovations and conversions, but should also be selected based on how they will sit with the other proportions of the house as a whole.
The window styles you choose will also play a part in the window sizes you opt for.
What Are Standard Window Sizes?
There is actually no such thing as standard window sizes in the UK. However, many window manufacturers do tend to offer ranges of ready-to-fit products for most window styles in the most commonly specified sizes.
If, like so many others, these common sizes do not fit in with your requirements or your existing window openings, you will need to have your windows custom made to fit.
Understanding Window Measurements
Before starting your search for the perfect windows for your home, it is important to understand the size notation used by window manufacturers. This will help you choose the right products easily.
The size notation is actually very simple. You will see window sizes as a four digit figure. The first two numbers are the width of the window, while the second two numbers are the height. These figures refer to the height and width in feet and inches.
So, for example, a window marked 2436, would have a width of 2 feet 4 inches and a height of 3 feet 6 inches.
It is important to note that although windows sizes are usually given in whole numbers, they are commonly around half and inch less than the number stated. This is to make installation easier. So, a window marked to fit into a a 34in x 36in opening, it will usually only really measure approx. 33.5in by 35.5in.
How to Measure For a Window
In the case of replacement windows, you will need to measure your existing openings. You might find that you will be able to buy off-the-shelf windows in some cases but if not you will need to have them custom made to fit.
In many instances, window manufacturers (or a joiner) will come out to your house to calculate your required sizes, but it still useful to know how to measure for replacement windows in order to get an idea of what costs you are likely to be facing.
To measure for a new window:
You should take window measurements from the outside opening.
Measure up to the brickwork — not up to the old frame.
Measure the top, middle and bottom of the width of the window opening
You should subtract 10mm from the narrowest width measurement — this will be the width you order.
Next measure the height — from the left, middle and right.
Again, take the smallest measurement and deduct 10mm to get the height of the window you should order.
It is important to note that some manufacturers advise deducting more than 10mm from your measurements so be sure to check with your chosen supplier first.
Standard Sash Window Sizes
Classic sash windows are a beautiful feature and are commonly found on Georgian, Victorian and some Edwardian houses. A common width for sash windows during the Victorian period was 4ft. However, there were obviously many other sizes.
These days, sash windows are most commonly available ready-to-fit in standard sizes of between 14 - 68 inches window and 24 - 128 inches high.
Standard Casement Window Sizes
Casement windows are now one of the most popular window styles in the UK and are certainly the style most often specified by those opting for aluminium windows. Although there is no industry standard size, some of the most common sizes for ready-made casrement windows are:
25in x 35in
29in x 47in
29in x 59in
Tilt and Turn Window Sizes
Tilt and turn windows are operated by a single handle. They can be opened fully, like a casement window, or they can be tilted from the bottom so that the top of the window is angled into the room, giving a small opening for ventilation.
In terms of tilt and turn window sizes, single units typically come in a minimum size of 23.6in (600mm) x 19.7in (500mm) up to a maximum of 74.8in (1900mm) x 51.2in (1300mm).
Double tilt and turn windows come in a minimum size of 23.6in (600mm) x 47.2in (1200mm), up to a maximum size of 66.9in (1700mm) x 94.5in (2400mm).
Natasha is Homebuilding & Renovating's Associate Editor and has been a member of the team for over two decades. An experienced journalist and renovation expert, she has written for a number of homes titles. She has renovated a terrace and is at the end of the DIY renovation and extension of her Edwardian cottage. She is now looking for her next project.
Homebuilding & Renovating Newsletter
Get the latest news, reviews and product advice straight to your inbox.
Thank you for signing up to Homebuilding. You will receive a verification email shortly.
There was a problem. Please refresh the page and try again.