What is a laser tape measure — and is one better than a standard tape measure?
What is a laser tape measure? Is it a tape? Is it a laser? It's both. Here we delve into the pros and cons of a laser tape measure, how to use one — plus safety considerations you might not have thought about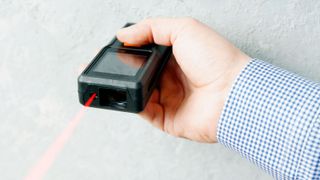 (Image credit: Getty Images)
What is a laser tape measure is an interesting question. The humble tape measure has been an essential companion for DIYers, self builders, home renovators and trades for years so what does a laser tape measure offer that a standard tape measure doesn't?

Well, you won't need to worry about how far it can extend without bending and twisting like a traditional tape. But on the other hand you won't be asking yourself 'What is the diamond on a tape measure? because it won't have one.

Here we look at what is a laser tape measure, how to use a laser tape measure, why you might need one and if they worth it.
What is a laser tape measure?
A laser tape measure is a tool that uses a laser beam to measure the distance between two points. i.e. wall to wall, floor to ceiling. Instead of reading off a tape, you read off a screen that will display a distance in the selected unit of measurement.

There are effectively two variations of the laser tape measure. There are laser measuring devices like the HANMATEK Laser Distance Meter from Amazon, which look a little like an old Nokia mobile phone. They are rectangular in shape, typically have a half LCD screen and a control pad.

Then you can get a hybrid of a standard tape measure and laser measure. These are standard tape measures with a laser integrated into the body, like this Huepar 2-in-1 Laser Tape Measure from Amazon. This looks like a traditional tape measure but has a laser in the front, a LCD screen on the top and controls on the side.
How to use a laser tape measure
A laser tape measure is relatively simple to use, but high end models can offer more features that will need a little more learning. But, on a base level it is very much about placing the device on a surface and pointing at the surface you want to measure and pressing a button. This makes it a great choice for measuring from wall to wall, but you will need to keep the tape device level for a precise measurement.

The laser needs a solid surface to hit to get a measurement. So if you want to measure a specific distance along a length of wood, for instance, you will need to put a solid surface at the desired point for the laser to get an accurate measurement.
Are laser tape measures worth it?
Do you need a laser tape measure? Well, Shane Patterson, category manager at Jewson explains the pros and cons, "Laser measures and traditional tape measures both have a place in the toolbox, with each bringing different benefits. Laser measures are perfect for getting highly accurate readings for long distances, particularly if you are working alone, while a traditional tape measure is ideal for shorter jobs."
He continues, "If you are looking to measure around curved edges or from the middle of the room, you will find this much easier with a laser tool, which can provide a quick reading for area, distance and volume."
But it's not just long distance accuracy that laser tape measures offer as Patterson enthuses, "It is hard to compete with the size and price of a traditional tape measure, but there are a number of compact laser measures on the market which still provide a clear reading thanks to HD backlit displays.
Each comes with slightly different features, but most laser measures are intuitive and easy to operate, with optional extras such as positive toggle lock, USB charging, Bluetooth data transfer and hi-res displays."
How accurate are laser tape measures?
Laser tape measures often measure far longer distances than a standard tape measure with 100m not being uncommon. As a general rule they are accurate to within one sixteenth or one eighth of an inch over most distances. But you will need a clean line of sight and need to keep the tape/device level to get an accurate reading.
What is the range of a laser tape measure?
Like standard tape measures laser tapes measures vary in range, but overall they offer greater measuring distance. While the popular standard tape measure distance is 5m or 10m, laser tape measures sit anywhere between 30-50m for an everyday option like the PREXISO Laser Rangefinder from Amazon.
This offers a standard 5m tape combined with a 40m laser. But, you can get laser measuring tapes/devices that exceed 100m. These have stronger lasers that can travel further, but typically cost more.
What is the difference between a red and green laser tape measure?
The majority of laser tape measures come with a red laser, but you will find some with green lasers. So what's the difference? There is no difference in accuracy between the two types but red lasers are more popular with manufacturers because they are cheaper than green lasers.
Green lasers are often found on more expensive models and are up to 50 times brighter than red lasers making them a better choice for longer distances and use in bright outdoor light.
Are laser tape measures safe?
Laser tape measures used in the construction industry and home typically come with a class 2 laser. These are rated as safe, but there are a few simple and sensible rules to follow to make sure they don't cause any harm.

One, which seems fairly obvious, is do not stare directly into the beam and the other is do not point directly at someones' eye. Use the right type of protective eyewear like these Huepar GL01R Adjustable Eye Protection Safety Glasses from Amazon and turn off the laser when not in use.
Get the Homebuilding & Renovating Newsletter
Bring your dream home to life with expert advice, how-to guides and design inspiration, direct to your inbox.
Steve is Homebuilding & Renovating's DIY content editor, and has been a writer and editor for two decades. He is an avid DIYer with over 20 years of experience in transforming and renovating homes. He specialises in painting and decorating, but has strong all-round building skills, having previously worked in the industry for 10 years.