UFH: Your Key Questions Answered!
By David Hilton published
Whether you want to troubleshoot UFH problems or have questions about installation - we've got you covered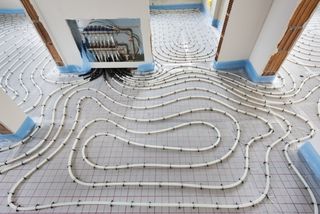 (Image credit: getty images)
Choosing the right heating system for your home, whether you opt for UFH or a radiator system, can leave you drowning under a sea of technical information.
Here, we answer all your underfloor heating (UFH) questions, whether its trouble shooting problems or answering queries about installation.
(MORE: Get a quote for your underfloor heating system)
Troubleshooting
Why is heat patchy?
Very often, in wet UFH, there can be a patchy heat distribution if the pipes have been installed too far apart or the pipes are not all at the same depth in the screed.
There may also be a patchy effect in a passage where many zone pipes converge to return to the manifold. As different zones switch on or off this will have an effect on the heat in that area.
Any breach in the insulation beneath UFH could also allow conductive heat loss and therefore a patchy effect.
UFH seems cold and doesn't heat up the room
If the UFH seems to not heat up the room then it could be down to a number of things.
Either the thermostat is faulty or it is getting influenced by other things such as direct sunlight or even heat from an appliance such as a wall-mounted television near it.
Electric underfloor heating may also be under powered for the room or the timer set to not be on for long enough.
A wet UFH system may be designed in such a way that the pipe spacing is too far apart, the flow temperature in the pipework is too low or the pipe circuit on the manifold is not balanced.
UFH Installation
Will installing UFH raise my floor profile?
UFH will usually raise the profile of the floor.
The amount it is raised by will depend on a number of factors such as how much insulation you need to add, pipe size, and whether you need a screed and floor finish.
There are however some products that get 'carved' into an existing screed, in which case there would be no additional build up other than the final floor finish.
(MORE: Step-by-step guide to underfloor heating installation)
Does UFH work with a heat pump?
Wet UFH works very well with a heat pump, but it must be designed for the specified water flow temperature. If the pipes are placed too far apart or are too thin then the system could be very inefficient.
Can I combine radiators with UFH?
Yes, you can combine a wet UFH system with radiators.
If the water flow temperature is the same in the floor and in the radiators then the radiators can potentially run off the same manifold.
If you are using a boiler as the heat source and have a standard radiator system but want to add wet UFH then a blending valve is installed on the manifold to limit the water flow temperature.
Can I put a rug over UFH?
You can lay a low tog rug over a wet UFH system, but it will affect the heat output. If you plan to put a rug, or furniture for that matter, in a room then it is best to design the pipes to be a lot closer together, around 100mm, so that there is enough length exposed to a free surface.
David is a renewables and ventilation installer, with over 35 years experience, and is a long-standing contributor to Homebuilding and Renovating magazine. He is a member of the Gas Safe Register, has a Masters degree in Sustainable Architecture, and is an authority in sustainable building and energy efficiency, with extensive knowledge in building fabrics, heat recovery ventilation, renewables, and also conventional heating systems. He is also a speaker at the Homebuilding & Renovating Show.
Passionate about healthy, efficient homes, he is director of Heat and Energy Ltd. He works with architects, builders, self builders and renovators, and designs and project manages the installation of ventilation and heating systems to achieve the most energy efficient and cost effective outcome for every home.
Homebuilding & Renovating Newsletter
Get the latest news, reviews and product advice straight to your inbox.
Thank you for signing up to Homebuilding. You will receive a verification email shortly.
There was a problem. Please refresh the page and try again.