Stairlifts: A Guide to Buying and Installing
By Rebecca Foster published
What type of stairlift is the best fit for your home? From design options to installation and maintenance, our handy guide will help you choose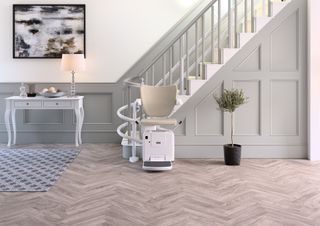 (Image credit: Age UK)
Whether or not you require a stairlift now, they're something to think about when building a house from scratch or tackling a renovation. Creating a futureproof property with the ability to adapt to your changing needs is a top priority and inclusive design is an important factor to consider, especially if you plan on living in the house for many years to come.
Accessibility is something to build into your design early on. As part of this, you might consider incorporating a stairlift, or at least the provisions to install one later. Having this setup in place will allow your family and guests to access to all floors of the house comfortably as the years pass and requirements evolve.
(MORE: Lifetime Homes)
Featuring a motorized chair and drive system, a stairlift slides along a fixed track up the stairs to provide access for occupants with limited mobility. Powered by a rechargeable battery, a stairlift can be installed onto straight, curved and outdoor staircases.
"People install stairlifts for a whole range of reasons; it might be because they experience health challenges, such as arthritic knees or chronic fatigue, or simply that they want to futureproof their homes," says a spokesperson from Age UK (opens in new tab). "It's far better to install it before it's absolutely necessary, or before you face a potentially life-changing event such as a heavy fall."
Types of Stairlift
Broadly, stairlifts can be divided into two categories: straight and curved. Straight setups are easier and less expensive to install, as they run up a straight rail with the seat (either fixed or drop-down) attached. If your flight of stairs winds around a corner, a curved setup will be required. Typically, this arrangement will necessitate a bespoke rail that has been manufactured specifically for the dimensions of your staircase. Due to the extra complexity involved, curved stairlifts tend to take longer to install and come with a bigger price tag. Outdoor stairlifts are also available.
The seat is an important factor to bear in mind. "It must be the correct width for the user and set at the correct height, allowing for safe, easy and comfortable transfer at the top and bottom of the staircase," says Andy Knowles, sales director at Stannah (opens in new tab). A swivel seat that can pivot at the top and bottom of the stairs will allow users to get on and off the chair safely.
If you have difficulty bending down, a powered footrest is another feature to look out for. "This allows the footrest to be folded away with ease with the stairlift is not in use, leaving the stairway clear for other residents to walk up and down," says Andy.
If there is a doorway at the top or bottom of the flight, you'll also want the ability to slide or fold the rail out of the way so it doesn't become a trip hazard. "The solution is a retractable or hinged rail. The operation of the folded rail should be fully automatic and not reliant on the user needing to bend and lift it," says Andy.
Safety features to look out for include built-in obstruction sensors, which ensure the lift comes to a complete but soft stop in the event of anything blocking it. A seatbelt is another vital safety feature.
Rules and Regulations for Stairlifts
If you're installing an indoor stairlift within an existing home, planning permission won't be required. For changes to the exterior of your house, it's always best to check with your local authority before going ahead. In most cases, the installation of a stairlift won't require Building Regs approval either, as the works aren't structural. Again, if you're making any changes to a listed building, check with your local authority.
Part M of the Building Regulations focuses on access. If you're building a new house, you'll need to ensure a minimum staircase width of 850mm to allow for the future installation of a stairlift.
How Much do Stairlifts Cost?
According to a 2020 survey carried out by Which, the average price for the supply and installation of a stairlift was £3,284. Straight setups come in at the cheaper end of the scale — expect to budget a minimum of £2,000. A curved setup or one that incorporates a selection of additional features could come attached to a price tag as high as £7,000.
The shape of your staircase is one of the biggest determining factors when it comes to cost. "The cost of the manufacturing process will increase for any stairlift which has to travel around a corner, as the rail will need to include fabricated bends," says Andy from Stannah. "Additional features available for most stairlifts include a powered swivel seat and footrest. These are often vital for a safe, comfortable experience, so while they incur a higher outlay, are worth it."
Total VAT exemption is available to people who suffer from chronic illnesses (eg diabetes) or are disabled. VAT discounts (5% VAT relief) for the supply and installation of stairlifts are also available to those aged 60+ if they are not eligible for complete exemption – more information is available on the HM Revenue & Customs website (opens in new tab).
Can You Rent a Stairlift?
Renting a stairlift may be the most cost-effective route if you'll need it for one year or less — for example, while you're in recovery from a medical operation. "The upfront costs combined with monthly payments mean that for longer term use, buying your stairlift outright could be the cheaper option," advises Age UK.
Some suppliers offer high-quality, refurbished staircases at a lower cost, too. For instance, Stannah's reconditioned stairlifts are fully refurbished and will have undergone a professional safety check before they can be installed. Bear in mind, it'll always be easier to get hold of a straight second hand stairlift, as most curved setups are bespoke installations made to match specific staircase dimensions.
Can I Fit a Stairlift to Any Type of Stairs?
There are very few scenarios in which you wouldn't be able to retrofit a stairlift onto an existing set of stairs. For curved flights, the rail is made bespoke to fit the dimensions you require. "In most cases, any obstruction can be overcome with additional work – for example, the removal of a radiator, all of which is included in Stannah's installation service," says Andy. "Doorways at the bottom of a staircase are incredibly common obstacle, which can easily be avoided with the installation of a retractable rail, allowing the stairlift to be parked out of the way when not in use."
Many companies specialise in manufacturing stairlifts for narrow flights, too. Providing there is adequate headroom, standing or perching seat stairlifts offer a space-saving solution.
(MORE: 5 Inspiring Accessible Homes)
It's a common misconception that stairlifts are installed onto the wall alongside the staircase, when in fact, they are fitted to the stair treads. This means there aren't any structural implications and that there's minimal disruption during installation.
The cost of running a stairlift is minimal. The setup is powered by batteries that automatically charge when the stair is docked. This allows the system to hold onto power in the event of an electricity outage. As the setup runs on rechargeable batteries, it typically uses less electricity than other household appliances.
How do I Plan a Stairlift Into a New Home?
A design that's accessible and adaptable establishes a welcoming space, both for permanent residents and guests. Futureproofing your house means incorporating the provisions for reduced mobility in coming years — but this should never feel like a style compromise.
To meet the Building Regs for your new build, the staircase should be 850mm wide to allow for a stairlift later. To pave the way for a simple installation, think about keeping the top and bottom of the stairs clear from obstructions such as doors, radiators and built-in furniture. A space of around 60cm should allow enough space for the stairlift to be docked safely when not in use. Factoring in for power sockets at the top and bottom of the stairs for your stairlift battery to charge is sensible, too. As stairlifts are fitted to the treads of the steps rather than the wall itself, there aren't any extra structural considerations to make.
"At the design stage, it's sensible to make your home sustainable in the broadest sense, investing so that you don't have to pour large amounts of money in later, or find yourself rushing into inappropriate adaptations at a time of crisis," says architect Vaila Morrison, an inclusive design expert at Stannah. "By doing this, you will have the time to plan the installation of accessible products like stairlifts and decide how you would like your style to shine through those. One idea is to coordinate your stairlift fabric to match the rest of your interior design scheme."
How is a Stairlift Installed?
The installation of a straight stairlift can be completed in as little as two hours; a curved flight installation will take around four hours due to the added complexity. It's a common misconception that stairlifts are fitted directly onto the wall, however, they're actually fitted to the treads of the stairs themselves. "Stannah stairlifts are fitted via support brackets which are screwed onto the stair tread of every four or five steps. This ensures minimal mess and disruption," says Andy from Stannah. "The only circumstance where wall fixings would be needed is where there is underfloor heating or similar already installed."
Fitting a straight staircase might not be beyond the realms of capability for a competent DIYer. However, in most cases – particularly for curved arrangements — it's best to bring in a professional. "Safety and reliability are obviously key with this type of product, as are some of the post-installation services provided by professionals," says a specialist from Age UK.
Always check the details of your manufacturer's warranty prior to installation. In some cases, installing the stairlift on a DIY basis could void your cover. It's best to track down a supplier who will provide the full service of measuring, manufacturing and fitting a staircase tailored to your needs. That way, if anything goes wrong you'll only have one point of contact to deal with.
What's the Best Stairlift?
Stannah, Acorn (opens in new tab), Companion Stairlifts (opens in new tab) and Handicare (opens in new tab) dominate the UK market, though other brands such as MediTek (opens in new tab) and Thyssenkrupp (opens in new tab) are available, too.
The Bruno (opens in new tab)brand is better known in the US, though is also available through authorised distributors in the UK. Smaller brands are also available via independent retailers.
How Long Will a Stairlift Last?
A well-maintained system will offer a service life in excess of 10 years, providing it is regularly serviced by a professional. "It's a good idea to have your stairlift serviced every 12 months, so it continues to run smoothly and safely," says Age UK. "Most suppliers offer extended warranty plans that include servicing, or you can choose to pay for services as you go."
Aside from an annual service, simple, regular upkeep will help keep your stairlift in tip-top condition for longer. Cleaning with a dry cloth once a week will keep the rails free from dust and other obstructions, such as pet hair.
What are the Alternatives to a Stairlift?
If you're self building, you're in an ideal position to make the provisions for a home lift. Even if your budget won't stretch to the initial outlay of a lift (typically up to £20,000 for a platform, cabin-style setup), you can ensure the first floor structure and overall floorplan are both ready to accept the machinery at a later date.
From a design perspective, it makes sense to position your lift next to the stairs and in a central location not far from the front entrance. When it comes to planning a home lift, one of the key design pitfalls is thinking about this element as an afterthought. It's worth engaging with an expert as early as possible so they can ensure the technical details are covered in your structural engineer's plans.
Rebecca is an experienced homes and interiors writer with a passion for Victorian architecture. Her dream is to extend an 1800s house
Homebuilding & Renovating Newsletter
Get the latest news, reviews and product advice straight to your inbox.
Thank you for signing up to Homebuilding. You will receive a verification email shortly.
There was a problem. Please refresh the page and try again.