Home Lifts: An Excellent Way to Futureproof Your Home
By Allan Corfield published
If you want to create a truly forever home, then a home lift is one of the best ways. Here we consider cost, design and location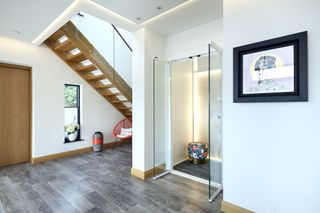 (Image credit: Nigel Rigden c/o AC Architects)
Home lifts are crucial when it comes to designing a two-storey home for life, especially as creating a forever home is more important than ever before.
The UK has an ageing population that won't be cared for in state care homes, so a lot of future care will need to happen at home.
While installing a home lift might not be at the top of your requirements list now, it is worth planning how to futureproof your home as early as possible, especially if it is your lifetime home.
When considering features for their homes, most people discount home lifts immediately due to their cost, and it's true that they are expensive in terms of initial outlay. However, being forced to move 10 years down the line will cost a lot more, not to mention the associated upheaval.
In this article we are focusing on carriage lifts rather than stair lifts, although the latter do have value if you are on a tight budget or trying to retrofit into an existing building where finding space is difficult.
How Much Does A Home Lift Cost?
There are two main types of carriage lifts.
The first is the traditional hydraulic passenger lift, similar to the ones you find in commercial buildings. These start from £25k and are great if you need to carry more than five people and heavy goods.
The major downside, other than the cost, is that they require more elements to make them work. You will need to provide
A proper structural lift shaft
Room for the hydraulic pumping equipment
And often a pit.
This additional space requirement and the add-on cost for housing the equipment often rules out hydraulic passenger lifts in domestic situations.
A number of self-builders opt for the second option: a platform cabin-style lift.
This type of lift can be installed for as little as £15k, but generally averages around £18-£20,000. They can service between two and six floors and can have cabins as small as 600 x 830mm or as large as 1,100 x 1,400mm. They come in a range of colour options and have high-end lighting and safety features.
What Size Home Lift Do I Need?
It might seem attractive to fit in a smaller lift, but in reality you are better off going for the largest you can.
Ideally, create a space that is big enough for a wheelchair and another person. You will also be able to use the lift to transport furniture and other larger items between floors.
Where Should I Put a Home Lift?
It's always a good idea to locate a lift next to the stairs and in a central location. This way it will be easily accessible from every part of the home it's in. Don't treat it as a design afterthought.
What Design Elements Do I Need to Think About?
It is advisable to consult with a specialist early in your project. They can assist you and your designers in making sure you cover all of the technical requirements.
If the lift is designed into your project from the start then you will limit major issues. The lift and shaft need to be incorporated into the architectural and engineers' designs.
Unless the lift ascends through an open atrium then it will be going through the structural floor; your floor will subsequently need to have a supporting structure around the hole created.
(MORE: 5 Great Accessible Homes)
Allan is a RIBA chartered architect and has overseen the design of over 350 low energy homes across the UK. He is one of the UK's leading experts on modern methods of construction including SIPs (structural insulated panels), is part of the Structural Timber Association, Passive House Trust and a member of the self build industry body, NaCSBA. He regularly contributes to Homebuilding & Renovating magazine and is a speaker and self build expert at the Homebuilding & Renovating Shows. Since 2009, Allan has grown his custom and self build architectural practice, AC Architects, to a team of 16, and recently created AC Structures, a leading engineering business for self build projects.
Homebuilding & Renovating Newsletter
Get the latest news, reviews and product advice straight to your inbox.
Thank you for signing up to Homebuilding. You will receive a verification email shortly.
There was a problem. Please refresh the page and try again.