A Guide to Plot Types
By David Snell
David Snell introduces the different types of plot, including infill, replacement, backland and brownfield and explains what to do once you've found your perfect plot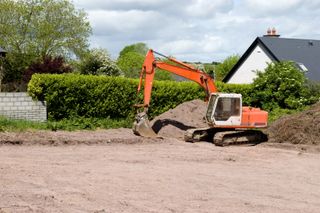 (Image credit: getty images)
Land doesn't always come in a nicely advertised package with planning permission – so use some initiative and seek it out yourself. The first-time self builder, thinking that the task of finding a suitable plot is going to be difficult enough, will be even more daunted when they discover that plots come in various types and that there is a plethora of names for each.
It is the existence of planning permission that makes a piece of land a plot, and you should never actually pay for a plot until or unless planning permission is obtained. However, since you can apply for planning permission on any land – even if you don't own it – your choice of plots might be much wider than you think.
Infill Plots
'Infill' is the term commonly used for plots in an urban or village setting that occupy a gap in the street scene, rather than extending beyond the boundaries of the settlement. Any extension of the settlement boundary is likely to be frowned upon by the planners and referred to as a 'ribbon development'.
However, just because a plot is infill doesn't necessarily mean that the planners will agree to its development. There are countless examples of open spaces or even fields that have been encircled by development within a village, and you might think that they are ripe for building upon. The Government at national level is keen to see areas of land within settlement boundaries used up before open land; but often local governments are just as keen to ensure that open spaces within the built-up area are maintained.
Infill plots come in two guises:
This is land that has no current use and is hidden from view by walls or fences which give the illusion that the street scene is uninterrupted. Land could be spare because:
the plot used to be garden or allotment land
there was previously an access to land at the rear that has subsequently been sold off or developed
the land may well have had a previous use that, in the past, precluded its use for development, such as the local dump
owners have half-forgotten that they own this piece of land that they no longer use
the land is not registered and has slipped out of ownership.
Check out Google Maps or the Ordnance Survey plan for your area and study it for signs of this spare land. Then get out there and make enquiries. The biggest problem you may face is where there is no traceable owner. The Land Registry can usually help for those with transactions against them since 2000.
This is the other and more certain type of infill plot, where homeowners with gardens possessing a wide frontage lop off a section adjoining the carriageway.
Garden plots had previously been classed as 'brownfield' but they are now 'greenfield' again meaning planning permission is more likely to be granted if your development fits local needs.
Nevertheless, most single plots that come onto the market were once part of somebody's garden. Things to look out for are any restrictive covenants that the vendors might wish to impose, restricting, say, the ability to have windows overlooking the retained house and whether or not one has the right to connect to services or drains within the garden area of that old house.
Once again, looking around and studying maps can identify potential plots. You then need to knock on doors and ask if they would be willing to sell in the event of getting planning permission.
(MORE: How to build a home on a garden plot)
Backland Development
This is another type of garden plot. Only here, instead of seeking to infill the road frontage, the development is at the rear of the existing house. This only really happens where the original plot is quite large but, in reality, there is often more privacy on such plots than on many modern estates.
Access is usually down the side of the existing house and the terms of that right of way need to be properly laid out. If you share access then it would be preferable to have an obligation for joint maintenance.
(MORE: Does your plot have access issues?)
Brownfield Land
The term applies to land which has had a previous planning use that may have ceased. It could be factories, an old builders' yard or even a disused petrol station. The Government is broadly supportive of its use for redevelopment, so long as all other normal planning criteria are established.
Watch out for contamination on sites with an ex-industrial use. This can almost always be dealt with but it can be costly and those costs should be reflected in the price. As previously stated, garden land is also designated as brownfield land.
Greenfield Land
This is land that has not been previously developed. All political parties are against the development of previously undeveloped land in the countryside, unless it fits in with their requirements to provide more housing, infrastructure or new towns.
Green Belt Land
This is an entirely different designation from greenfield land in that its preservation is given legal status. In general, no new development is allowed on green belt land, unless it again fits in with Government requirements.
If you do want to build in the countryside (even on greenbelt), it can be done under what is known as Paragraph 79 of the National Planning Policy Framework. It is not straightforward, but neither is it impossible.
We explain how in our Guide to Paragraph 79
Replacement Plots
What this refers to is a situation where the plot is occupied by a house or bungalow that is either substandard in construction terms or has/is not realising the full potential of the plot. It is ripe for being knocked down and replaced with a better building or buildings.
In general, planners are amenable to a one-for-one replacement but beware local policies that limit the size of a new dwelling by reference to the size of the original — this is particularly likely in the green belt.
Before taking on a project of this type, it is essential that you understand planning permission for replacement dwellings.
Fully Serviced Plots/Custom Homes
Increasingly, local authorities or private companies bring plots to the market with the service roads and sewers already in. These are serviced plots and in many cases service supplies will be connected into the plots, although connection charges may still be required. The developer of the land will them offer the plots for custom build homes with varying levels of design involvement from the prospective homeowner.
This can be a great way to get a bespoke home, but the rub is that there is generally a more restricted design process for the self builder (and your home will be part of a development). If this does not bother you, it is certainly a great way to self build for less and with fewer uncertainties surrounding planning permission and site suitability.
Once You've Found a Plot, You Have a Legal Option to Buy Subject to Planning
To ensure that the plot will be yours on receipt of planning permission, you need to get your solicitors to prepare a simple one- or two-page legal option, which requires the vendor to sell to you in the event of your planning application being successful. It may require some payment. If it's a large sum it's normally deducted from the price if the sale goes through. It will almost certainly be time limited too. It may state the price if you've agreed it or it may leave that to a valuation at a future date.
Alternatively, if having visited the planners you're absolutely convinced that it'll get planning permission, you could agree to buy it and run up to exchange of contracts 'subject to receipt of satisfactory planning permission'. That way, if things don't go to plan and the application is refused, the contract will void and you'll get your deposit back.
What you won't get back in either of these scenarios is the costs of preparing the plans and making the application. It's a gamble. So make sure that you make the right enquiries with the planners and that you take the correct message away — not just the one that you want to hear.
What if You Can't Establish the Identity of the Vendor?
Then you need to turn detective:
ask adjoining owners if they know who owns or last occupied the land
look at parish or church records
find out information in the pub, the post office, the local shop or the hairdressers (try and seek out the oldest person in the village too)
You could go to the Land Registry (England & Wales) or Registers of Scotland and pay a small fee (£5 for a paper application or £4 online) to see if the land is registered and, if so, to who. However, if the land has been vacant for some time and, therefore, hasn't been sold in relatively recent times, it won't be registered.
If it isn't, you'll be back to your detective work and you may need to up the stakes by putting a notice on the land or doing something on it that may flush out those with an interest in it. But be careful to balance that with a need for others not to seek to get in on the act.
How to Work Out What the Plot is Really Worth
The last thing you should do is contact estate agents or valuers to find out how much a plot that currently doesn't have planning permission would otherwise be worth. They'll take over the situation and you'll find yourself cut out of the loop as they try to get the consent and then sell it the way they want to and, probably, to the party they want to have it.
Plots get their value as a direct result of the value of the house that could be built on the land. And there is a simple equation that will work in most circumstances:
The land costs (A) + the build costs (B) + a 20/30% margin (A + B x 20/30%) = the end value (C).
You start with the answer to the equation: the end value. What is a home of the sort that you feel will reasonably get planning permission going to be worth on this plot? The answer to that question is all around you, in estate agents' windows, in the local papers and, if necessary, by checking on the prices of similar sales with Land Registry.
Your next step is to work out the probable build costs using the Homebuilding & Renovating Build Cost Calculator. Then, put in your hoped-for price for the land, and the margin. If the answer doesn't come up to the end value, then your land valuation is too low. If it's higher, then either the land cost or your building costs are too high, or a bit of both. Either way you need to juggle the figures to get to the fixed answer.
As self builders, one of the elements that you can control is the margin. It's never a good idea to go into a project with it in negative equity. But if you're not planning to sell in the near future, you could take the view that the margin could be trimmed.
Homebuilding & Renovating Newsletter
Get the latest news, reviews and product advice straight to your inbox.
Thank you for signing up to Homebuilding. You will receive a verification email shortly.
There was a problem. Please refresh the page and try again.