Painting Over Water Stains: Pro Tips for the Perfect Finish
Painting over water stains will help rid your walls and ceilings of unsightly marks. Learn how to paint over water stains with these quick and simple solutions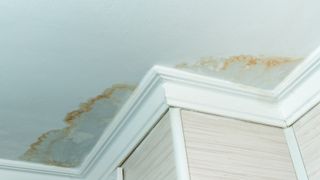 (Image credit: Getty Images)
Painting over water stains is tempting from the moment they first appear. Water stains are ugly and spoil the aesthetic of a crisp, clean ceiling or wall. But before you think about adding a new coat of paint to cover them, you need to ask yourself how they got there to begin with.
The most common cause is a water leak, especially in ceilings. A slow leak in your pipework, or a leaking radiator, could be feeding the stain and causing it to turn that horrible brown, typically caused by rust somewhere in your water system.
Alternatively, it could be a one-off water spill or rising damp that is leaving an unattractive and unwanted mark. Before painting a wall or ceiling, you should take care to ensure there are no leaks or spills still occurring. If there are, any future work will be compromised before it's even started.
In this guide, we'll show you how best to go about painting over water stains, so your walls and ceilings look fresh and appealing once again — and to prevent stains reappearing.
Can You Simply Paint Over Water Stains on a Wall or Ceiling?
Whatever the reason is behind your water stains, it needs to be identified and dealt with before you even think about doing any painting. (And bear in mind, if you're painting over mould, you'll first need to eradicate the issue and follow a slightly different process.)
If it was a one-off water spill, you simply need to let it dry. But if it's a leaking pipe or rising damp, you need to get the issue fixed before attempting anything else.
Once the root cause has been eliminated, leave your wall or ceiling completely to dry out. Don't start painting a ceiling while it is still damp, otherwise you'll risk damaging the existing paintwork, and possibly the ceiling itself, further.
Simply adding a new coat of emulsion won't solve the problem, either. Emulsion is a water-based paint, so it doesn't form a barrier to stop any water stains from reappearing. The stain blends with the new paint, meaning it will simply stay on your ceiling or wall. It doesn't matter how many coats you add, you won't hide the water stain.
How Do You Get Rid of Water Stains?
VISIT THE HOMEBUILDING & RENOVATING SHOW
Need more advice or inspiration for your project? Get two free tickets to the Homebuilding & Renovating Show
If a water stain has caused any damage, e.g. cracks or flaking plaster, make sure that you repair the area first. This will help get a great finish and improve paint adhesion.
To cover the stain, you will need a specialist stain blocker (such as the Zinsser Cover Stain) or an oil-based paint. This creates a waterproof barrier that the water stain won't be able to penetrate.
If you already have an oil-based undercoat or gloss at home, you can save yourself money by using these. Use the undercoat by itself, or mix with the gloss to create an effective homemade stain blocker.
Make sure that the water stain is dry, then simply paint over it using a brush or roller and leave to dry. Feather the edges so that the paint blends with the surrounding area. One coat should be enough.
Once dry, you can then apply your emulsion for the final coat to hide the stain. However, you may find that the new paint and old paint don't quite match. This is a good time to give the whole ceiling or wall a few new coats, testing different types of paint and finishes to get the best results for your living space.
Can You Get Rid of Water Marks on Lining Paper and Painted Wallpaper?
If painting over water stains isn't an option, you can still look to eliminate as much of the stain as possible using a special solution.
Mix together one part bleach and three parts warm water and add to a spray bottle. Spray the solution onto the stain, leave for a few minutes and wipe off with a clean damp sponge.
This is at its most effective on white or light coloured walls and ceilings, and a great idea if water stains start appearing in spots across your lining or painted wallpaper.
Is It Worth Painting Over Water Stains?
Painting over water stains is definitely a task worth undertaking, as the stains themselves can make your walls and ceilings appear in poor condition, which is something no homeowner wants.
A straightforward paint job across each water-stained area after it has dried out will help neaten things up and revitalise the appearance of your living space.
Depending on the extent of marks left by water stains, though, you may wish to embark upon a much bigger painting job than initially planned for improved results throughout your home.
If so, make sure you have some of the best paint rollers and brushes at your disposal to complete the project and get your home looking pristine once again.
Get the Homebuilding & Renovating Newsletter
Bring your dream home to life with expert advice, how-to guides and design inspiration, direct to your inbox.
Steve is Homebuilding & Renovating's DIY content editor, and has been a writer and editor for two decades. He is an avid DIYer with over 20 years of experience in transforming and renovating homes. He specialises in painting and decorating, but has strong all-round building skills, having previously worked in the industry for 10 years.