Removing Mould From Walls: How to Clean And Kill Spores
By Steve Jenkins published
Removing mould from walls will make for a cleaner, healthier home. Find out the best way to get rid of mould and prevent it coming back with our DIY guide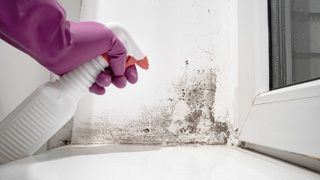 (Image credit: Getty Images)
Removing mould from walls will not only get rid of those ugly and unwanted spots spoiling your previously good looking walls, but will also have a positive effect on your health.
Thankfully it's a reasonably easy problem to tackle, and the sooner you get rid of it the better it will be for everyone in your home. What's more, removing mould before painting a wall will help to ensure a great finish.
A simple DIY mould killer and a bit of elbow grease will get rid of surface mould, but you might have underlying issues you need to deal with to finally kill it off and get your wall ready for painting.

Here we run you through what you need to know to remove, kill off and prevent mould from coming back.
Removing Mould From Walls: The Tools You'll Need
Before starting the task of removing mould form walls, you'll need the following tools:
White vinegar
Baking soda
Bucket
Kitchen scourer
Cloths
Kitchen roll
Rubber gloves
Removing Mould From Wall: A Step-By-Step Guide
There are two main ways of removing mould from walls, as outlined below:
METHOD 1
1. Prepare the area
You don't want mould spores spreading to your carpets and nearby furniture, so make sure to lay down dust sheets and cover any furniture. Open any windows in the room to help ventilate the room and get rid of any smells.

2. Quick wash
Get a bucket of warm water, add a few squirts of washing up liquid and take a kitchen sponge/scourer and wipe off the surface mould and rinse in the bucket. Repeat until all surface mould has been cleaned off the wall. Wipe dry with clean kitchen roll.

3. Spray and clean
Mix one part of white vinegar with one part water to create your own DIY mould killer. Spray directly onto the affected area and leave for one hour. Now scrub the area with a kitchen scourer and wipe clean with kitchen roll.
METHOD 2

1. Prepare area and cleaning solution
Cover the area with dust sheets and mix two parts baking soda to one part white vinegar to create a thick paste. Apply the paste to the mould – make sure it's well covered – and leave for around an hour.
2. Remove paste
For your safety put on rubber gloves and a face mask. Use a stiff brush to remove as much of the paste as possible. If needed use a kitchen sponge/scourer to get rid of any residue. Wipe down the area with a damp cloth. Clean up the paste debris and vacuum to get rid of fine dust.

3. Finish with a spray
To help make sure that all the mould spores have been killed off, finish by spraying the affected area with a fine mist of water and vinegar and leave to dry.
Does Bleach Remove Mould from Walls?
Yes it does, but it's only a temporary solution. Bleach cleans off surface mould and removes the discoloration that mould leaves on the wall.
Your walls will look clean and mould-free, but bleach doesn't kill off the spores that cause mould growth. So, eventually the mould will start to grow back again.
Can Baking Soda or Vinegar Kill Mould?
Both baking soda and vinegar are a better choice for killing off mould than bleach. You can use them separately or combine together to create your own mould killer.
For a quick DIY mould killer mix water and white vinegar — approximately a third of vinegar to however much water you use. Alternatively, mix two parts baking powder with one part white vinegar to create a thick paste. Thin down with water if needed.
Apply the paste on the affected areas and leave to dry. Remove with a stiff brush and wipe clean with a damp cloth. To finish up, spray a mist coat of a vinegar and water mix to help kill off any straggling spores.
Can I Paint Over Mould?
Yes, but only after the walls to be painted have been cleaned and mould removed. You'll need to let the walls dry out before painting, too.
Check out our painting over mould guide to discover how and when you should paint.
How Do I Stop Mould From Coming Back?
This depends on what the cause of the mould is. If condensation is the primary cause – typically in bathrooms and kitchens – then the solution is pretty simple. Good home ventilation is vital. Open windows to let air circulate or switch on an extraction fan. If you don't have one, think of getting one installed.
Mould may also be the result of damp. Understanding what causes damp in your home is key here. It could be as simple as a leaking rainwater downpipe or gutter and fixing this issue will eliminate the problem.
However, there can be more serious underlying issues which can cause damp too, such as modern impervious cement render applied to solid walls or stone walls; this can hinder the breathability of the wall and consequently trap moisture.
Getting to the root cause and finding out how to treat damp will, in turn, help eliminate mould from coming back.
Steve is an avid DIYer with over 20 years of experience in transforming and renovating homes. He specialises in painting and decorating, but has strong all-round building skills, having previously worked in the industry for 10 years.
Homebuilding & Renovating Newsletter
Get the latest news, reviews and product advice straight to your inbox.
Thank you for signing up to Homebuilding. You will receive a verification email shortly.
There was a problem. Please refresh the page and try again.