Painting Gloss Kitchen Cabinets: How to Transform Unit Doors
By Steve Jenkins published
Learn how painting gloss kitchen cabinets can instantly transform your kitchen and how to tackle this makeover project with our expert DIY guide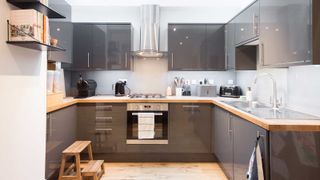 (Image credit: Getty Images)
Painting gloss kitchen cabinets can instantly update a tired kitchen. Perhaps you're fed up with your old gloss kitchen and want a contemporary new look to bring your kitchen up to date, but don't want to spend a fortune? Painting your gloss kitchen cabinets with a new matt or satin finish is a great way to update the heart of your home.
Whether you have a gloss laminate finish or timber glossed doors and cabinets, both can be transformed to look like new. However, both arguably require a little more preparation than painting kitchen cabinets in materials such as timber or doors in matt finishes.
Here we give you all the know-how you need to prep and paint your gloss kitchen cabinets, drawers and doors to get a stunning new finish.
Painting Gloss Kitchen Cabinets: Is it Possible?
Yes it is, but you need to prep correctly and choose the right paint. Poor preparation will lead to a poorer finish. While your doors, drawers and cabinets will look good initially they won't have the same durability and longevity.
Dulux Cupboard paint, Zinsser AllCoat and Frenchic AlFresco are all good choices for contemporary long lasting finishes.
The Tools You'll Need to Paint Gloss Kitchen Cabinets
Sugar soap
Rubber gloves
Kitchen scourer
Fine grit sandpaper
Paintbrush
Mini roller (4 inch)
Paint
What Type of Roller Should I use?
The pile on rollers typically come in a variety of lengths typically short, medium and long and are made from polyester. If you are looking for a relatively smooth texture the short pile is the best option. A medium pile adds a little more texture to a paint job.
But, for the smoothest finish, invest in a set of foam rollers. Use one for the primer and a different one for the top coat.
The best paint rollers will aid but note a roller will not be as smooth as spray painting.
How do I Paint Gloss Kitchen Cabinets?
When painting gloss kitchen cabinets it's essential you get it right. Here we tell you how to prep and paint.
1. Remove doors
To get the best finish on kitchen doors you need to take them off their hinges so you can lay flat to paint. Remove any door furniture such as door handles or drawer knobs to give an easy to paint area.
2. Wash and clean
Before you start painting you need to prepare the surface of any cabinets and doors you are going to paint. The first step is to give all areas a good clean with sugar soap.
Fill a bucket with warm water and add sugar soap as instructed. Wear rubber gloves to protect your hands.
Scrub down all areas with a kitchen scourer and then go over with a clean damp cloth (just use clean warm water) to get rid of dirt and residue and leave to dry.
3. Sand and fill
If your cabinets, doors or drawers have any small cracks or holes you will need to fill with a good all-purpose filler. Once dry, sand down to get rid of the gloss shine and provide better adhesion for the paint.
Use a fine 180-220 grit sandpaper to create a smooth surface. Use a dry paint brush to get rid of dust from the sanding process.
4. Get doors ready
The first coat should be a coat of primer such as Zinsser B-I-N Primer Sealer. There are self-priming paints, but using a specialist primer helps create a longer lasting finish.
Place doors (back side down) on three or four same sized blocks — with dust sheets underneath. Make sure the door is steady before painting. Drawers can be stood on their ends to paint.
5. Prime and paint
If you have recesses or ornamental trim that a roller won't fit into, paint these first with a 2 or 3 inch brush.
Now use a mini roller to do three edges on doors and drawers. Leave the edge nearest to you until last to avoid accidentally touching it. Then paint the front starting in the top right corner and work downwards and across.
Use even strokes in a 'V' or 'W' pattern. Finally go over the paint with a light touch to get rid of any ridges.
If painting cabinets start at the back, move forwards and finish up by painting the edges.
Should I Spray Paint Gloss Kitchen Cabinets?
If you are looking for a factory-style finish then spray painting is your best option. You can choose a professional or do it yourself. The professionals will be more expensive but a lot less hassle.
If you choose to do it yourself you will need to buy or hire a decent spray gun, a large well ventilated and covered area – i.e. garage to do the job – and a dust free area to let the paint dry.
The best paint sprayers are quite investment, but if you're planning to spray paint large areas of your home (for instance, you're decorating a newly built or renovated property), then it can be worth purchasing one.
Steve is an avid DIYer with over 20 years of experience in transforming and renovating homes. He specialises in painting and decorating, but has strong all-round building skills, having previously worked in the industry for 10 years.
Homebuilding & Renovating Newsletter
Get the latest news, reviews and product advice straight to your inbox.
Thank you for signing up to Homebuilding. You will receive a verification email shortly.
There was a problem. Please refresh the page and try again.