How to Get Paint Off Carpet: Quick Tips to Remove And Clean
By Steve Jenkins published
Spilled paint? You need to know how to get paint off carpet to avoid ugly unwanted stains. We tell how to get rid of wet and dried paint quickly and easily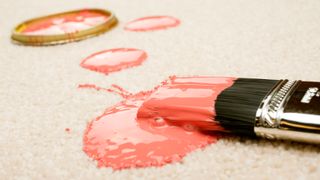 (Image credit: Getty Images)
Accidents happen, so how to get paint off carpet is a must-know for regular DIYers. It doesn't matter how careful you are, paint can still get on the carpet. You might drop your brush or roller and see it roll off the dust sheets. Your pet can knock over an opened tin, or you may get paint on the sole of your shoe and tread it onto clean carpet elsewhere in the home.
Ideally you want to tackle the paint when it's wet. If your painting a wall and an accident happens, stop and start cleaning straight away if you can. This isn't always a practical option, which means you will have to deal with the problem later when the paint has dried. But be warned this is more difficult to remove.
Here we give you solutions for wet or dry paint and water and oil based paints to help get your carpet back to its best.
How To Get Paint Off Carpet: Dealing with Wet Paint
1. Blot up
You want to soak up as much paint as possible as quickly as possible, as wet paint is easier and quicker to remove that dry paint. Get a sheet or two of clean kitchen roll, fold over a few times and dab on the paint spill. Dab, don't rub.
Repeat this process – using clean kitchen roll when needed – as many times as needed. When the kitchen roll isn't picking up any – or very little – paint it's time to move on to the next stage.
2. Cleaning up emulsion or water-based paint
Now get a clean cloth or rag and a bowl of warm soapy water — washing up liquid will do. Wet the cloth and dab the paint until you have removed as much paint as possible. The water will break down the remaining paint and soak up into cloth.
Get the remaining clean soapy water and pour a little onto the paint spill. Add more water if needed and if you have a wet and dry vacuum with a narrow nozzle – if you have one – and suck up the excess water. If not, use a towel or cloth. Repeat until as dry as possible.
3. Dealing with oil-based paint
If you have spilled oil-based paint, warm soapy water will not do a good job of removing the paint. Repeat the first step to remove as much paint as possible.

Now get a bowl of white spirit and a clean cloth and soak in the white spirit and dab until the paint has been removed. Now get warm soapy water to wash the area and help remove the smell. Use a wet and dry vacuum to suck up the water or place a towel over the top to absorb the water.
How To Get Dried Paint Off Carpet
1. Scrape off paint
Get a knife with a dull edge – like a standard dinner knife – and hold against the fibres of the carpet and drag up to remove the dry paint. Repeat this, removing as much of the dry paint as possible. Vacuum up the debris when done.
2. Soften up
Soak the area with warm soapy water and leave for five minutes. Revisit the knife and remove more paint if possible and vacuum up.
Now get a bowl of white spirit and blot the paint with a clean cloth. Alternatively, use a white vinegar and water mix (1 x part vinegar, 2 x parts water) for a more natural approach. Do this a few times to soften up any remaining paint.
3. Scrub clean
Get a stiff brush – a nail brush is a good choice – and scrub the area to remove the paint. Repeat the process until the paint has gone. Finish by using warm soapy water and a clean stiff brush to remove the smell. Alternatively, if you have a wet vac use this to clean the area.
Do Dust Sheets Stop Paint Seeping Through To Carpet?
Using old sheets or blankets is OK if you get small drops of paint on them i.e fine spray from a roller. But typically any larger drops of paint will eventually seep through and get onto the carpet
So, when painting a ceiling, walls or skirting boards you need dust sheets that have a protective backing to stop seepage. Look for protective dust sheets such as ProDec Advance Lightweight Protector Dust Sheet or ARVO Dust Sheets (opens in new tab) which come in a roll.
Steve is an avid DIYer with over 20 years of experience in transforming and renovating homes. He specialises in painting and decorating, but has strong all-round building skills, having previously worked in the industry for 10 years.
Homebuilding & Renovating Newsletter
Get the latest news, reviews and product advice straight to your inbox.
Thank you for signing up to Homebuilding. You will receive a verification email shortly.
There was a problem. Please refresh the page and try again.