Finding a Surveyor: How to Pick a Good Building Surveyor
By Natasha Brinsmead published
Our top tips on finding a surveyor are designed to ensure that you select the best person to carry out the important job of assessing your new home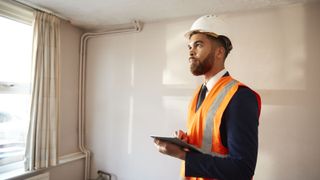 (Image credit: Getty)
Finding a surveyor is a key task you'll need to undertake during the homebuying process. When buying a property, and in particular one in need of some modernisation and/or a period home, it is really important to get a survey carried out — but knowing how to find the right building surveyor can seem daunting.
A building survey is not only crucial in understanding what you are getting yourself into by buying a particular property, highlighting any potentially tricky or expensive issues, but it can also help when it comes to getting the best price for the house. Being able to accurately calculate how much any defects are likely to cost to put right, with the help of a good building surveyor, can help when it comes to bargaining with the sellers.
But how do you find a surveyor that offers everything you need? Our guide is here to give you the best ways to track down the right person for the job — explaining what you can expect to be charged and how to be sure that the building surveyor you choose has the right experience and qualifications.
What Does a Building Surveyor Do?
A survey involves a number of checks to assess the overall condition of a property, bringing any concerns to the fore.
A building survey or RICS Home Survey – Level 3 is one of the most popular types of survey and was previously known as a Full Structural Survey. However, there are less detailed and intrusive surveys available for those buying newer homes.
The job of a building surveyor is to carry out an in depth investigation of the property, checking its condition in detail. Depending on the survey picked, they will thoroughly inspect all accessible areas, such as in the loft. A building surveyor will be on the lookout for issues such as damp and rot, hazardous materials and structural defects.
Once they have completed the report they will, where necessary, also recommend specialists that will be able to carry out any subsequent investigations, such as a drainage survey, that might be required.
In some cases, a surveyor will go on to draw up a schedule of works to get a renovation project underway.
1. Look For Qualifications
First things first — you want to be absolutely certain that the building surveyor you choose has the right qualifications for the job.
The easiest way to do this is to find a surveyor who is a qualified member of the Royal Institute of Chartered Surveyors (RICS). A RICS qualified surveyor has to have professional indemnity insurance. They will also have to stick to a strict code of conduct and, should you have any complaints or issues, you can go to RICS to help get them sorted.
Online surveyor finding tools can be a good starting point. The Find a Surveyor tool on the RICS website lets you search using your postcode.
2. Aim to Stay Local
It really does pay to find a surveyor who has plenty of experience with local properties — as opposed to opting for one in a different county just because someone recommended them to you, or surveyor from a national company who has not previously worked in your area.
A local building surveyor should have a good knowledge of the area, the history of the houses there and a sound understanding of how properties in your location were built, any typical issues that are thrown up in the locality and, of course, the best people in the area to help with any problems that will need rectifying.
3. Prioritise Structural Movement
If you seriously suspect the house you are buying is suffering from structural movement (our house viewing checklist should aid here), it is wise to seek out the services of a structural engineer before investing in any other kind of survey.
In this case, you want to track down a local chartered structural engineer — they should have the letters 'CEng' after their name and your best option will be to find one who is either a member of the Institution of Structural Engineers ((MIStructE) or the Institution of Civil Engineers (MICE).
4. Get Recommendations
As is the case when finding any kind of professional, tradesperson or finding a builder to work on your house, trusted, personal recommendations are invaluable.
Make sure that the recommendation comes from someone local with a similar type of property to you.
If you can't seem to get anyone to suggested a good surveyor then instead ask a handful of surveyors for client testimonials and see whether you can speak to their past clients.
5. Ask About Timescales
It is crucial, when choosing a building surveyor, that you check their availability and how long you are likely to have to wait for their services and, subsequently, the results of your survey.
If you are in a rush, a surveyor who is busy for the next six months will be no use. Likewise, it is all well and good finding one who can come out to you next week, but if the resulting report will then take weeks or months to materialise, you may want to look elsewhere.
To give you a rough idea of how long a building survey takes, the survey itself will normally take a good couple of hours up to around eight hours. You can expect to receive the results in between five to eight days. Although some surveyors may caveat a longer turnaround (say 14 days).
"Make sure you appoint a surveyor early on in the buying process — so often home buyers leave this to the last-minute. Given that it will take at least a couple of weeks to appoint a surveyor, book in a survey and receive the written results, there's potential for this to hold up the purchase," says Homebuilding & Renovating Editor Claire Lloyd.
"This is also particularly key given that the survey might throw up potential issues and you may need to re-negotiate the purchase price."
6. Be Clear on Building Survey Costs
Building survey prices really do vary and will largely depend on the value of the house you are buying, as well as your location, and the condition and the size of the property.
However, costs tend to start at around £600, rising up to £1,500 for large, high value properties.
The important thing to do when finding a surveyor is to shop around — aim to get at least three quotes before you make your decision. It is important to note, however, that the cheapest option will not always be the best. Do bear in mind the value of experience and knowledge too.
7. Find a Surveyor With The Right Experience
One of the first questions you want to ask any building surveyor before engaging their services is what kind of experience they have had with the type of property you are buying.
A building surveyor could have all the right letters after their name and have been in the profession for years, but if they have never surveyed the type of property you are purchasing (perhaps a barn conversion or former industrial building, for example) then it might be best to look elsewhere.
Natasha is Homebuilding & Renovating's Associate Editor and has been a member of the team for over two decades. An experienced journalist and renovation expert, she has written for a number of homes titles. She has renovated a terrace and is at the end of the DIY renovation and extension of her Edwardian cottage. She is now looking for her next project.
Homebuilding & Renovating Newsletter
Get the latest news, reviews and product advice straight to your inbox.
Thank you for signing up to Homebuilding. You will receive a verification email shortly.
There was a problem. Please refresh the page and try again.