Asbestos Roof Tiles: How to Identify and Dispose of Them
By Ian Rock published
While asbestos roof tiles are potentially dangerous, they may not pose an immediate threat. Find out how to correctly identify and safely dispose of them with this expert guide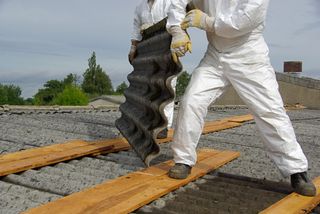 (Image credit: getty images)
Asbestos roof tiles are by no means a common occurrence, however, chartered surveyors will occasionally come across them.
The mineral-based material, extracted from serpentinite rock, was a widely used building material in the 20th century, finding its way into a surprising variety of products, including some roofing materials.
There are three main types of asbestos distinguishable by their respective colours: blue, brown and white. The least dangerous of these is the white variety (known as 'chrysolite'). This was the type most widely used in the construction industry, predominantly in the form of cement fibre. The general term used for materials containing asbestos is ACM (Asbestos Containing Materials).
For renovators, discovering asbestos can feel like a worst-case scenario, but just how worried should you be if your property has asbestos roof tiles?
What Do Asbestos Roof Tiles Look Like?
The most obvious examples of asbestos roof tiles are found on some inter-war bungalows, with tiles of a faded red colour laid in a distinctive diamond pattern.
Moving forward in time, some types of artificial slates were manufactured from asbestos cement. One clue to identifying them is their tendency over time to fade from the original black colour to an unnatural, blotchy, pale grey or blue. Non-asbestos slates were introduced from 1984 and ACM slates were no longer generally specified, although some builders may have continued to install them for a few more years as they were relatively cheap.
By far the most common type of asbestos roofing is actually corrugated asbestos cement sheeting, often found on garages and sheds, but (hopefully) not on main roofs.
Cement fibre boarding is however a very common material on soffits to eaves, and was sometimes also used for gutters and downpipes.
How Dangerous are Asbestos Roof Tiles?
Did You Know?
It wasn't until the mid 1980s that the most dangerous forms of asbestos were banned by the UK government, with the manufacture and supply of all asbestos finally outlawed in late 1999.
As far back as the 1920s doctors had suspected that inhalation of asbestos fibres was a root cause of pulmonary lung disease and breathing problems, ultimately resulting in cancers such as mesothelioma.
However, not all ACMs are equally dangerous. The worst offenders are classed as 'friable' which means they can easily be crumbled or reduced to powder by touch, releasing harmful fibres into the air, like some older types of insulation and pipe lagging. Materials like asbestos cement used for roofing are defined as 'non-friable' because the asbestos is bonded within the material.
Asbestos roof tiles in good condition are generally considered not to pose any immediate risk. This is because the asbestos is held in place by the cement, so as long as they're intact they can normally be left in place.
The risk comes about when tiles get damaged or degrade and the cement starts to weaken, potentially releasing fibres into the air. Because roof coverings are exposed to the elements they are more susceptible to localised storm damage, such as chipped corners.
(MORE: How to Repair a Roof)
This also means that any released fibres should be dispersed into open air reducing the potential for harm. However, in roofs without any underlay beneath defective tiles there is a potential risk that accumulated dust in lofts could test positive for ACMs.
What Should I Do if I Suspect I Have Asbestos Roof Tiles?
Where you suspect that slates or tiles contain asbestos, confirming the existence of ACMs isn't straightforward.
The first thing to check is whether there's a manufacturer's identification mark stamped on the undersides. There will be an 'AC' where asbestos is present or a 'NT' for non-asbestos tiles. However, only around 1 in 20 tiles were marked, so multiple tiles may need to be removed.
A better option might be to send a single tile off to a lab to be tested. Alternatively, an Asbestos Management Survey can be carried out by a UKAS-accredited company.
In the meantime, if you suspect you've got asbestos roofing of any kind, as a precaution don't allow anyone to climb on the roof or enter the loft without suitable PPE.
Disposing of Asbestos Roof Tiles
The simplest option for replacing roofs clad with asbestos slates or tiles is to get quotes as normal from reputable roofing contractors. Experienced roofers with the appropriate level of asbestos training (minimum of Non-Licensed training) will be able to assess the level of risk, which can normally be managed on site without undue drama and expense.
Make sure that the quotes include all costs of stripping, carting away and disposing of the existing roof coverings, as well as protective measures to isolate the house during the works.
Although ACMs are generally regarded as safe unless damaged, carrying out work on a DIY basis is best avoided.
However there's no legal restriction to disposing of asbestos roof tiles yourself, and Council tips sometimes accept ACMs. Some councils will even arrange collections for a fee.
Materials should be placed in robust plastic rubble bags. It's also important to avoid breaking it into smaller pieces as this can create hazardous dust particles.
If a roof tiles does break, spray it with water to minimise the escape of airborne fibres. Finally, in all cases, it's essential to wear the right PPE – gloves, dust masks, safety goggles and suitable protective clothing.
Chartered surveyor Ian is the author of eight popular Haynes House Manuals and is a director of Rightsurvey.co.uk. He is also in the process of adding a large extension to his home.
Homebuilding & Renovating Newsletter
Get the latest news, reviews and product advice straight to your inbox.
Thank you for signing up to Homebuilding. You will receive a verification email shortly.
There was a problem. Please refresh the page and try again.