Your Green Homes Grant Questions Answered!
Try this Green Homes Grant FAQ to help find the information you need about the scheme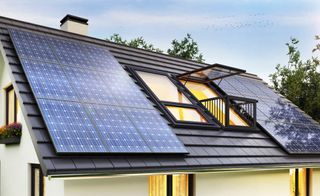 (Image credit: Getty Images)
Homeowners across the country are now applying for the Green Homes Grant - but there is still some confusion over what kind of improvements are eligible and who you need to do the work.
Here we answer the most commonly asked questions on the new scheme. 
Q. How do I apply for the Green Homes Grant?
There are three key steps to follow in order to apply for the grant:
Use the Simple Energy Advice (SEA) service to check your eligibility, and which energy-efficient improvements can be made to your home
Find TrustMark and/or Microgeneration Certification Scheme (MCS) registered tradespeople for the work you want
Apply using the government website.
Q. Can I get a new boiler on the Green Homes Grant?
No. Gas boilers are not among the eligible improvements under the grant, which focuses on renewable heating systems, including heat pumps and solar thermal panels. 
(MORE: Boilers key to decarbonisation despite grant snub)
Q. Can I get solar panels on the Green Homes Grant?
Solar thermal panels are included on the grant, but solar photovoltaic (PV) panels are not.
What's the difference between the two? 
Solar thermal panels provide hot water by using the sun's energy to heat a liquid, which then heats the water in your tank. 
Solar PV panels provide electricity through sunlight hitting the panels and generating a voltage, which feeds into your home appliances or the national grid. list
(MORE: Solar Panels: The Ultimate Guide)
Q. Is the Green Homes Grant available in Scotland, Wales and Northern Ireland?
No. The Green Homes Grant is only available in England. However, there are alternative sources of support available to make energy-saving home improvements in Scotland, Wales and Northern Ireland:
Q. How long have I got to apply?
You must make sure your scheduled work is completed, and the voucher redeemed subject to its terms and conditions, by 31 March 2021.
Q. Can I use local tradespeople to make the improvements?
Only local and approved TrustMark and/or MCS registered tradespeople can perform work on the grant. If your local tradesperson isn't registered, then you can't use them. 
However, following pressure from industry experts, the government announced a training competition last week to help more quality tradespeople to work on the scheme. 
(MORE: Government launches training competition for grant)
Q. What if I can't afford to pay anything towards the scheme?
To ensure that low-income households can afford to access improvements, the government introduced a low-income scheme - this provides up to £10,000 towards the cost of improvements and households do not have to contribute anything to the cost. 
You can qualify for the Green Home Grants low-income scheme if you receive at least one of the following:
Attendance Allowance
Carer's Allowance
Child Tax Credits (CTC)
Contribution based Employment & Support Allowance (ESA)
Contribution based Jobseekers allowance (JSA)
Disability Living Allowance (DLA)
Income based Employment & Support Allowance (ESA)
Income based Jobseekers allowance (JSA)
Income Support (IS)
Industrial Injuries Disablement Benefit
Housing benefit
Pension Guarantee Credit
Personal Independence Payment (PIP)
Severe Disablement Allowance
Universal Credit (UC)
Working Tax Credit (WTC)
Q. Do I need to get quotes from three different installers?
The government recommends that when finding tradespeople to do the work you want, you obtain at least three quotes. This will help you to get the best value for your money. 
It is not a necessity, though, and you can proceed through the application process with one quote that covers each measure you are installing. 
Q. What if I rent my house?
If you rent your home then you yourself are not eligible to apply for the grant. 
However, landlords of rented properties, including private and social landlords, can apply for two thirds of the cost of improvements with grants capped at £5,000. 
Homebuilding & Renovating Newsletter
Get the latest news, expert advice and product inspiration straight to your inbox.
Thank you for signing up to Homebuilding. You will receive a verification email shortly.
There was a problem. Please refresh the page and try again.