Stay Fit at Home With Help From HBR's New Sister Brand
The new website, FitandWell.com, taps into the COVID-19-driven health and fitness boom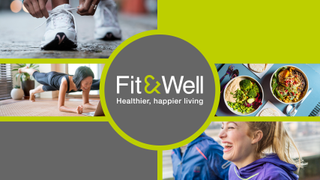 (Image credit: Future)
Homebuilding & Renovating has a new sister brand. FitandWell.com is a new digital wellness offering with a mission to help people live happier, healthier and longer lives in the COVID-19 era.
Covering health and wellbeing, fitness, nutrition and mental health, the new site caters for all, regardless of gender, age or fitness level. It places a particular emphasis on home fitness technology, reflecting the move away from gym memberships to people to work out from home and the rise of app-based training products.
Creating a Dedicated Fitness Space
If spending more time at home during lockdown has inspired you to create a dedicated fitness space, the first step is to assess what space you already have and see if there is an opportunity to repurpose or convert it into your new fitness zone.
While it is always more cost-effective to utilise existing space, if that isn't feasible, then you need to consider adding more.
Check out these handy guides to creating additional living space:
Fitness and Wellbeing for All
Once you have the room to create a dedicated fitness space, FitandWell.com will offer the best news, how-tos, reviews, recipes and buying guides to help everyone, from those who simply want to lose a few pounds all the way to those who want to train for a marathon.
The new site will also ensure that it caters for the booming 'active aging' population especially when it comes to recommending exercise plans and offering nutritional advice.
Paul Newman, Managing Director of FitandWell.com says: "People's priorities have naturally changed as a consequence of living through the greatest public health scare in living memory. Being fit and healthy is no longer an option, particularly for those in high-risk groups, it's a practical necessity. And that's why we've launched FitandWell.com to provide people of all backgrounds with practical and accessible advice for everything from weight loss to eating more healthily."
Homebuilding & Renovating Newsletter
Get the latest news, reviews and product advice straight to your inbox.
Thank you for signing up to Homebuilding. You will receive a verification email shortly.
There was a problem. Please refresh the page and try again.