New Proposals in Richard Bacon Review Could Transform the Self Build Sector
By Jack Woodfield published
The Bacon Review makes recommendations which could deliver between 30,000 and 40,000 and self build homes a year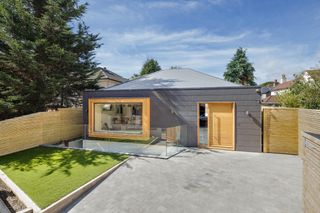 (Image credit: Simon Maxwell)
There is a "missing market" for self build homes in the UK, but new recommendations could make up to 40,000 extra homes available each year, MP Richard Bacon has said.
Mr Bacon, the MP for South Norfolk since 2001 and self build advocate, was commissioned earlier this year by prime minister Boris Johnson to lead a review on how to scale up the delivery of self and custom build homes.
The 114-page report has now been published and makes six recommendations for scaling up the self build sector, which would make it easier for people to build their own home.
Mr Bacon says more homes are needed but "quite simply, new housing is feared", and stresses that the solution involves creating the conditions in which homebuilders are "treated as if they matter the most".
What Are The Recommendations?
The review, titled House: How Putting Customers in Charge Can Change Everything, makes six key recommendations:
A greater role for Homes England, including the creation of a new Custom and Self Build Housing Delivery Unit to support the creation of serviced plots
Raise awareness of self build and show by 'doing', with the creation of a custom and self build 'Show Park' and by strengthening existing legislation to mandate the wider publicity of the Right to Build registers
Reignite the Community Housing Fund (which had promised to deliver up to 100,000 new homes in England, but was not renewed in the 2020 Spring Budget) and create more opportunities for communities to build, such as through a Self-Help Housing Programme and a Plot to Rent Scheme.
Promote green homes and increased use of Modern Methods of Construction (MMC)
Align custom and self build changes with planning reforms - in particular through making focused changes to the Right to Build legislation to ensure that it achieves its objectives
Iron out tax issues to create a level playing field between self built homes and speculatively built homes.
Why is the Bacon Review Significant?
The Bacon Review is a core element of the government's Custom and Self Build Action Plan, which plans to kick-start a self build revolution in the UK.
Mr Bacon says that the UK has a broken housing market, which is a "problem that won't sort itself". He draws on the benefits of self build, which include building greener homes, and advocates for a new system that puts the customer at the heart of the new homes market.
The review references international models for self building, and explains how the UK could replicate the best of their successes. Mr Bacon's six recommendations can all be implemented at speed, and if implemented in full have the potential to deliver between 30,000 and 40,000 and self build homes a year.
The Help to Build (yet to go live), the review of the Right to Build legislation, the Self and Custom Build Loan Fund and funding for the Right to Build Task Force are all part of the government's ambition for the sector.
What has the Reaction Been?
Andrew Baddeley-Chappell, NaCSBA CEO said: "There is clearly something wrong with any market where customer choice is so notably absent, in particular where such choice so demonstrably leads to better and greener homes.
"The recommendations in this report, which include the review of the Right to Build and the rapid launch of Help to Build have the capacity to positively transform our country's relationship with the new homes market."
NaCSBA also stated that it looks forward to the government's response to the recommendations, which is expected in the autumn.
Housing secretary Robert Jenrick MP added: "As we build back better, we want to help more people build their own home, making it an option for thousands who've not considered it or ruled it out before. This will help get more people on to the housing ladder, ensure homes suit people's needs whilst providing an important boost to small builders and businesses too.
"I warmly welcome Richard Bacon's report which matches our ambitions for the custom and self-build sector. We will consider it fully and respond to the recommendations in due course."
Jack is News Editor for Homebuilding & Renovating, and strives to break the most relevant and beneficial stories for self builders, extenders and renovators, including the latest news on the construction materials shortage and planning reforms. Having bought his first home in 2013, he and his wife have renovated almost every room and recently finished a garden renovation.
Homebuilding & Renovating Newsletter
Get the latest news, reviews and product advice straight to your inbox.
Thank you for signing up to Homebuilding. You will receive a verification email shortly.
There was a problem. Please refresh the page and try again.