Right to Build: How Does it Help Self Builders Find Plots?
By Lindsey Davis , Jack Woodfield published
Right to Build is designed to make it easier to self build - this is everything you need to know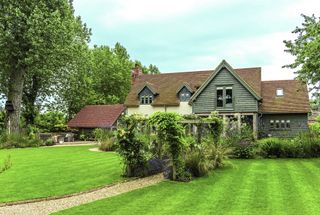 (Image credit: Polly Eltes)
Right to Build is a piece of legislation that supports those who want to build their own homes, helping people get onto the housing ladder and create an individual home.
Launched in 2016, Right to Build is designed to help self builders and custom builders overcome one of the biggest hurdles they face — finding a self build plot.
Prospective self builders are asked to log their desire to build their own home with their local authority via the Right to Build Register (more on this below). As part of this legislation, local authorities must ensure that they have sufficient plots available to meet the demand, and demonstrate that planning permission (or permission in principle) has been granted on these plots within three years.
Local authorities across England are required to evidence this every year on 30 October — on Right to Build Day.
If you are thinking about taking on a self build or custom build project, then make sure you are up to speed on the Right to Build scheme and how it can help. This guide explains what you need to know.
What is the Right to Build?
The Right to Build was passed in a bid to boost housebuilding and address concerns about affordability, and to make more individual and serviced plots available for those wanting to build their own homes.
As part of the Housing and Planning Act 2016, local authorities are required to help find land for those who have an interest in building their own home. This is done through the Right to Build register.
As of 1 April 2016, councils in England have had to keep a list of people or groups who would like to self build, and make enough serviced plots available to meet the demand (which can be ascertained by the number registering for the Right to Build).
The government published the most recent data on sign-ups in July 2021.
Where is the Right to Build Available?
The Right to Build is currently only open to those who want to build their own home in England.
There is currently no equivalent for Scotland and Northern Ireland. The Welsh government, however, launched a promising and innovative self build scheme entitled Self Build Wales in 2020 - an initiative to help break down barriers for custom and self builders, and to encourage more people to build their own home in the country.
The £210m scheme provides a package of financial support, access to land, and planning permission. It is reported by the Welsh government to be the first scheme of its kind.
NaCSBA is encouraging the Scottish Government to bring forward more opportunities for custom and self build.
In Northern Ireland, land supply has always been much less of an issue and 15% of all new homes are commissioned by their owners, compared with 8% or so across the UK.
How do I Register for the Right to Build?
Anyone who is interested in building their own home is invited to register via your local authority website, or on the Right to Build Portal (a site set up by the industry body National Custom and Self Build Association or NaCSBA).
Eligibility Criteria
To eligible to register, you need to be:
Be 18 years old of age or over
A British citizen, a national of an EEA State other than the UK, or a national of Switzerland
Seeking to acquire a plot to build a home which will be your sole or main residence
Some local authorities may have further criteria, and may also charge a fee to join their register.
When you register for the Right to Build you are asked whether you are applying as an individual or as part of a group. Those applying as a group will get the chance to take on what is known as a co-housing project or community self build. The council will try to provide a plot for the group to build several homes, or flats.
If you apply as an individual (or family unit), you must be looking for a plot to build your sole residence on (so it can't be used to build holiday homes or a buy-to-let). When you apply, the council may ask you to attend their offices with proof of identification.
Plot Type
The application forms also ask what kind of plot you had in mind and what kind of home you would like to build on it. However, what becomes available will largely depend on how many homes are required to be built in your area, and whether you are applying in an urban or rural setting. For example, urban applicants might find that the majority of plots are brownfield or infill and you should expect to see more custom build apartments or flats in these settings.
Many plots will be available as sites of several serviced plots (with utilities connected) so if you are determined to get an individual plot in rolling countryside, you might have to compromise on that dream and accept that you will be sharing it with a few neighbours.
Alternatively, you might want to subscribe to plotfinder.net to find opportunities in your area. The online service provides details of more than 15,000 plots and renovation opportunities nationally.
Also bear in mind that the local authority has no legal duty to find a plot to match your personal requirements: they are simply required to make available the right number of plots to meet demand in their area.
And remember that you can register in more than one local authority, or with a different one if you want to move areas when you self build.
Is the Right to Build Scheme Working?
A NaCSBA study from October 2020 revealed that one in three people are interested in building their own home.
Yet only an estimated 55,000 people signed up to Right to Build registers across England in 2020, and due to roughly 8,000 removals, the total sits at around 47,000.
"Good local authorities are ensuring the land is available for self and custom builder: some are freeing up council land, acquiring sites for self builders, working with developers to ensure a percentage of their large sites are available, or working with housing authorities," said Michael Holmes, chair of NaCSBA.
"We are pleased with this progress, but it is still massively underestimating the level of demand."
A Right to Build Task Force has been established by NaCSBA to support local authorities as they work to fulfil their Right to Build duties. And former housing secretary Robert Jenrick wrote to local authorities in England in October 2020 to ensure they consider self build both when providing land for building new homes and when making planning decisions.
Moreover, in August, MP Richard Bacon published a landmark report into scaling up the delivery of self build, and one of his six recommendations was to increase awareness of Right to Build.
Some Councils Have 'Manipulated Data'
Some councils have manipulated data on the Right to Build registers to reduce the amount of self build plots they must permission, Mr Bacon has previously said.
The MP for South Norfolk since 2001 and self build advocate was speaking on Have We Got Planning News For You in December 2020 where he discussed the problems that have affected the growth of the Right to Build registers since their launch in 2016.
Mr Bacon, a Right to Build ambassador, confirmed his awareness of some councils' activities regarding the registers. "Some councils are doing their best to manipulate the data on the register, and insisting on draconian conditions, such as 'you have to have a mortgage offer in place', or charging huge fees before letting you on the register," he said.
Right to Build is Under Review
On 30 October 2020, the government announced it would review Right to Build laws with the aim of supporting self and custom builders.
As part of the review, the government said it would examine how effectively current legislation is supporting self and custom build across England, including whether it needed to increase land available for this purpose.
In April 2021, the government published its Self and Custom Build Action Plan, which included the next steps for the review. These included a ministerial roundtable with the self build sector in April, which would be used to assess whether further reforms of Right to Build laws were needed.
The review into Right to Build was set to conclude this summer, but the findings have not yet been published.
The action plan also included further funding for the Right to Build Task Force to help local authorities, community groups and other organisations deliver self and custom build housing projects across the UK.
Right to Build Guidance Issued
In February 2021, the government announced new guidelines for its Planning Practice Guidance (previously updated in July 2017) related to custom and self build housing, including notable recommendations relating to the Right to Build registers.
These included:
Planning decisions should take into account demand from Right to Build registers data
Local authorities should consider the evidence of demand from the registers when carrying out housing functions, and when developing plans to dispose of land within their ownership
Councils should consider how local planning policies can be reviewed to ensure enough serviced plots are permissioned for custom and self builders.
The guidance also states that councils can only set fees to join the registers on a cost recovery basis. "Any fees charged must therefore be proportionate, reflect genuine costs incurred, should not act as a deterrent for people to be entered on or remain on the register and should not be viewed as a mechanism to manage demand."
NaCSBA welcomed the update, which it says "strengthens the guidance as a tool for shaping provision and implementation of the Right to Build", and "will support the delivery of custom and self build and ensure it factors as part of wider local housing strategies."
Andrew Baddeley-Chappell, CEO of NaCSBA, added: "The guidance helps to create a positive environment and temper some poor practice, and is a step in the right direction."
What If My Local Authority Doesn't Meet Its Duty under Right to Build?
Most councils have already embraced Right to Build, and having extra money from the government to carry out this work has helped. However, Michael Holmes said: "The response from local authorities is very inconsistent, with some local authorities being very proactive and some doing nothing at all."
If your local authority is one of the handful that is not taking on board their Right to Build duty, you need to put pressure on them to meet their legal obligations. Write to them and to your local MP and ask others who are interested in building their own home to do the same.
It is hoped that the Right to Build review will address these issues, and ensure all local authorities in England meet their obligations to self and custom builders going forward.
Help to Build Launched
In April 2021, the government officially announced Help to Build, a forthcoming equity loan scheme for self builders.
Whilst separate from Right to Build, the scheme "could be transformational" in increasing access to the self build market, according to Mr Bacon.
"This could open up a range of opportunities, it's the beginning of the moving of the tectonic plates. Most people, if you give them a choice, want to have a say in how their house is built. In a smoothly flowing market, this will happen. Hopefully we'll see that direction of travel speed up," he said in 2020.
The scheme was devised by NaCSBA in 2019, and will be supported by £150m over four years, helping self builders access lower deposit mortgages, freeing up capital to help them with build costs.
Homebuilding & Renovating Newsletter
Get the latest news, reviews and product advice straight to your inbox.
Thank you for signing up to Homebuilding. You will receive a verification email shortly.
There was a problem. Please refresh the page and try again.