Applying for Green Homes Grant Accreditation 'Unrealistic' for Average SME, Says Retrofit Specialists
By Jack Woodfield published
Time constraints and application costs to work on the Green Homes Grant are huge obstacles for smaller installers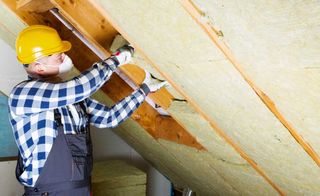 (Image credit: Getty Images)
An SME retrofit installer cannot work on the Green Homes Grant due to the 'onerous requirements' of becoming accredited, and this is having a major impact on their business.
Green Homes Grant tradespeople need to be registered with TrustMark and/or the Microgeneration Certification Scheme (MCS) to work on the scheme, which the government says will give households confidence that home improvements will be of the highest quality.
But sustainable building companies such as Urbane Eco, which install energy efficient measures, also have to complete an additional certification called PASS2030:2019, and the time required to complete the application, and the cost to apply, are significant obstacles.
We have put up many posts outlining WHY installers are not registering for #Trustmark As stated we are inundated with requests for quotes but unable to comply. The route to the Trustmark is via PAS2030 (2019)/PAS2035. Completely unrealistic for the average SME. #greenhomesgrantOctober 18, 2020
Chrissie Lloyd, director of Urbane Eco, told Homebuilding & Renovating: "We have tried to apply, but we can't participate due to the overly onerous requirements for installers."
As a result, Lloyd says the company is inundated with requests for quotes from Green Homes Grant applications, but they are unable to comply.
"We have not been able to take advantage of the Green Homes Grant and, in fact, it has had a detrimental effect on our order book, as everyone is waiting to get a voucher.
"We really hope that there will be a rethink about the way this is done. This is what we do and what we are passionate about, and we are devastated that we cannot help the many disappointed people who have contacted us, looking to get their installations done, reduce their bills and their carbon footprint."
Green Homes Grant - How to Get Accreditation
Lloyd says that applying for PAS2030:2019 to obtain TrustMark accreditation is "completely unrealistic" for the average SME installer.
Urbane Eco previously attained the previous version of PAS2030 accreditation (which was required to work on the Green Deal), and Lloyd, who comes from a systems analysis background, said it was not only difficult and time-consuming to complete, but expensive too.
Now, PAS2030:2019 requires installers to gain a high-level qualification: the OCN Level 5 Diploma in Domestic Retrofit Coordination and Risk Management. And there are several roles that retrofit companies need to fill for accreditation to be granted.
Each retrofit team needs to fill five Diploma 5 level roles before working on the Green Homes Grant. These roles comprise Retrofit Advisor, Assessor, Coordinator, Designer and Evaluator.
Lloyd says that creating, training and filling these roles in a short space of time is impractical for the average SME, even if they had the staff, time and money to do so.
Lloyd said: "This involves many hours of online training and two-day boot camps in something our staff are already doing every day, and are competent in. Not to mention it costs over £1k to obtain, which again is not feasible for many SMEs.
"These roles all need to be in place, as well as huge amounts of paperwork such as highly detailed method statements, guarantees, procedures and risk assessments, before an installer can even begin an installation. This all takes a huge amount of time."
Is There An Alternative?
The government recently introduced a Green Homes Grant training competition to train organisations in England and create a workforce of tradespeople that can deliver home improvements on the scheme. This closed on 14 October, and the government anticipates that the funding could have resulted in up to 5,000 training opportunities.
Otherwise, without accreditation, there is no other alternative for SME companies. Urbane Eco has written to its local MP asking whether experienced SME retrofitters can apply in another way, but has not received a response. And the implications of being locked out of the scheme are severe.
"As to how it has affected us - despite being one of the most established installers in Bristol for safe, natural materials, we are currently locked out of the scheme because of these issues. Our order book has all but disappeared," said Lloyd.
The Federation of Master Builders has issued advice for tradespeople to become accredited, and is exploring ways of providing training and support through the process.
Jack has worked in journalism for 11 years and is the News Editor for Homebuilding & Renovating, a role he has had since 2019. He strives to break the most relevant and beneficial stories for self builders, extenders and renovators, including the latest news on the construction materials shortage and hydrogen heating. In 2021 he appeared on BBC's The World at One to discuss the government's planning reforms.
He enjoys testing new tools and gadgets, and having bought his first home in 2013, he has renovated every room and recently finished a garden renovation.
Homebuilding & Renovating Newsletter
Get the latest news, reviews and product advice straight to your inbox.
Thank you for signing up to Homebuilding. You will receive a verification email shortly.
There was a problem. Please refresh the page and try again.