5 Incredible Homes Built Using Natural Materials
By Jack Woodfield published
From a zero carbon timber frame to houses made from cork and straw bale, these impressive builds are a showcase for natural building materials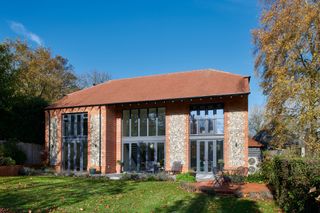 (Image credit: Alistair Nicholls)
As modern methods of construction develop, homebuilders are discovering new, inventive ways of building homes that are environmentally-friendly - and this can provide inspiration for budding self builders.
The rise of eco homes is inevitable in the push towards net zero, with natural building materials helping to enhance a home's energy efficiency and lower homeowners' heating bills.
In a recent Homebuilding & Renovating poll, 46% of respondents said that using natural building materials would be very important on a self build project.
These are some amazing examples of homes which have been (or will be) built that utilise natural building materials to great effect.
1. The Zero Carbon COP26 House
The COP26 House is an impressive zero carbon timber frame building in Glasgow that was built for the UN climate summit in November.
Designed by Peter Smith of Roderick James Architects, it has a reduced reliance on concrete and steel, and was built mainly using locally-sourced timber and natural building materials. Its highly efficient levels of insulation means it would only require heating in the coldest times of the year, provided by infrared heating, a low-cost, energy-efficient electric heating system.
Another impressive element of the house is that it was designed so it could be completely dismantled and recycled, which is what will happen this year, before being rebuilt as part of a development of affordable homes. Learn more about the COP26 House.
2. The Cork House
As the title suggests, The Cork House is made almost entirely from cork. The build was constructed entirely by hand from expanded cork blocks, made using cork stopper waste - and all of its components can be recycled or reused.
Remarkly, the structure will emit almost no carbon over its lifetime, and its eco credentials helped it finish runner-up for the RIBA Stirling Prize in 2019.
It was designed by Mathew Barnett Howland of CSK Architects, Dido Milne and Oliver Wilton, in partnership with The Bartlett School of Architecture UCL.
3. A Straw Bale Self Build
This straw bale and timber frame self build is a showcase not just in lowering build costs - the whole house cost £67,000 - but also building a home almost entirely on your own.
Justin and Linda Tyers reduced labour costs by laying the concrete slab foundations, installing the timber frame, slating the roof, building the straw bale walls and plastering.
They sourced the straw bale - a natural, strong and thermally efficient material - from a local farmer for £1,000, and found the timber from a nearby sawmill. Read how it was built.
4. A Barn Built Using Flint Cladding
DIY self builders Melanie and Alan Williams designed a barn-style family home that is all the more impressive because Alan did the flint and brickwork himself.
The home was built with flint, red brick and black cladding. Upon choosing a Flemish bond for the design, Alan talked to a bricklayer who explained how Alan could do the flint himself, then spoke to a conservation architect who recommended building with a mortar mix of lime, cement and sharp sand.
"The flint was expensive," Alan said. "I bought three or four bags of knapped flint at £600 a bag. I later found a farmer's field nearby full of flint — if only I'd known!" Incredibly, the entire build cost came in at just £150,000.
5. A Cacao Eco Village
An eco village will be built this year in Ecuador using repurposed 3D-printed waste from cacao farming.
Italian architect Valentino Gareri is behind the design, which is being carried out by chocolate-maker Muze, the Avanti association and founded by Avanti founder Pozo.
Avanti says that a cacao-processing plant will be set up in the village of Pedernales to "produce new ethical cacao-based products that are highly traceable, offsetting carbon footprint".
Each house will be built specifically for local farmers and include features such as a roof that collects rainwater and natural ventilation.
Jack has worked in journalism for 11 years and is the News Editor for Homebuilding & Renovating, a role he has had since 2019. He strives to break the most relevant and beneficial stories for self builders, extenders and renovators, including the latest news on the construction materials shortage and hydrogen heating. In 2021 he appeared on BBC's The World at One to discuss the government's planning reforms.
He enjoys testing new tools and gadgets, and having bought his first home in 2013, he has renovated every room and recently finished a garden renovation.
Homebuilding & Renovating Newsletter
Get the latest news, reviews and product advice straight to your inbox.
Thank you for signing up to Homebuilding. You will receive a verification email shortly.
There was a problem. Please refresh the page and try again.