'I Saved 40% on my Energy Bills After Installing Secondary Glazing'
By Jack Woodfield published
A Manchester homeowner saw her monthly electricity bill drop from £450 to £230 after installing secondary glazed panels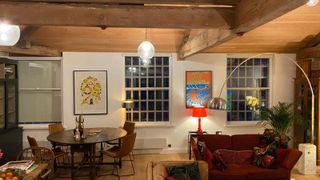 (Image credit: Granada Glazing)
A homeowner who replaced single glazed windows with secondary glazing says her energy bills fell by around 40%.
Soaring energy price rises could see millions of households pay an extra £800 per year when the Energy Price Cap increases in October, but improving your home's thermal efficiency can help to keep costs down.
Lindsey Gordon had 11 secondary glazed panels fitted in her three-bedroom apartment in Manchester in February 2021, with the intention to primarily reduce external noise. She had previously paid around £450 a month for her electricity, but this fell to £230 in March.
"We had a whole year where we couldn't understand why the bills were so big. I reckon it's a 40% saving overall," she said. "Although bills are going up, we're saving over £200 a month."
Lindsey moved into the all-electric duplex flat at Murrays' Mills, Ancoats, central Manchester, in November 2019, and says she noticed an immediate difference in heat retention and noise reduction, with rooms remaining warmer for longer after the heating is turned off.
"Secondary glazing is the best investment we've made, I think, on this property to date. It's made a huge difference, saved us money and the flat is now silent and warm," added Lindsey.
'A Very Wise Investment'
Lindsey says the installation of Granada Glazing (opens in new tab) secondary glazing was a "very wise investment", and for the right property secondary glazing could be the perfect way to make your windows more energy efficient.
Secondary glazing involves the installation of an additional window behind an existing window and is suitable for any home that has less energy efficient windows, often single glazed, as well as for homes in conservation areas.
It differs from double glazing which involves installing a new window comprising two panels of glass which trap air to reduce heat loss.
Secondary glazing tends to be cheaper than double glazing, but it is not as efficient. "A double glazed window is around twice as effective as secondary glazing," says energy expert and Homebuilding & Renovating contributor Tim Pullen. "However, these levels are based on averages, and do not take into account efficiency of seals, frames and other elements."
For additional ways to lower your energy bills, try this £3 energy-saving hack, discover why heat loss in a house happens, and learn the long-term cost benefits of installing underlay.
Jack has worked in journalism for 11 years and is the News Editor for Homebuilding & Renovating, a role he has had since 2019. He strives to break the most relevant and beneficial stories for self builders, extenders and renovators, including the latest news on the construction materials shortage and hydrogen heating. In 2021 he appeared on BBC's The World at One to discuss the government's planning reforms.
He enjoys testing new tools and gadgets, and having bought his first home in 2013, he has renovated every room and recently finished a garden renovation.
Homebuilding & Renovating Newsletter
Get the latest news, reviews and product advice straight to your inbox.
Thank you for signing up to Homebuilding. You will receive a verification email shortly.
There was a problem. Please refresh the page and try again.