Hydrogen Boilers Will Transform Our Heating Systems, Says Energy Expert
Hydrogen boilers are no longer a hypothetical heating solution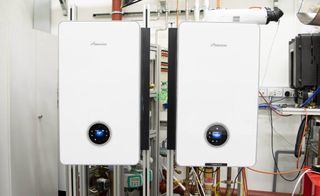 (Image credit: Worcester Bosch)
Hydrogen boiler technology could represent the future of smart heating, according to energy expert David Hilton.
Boilers were snubbed as one of the eligible improvements in the Green Homes Grant, with the government prioritising the installation of insulation and heat pumps to help make homes more energy efficient.
But boilers are not the problem, rather it is the fuel we use that is dirty, says Hilton, who insists that we shouldn't be quick to throw out our old boilers just yet. 
A New Heating Solution
Hydrogen is being widely explored as a solution to the UK's heating problems. This is because the main by-product of burning hydrogen is water, a carbon-free fuel source.
Hilton, director of Heat and Energy Ltd and a contributor to Homebuilding & Renovating, credits the launches of hydrogen boiler prototypes from Baxi and Worcester Bosch earlier this year as pivotal moments. 
Both boilers can run on 100% hydrogen gas as well as natural gas, which means that transferring to hydrogen gas in the future will be easy for those with a 'hydrogen-ready' boiler because it can convert to hydrogen without the need for an entirely new heating system. 
Both boilers are currently undergoing extensive trials, and their manufacturers are calling for all boilers installed from 2025 onwards to be hydrogen-ready.
"Hydrogen is no longer a hypothetical solution, it is a reality," says Hilton. "With 85% of UK homes on the gas grid, changing away from it (to an electrical heating solution) presents a near-impossible infrastructure, resource and feasibility challenge, and therefore the path of least resistance certainly seems to be aiming towards a hydrogen future."
Industry is Making Progress
The transition to injecting hydrogen into the gas grid is picking up steam, typified by the Gas Goes Green programme launching in June by a consortium of Britain's major gas network providers, which is bidding to see the UK create the world's first zero carbon gas network. 
Furthermore, National Grid announced plans last month for a £10 million trial project to test if hydrogen can heat homes in the UK and reduce carbon dioxide emissions from industry. And HyDeploy in Keele, Staffordshire became the first pilot project to inject zero carbon hydrogen into a gas network to heat homes earlier this year. 
The green gas mission has the backing of the government too. A £13m funding grant was awarded to a major project called Hynet earlier this year to develop a new, low-carbon hydrogen production plant. And chancellor Rishi Sunak allocated £100 in the spring budget for the years 2022 and 2023 to invest into renewable heating systems.
"As more hydrogen gets fed into the gas grid, the boilers will be able to function seamlessly," says Hilton. "And when the whole grid is 100% hydrogen the boilers will be ready. This will result in a simple answer to not discarding the whole heating system in order to achieve low- and zero-carbon heating solutions.
"These 'hydrogen ready' boilers are now being studied in extensive field trials which will pave the way for the step change away from carbon-intense, methane-based gas to effectively carbon-free hydrogen." 
(MORE: Gas Boilers Key to Decarbonisation Despite Green Homes Grant Snub, Says Expert)
Homebuilding & Renovating Newsletter
Get the latest news, expert advice and product inspiration straight to your inbox.
Thank you for signing up to Homebuilding. You will receive a verification email shortly.
There was a problem. Please refresh the page and try again.