Homebuilding Insight: More Than Half of Homeowners Planning Home Improvements
By Jack Woodfield , Sarah Handley published
More of us are making home improvements to better suit our needs and to reflect our changing requirements after lockdown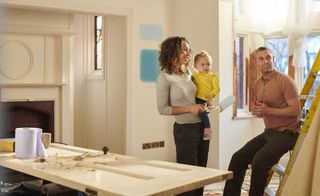 (Image credit: Getty Images)
More than half of homeowners are currently planning or undertaking a home improvement project, Homebuilding & Renovating research shows.
In total, 55% of homeowners confirmed they plan to improve their home, based on findings from the Homebuilding & Renovating Reader Survey 2020.
Following a turbulent spring spent in lockdown due to the coronavirus pandemic, building projects across the nation were put on hold. But with that extra time spent at home, many homeowners have realised that their current property doesn't meet their needs. It could be that space pressures, caused by whole families being at home for long periods of time, have highlighted the need for better use of existing square footage or the addition of more, or that there is now a requirement for a functional home office.
How Much Are Homeowners Planning to Spend on Home Improvements?
According to the survey results, just under 5% of homeowners were sticking to a tight budget of under £1,000 for their home improvements, whilst almost 19% (the majority) were planning to spend £1,000-10,000 on the renovation of a particular room, rather than a whole house, or some internal remodelling work.
The 11% who were aiming to spend £10,000-30,000 were planning more significant improvements, such as a single storey extension, more extensive remodelling or a loft conversion.
Just under 13% of respondents planning to spend £30,000-50,000 were mostly looking to renovate a whole house or add space with either a single or two storey extension.
At the higher end of the budget scale, 14% of homeowners were planning on spending £100,000-600,000 while significantly extending or renovating a house.
Self Build is Popular Too
Significant home improvements don't always make financial sense, and it can be more economical to buy a new house or consider building your own.
Just over 15% of survey respondents said that they planned to self build their own home. By doing so, those homeowners cannot only design a home that is exactly suited to their needs and preferences, but can also save up to 30% on the market value of the property. Self building also provides an opportunity to incorporate some great energy-saving measures that can substantially reduce energy bills in the long term.
Sarah is Web Editor of homebuilding.co.uk. She began her career more than a decade ago, working on the editorial team of Public Sector Building magazine, before joining the wider Homebuilding & Renovating team as Social Media Editor in 2012. Since purchasing her first house in 2015, Sarah has been adding to the ever-increasing list of home improvements she needs to make; including extending over the garage, resurfacing the driveway, replacing existing flooring and revamping the kitchen. Fortunately, in her eight years on Team Homebuilding, including three as web editor, she is not short on design inspiration or top tips to tackle or project manage these tasks herself.
Homebuilding & Renovating Newsletter
Get the latest news, reviews and product advice straight to your inbox.
Thank you for signing up to Homebuilding. You will receive a verification email shortly.
There was a problem. Please refresh the page and try again.