Green Homes Grant Could be Oversubscribed, New Poll Finds
Actual demand for the Green Homes Grant could be more than 10 times the number of grants available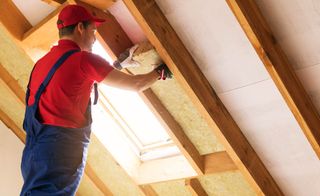 (Image credit: Getty Images)
The Green Homes Grant could be oversubscribed, with more than half of homeowners in England interested in the scheme, new research suggests. 
The Green Homes Grant is a £2bn government scheme which launched on Wednesday, enabling homeowners to apply for vouchers up to £5,000 to make energy-efficient home improvements, such as the installation of insulation, double glazing and heat pumps.
But a YouGov poll of 1,400 people, commissioned by the Energy and Climate Intelligence Unit (ECIU), has revealed 62% are considering applying for the vouchers, which could mean demand would outstrip the government's allotted supply. 
The government anticipates that around 650,000 homes in England will be covered by the grant (which isn't available in Wales, Scotland and Northern Ireland), but if the poll reflects actual demand, then around six million householders will be applying for the scheme, more than 10 times the number of grants available.
Among respondents considered to have poor energy efficiency - those with two or fewer of the eligible home improvements on the scheme - 66% were very or fairly interested in the grant. 
Jess Ralston, analyst at the ECIU, commented: "With England's housing stock in such a bad way – over half (52%) are below the government's Energy Performance Certificate (EPC) band C target – there's lots of work to be done, so it's not surprising the Green Homes Grant looks to be popular amongst the public."
Although, more than half of respondents who own or rent homes with poor energy efficiency had not heard of the scheme. 
(MORE: Green Homes Grant 'not publicised enough')
Could the Green Homes Grant be Extended?
One way for the government to ensure more homeowners benefit would be to extend the scheme. Currently, all vouchers must be redeemed and all work must be completed by 31 March, and calls to extend the end date have been wide-reaching. 
The Confederation of British Industry (CBI) has stated its desire for the scheme to be extended to March 2022, and a survey of MCS-accredited tradespeople revealed that 44% think the scheme should be extended by 18 months or longer. 
Commenting on the poll finding, Peter Smith, director of policy and research at the fuel poverty charity National Energy Action (NEA), urged the government to invest further in the scheme.
"This additional investment will be vital to ensure the momentum of the new Green Homes Grant is sustained and we continue to improve the UK's building stock otherwise it will remain notoriously inefficient," he said.
Homebuilding & Renovating Newsletter
Get the latest news, expert advice and product inspiration straight to your inbox.
Thank you for signing up to Homebuilding. You will receive a verification email shortly.
There was a problem. Please refresh the page and try again.