How I lost nearly £10,000 to a cowboy roofer
Julia Champion tells of her ordeal after losing thousands of pounds to a workman who said he was a roofer ⁠— but then bodged the job so badly it made the leak worse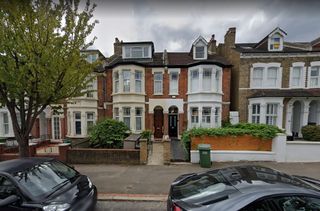 (Image credit: Google Street View)
Anyone can call themselves a builder or a roofer in the UK ⁠— a fact, Julia Champion wishes she had paid more attention to when choosing who to fix her leaking roof at her Victorian semi-detached home in Bromley, London.
Like many homeowners, she found a roofer through a website for tradespeople. The website claimed the roofing company was verified and it had plenty of good reviews so she was comfortable with her choice — something she now regrets.
"I stupidly thought that when you go through these portals, these people have been verified and the reviews have been checked and they are genuine. Now I find out, there's no regulation for roofers," Julia, who has two daughters, explained to Homebuilding.co.uk.
Julia and her husband had been putting off getting the roof fixed, as she knew it was going to be an expensive job but as the damp patch in her kitchen started getting bigger, she eventually knew she had to take action to put it right.
The issue with the roof
"We had a small damp patch in the kitchen for quite a long time, a few months, maybe a year and it was causing the wall to go brown and have damp damage. The paint was bubbling up," she said. Then on the day the roofer was due to visit the property, the plaster on the ceiling of her bedroom gave way, remarkably not hitting Julia who was in bed at the time," begins Julia.
"Out of the blue, my bedroom ceiling collapsed. It was like an earthquake – I heard a rumbling and a great big patch of ceiling collapsed," Julia explained. "It fell at the foot of the bed about quarter to six in the morning, luckily it didn't fall on my head. Gave me the fright of my life, I was awake but only just."
It was enough to encourage her into pressing ahead with the work. The roofer quoted her £9,800, a quote that included fixing the roof, £2,000 for scaffolding as well as fixing the bedroom ceiling.
After giving the quote, he warned her against going with cheaper roofers as the roof needed doing properly. "When I said £9,800 is quite a lot, he said to me: 'well if you want to get cowboys you'll get people for less but you won't get a quality job'."
Believing she was choosing the best roofer for the job, Julia agreed and on his request, paid him the full £9,800 in advance.
A huge mistake
Julia now recognises that paying all the money upfront before the roofer even started work, was a terrible decision.
"He didn't give us a scope of work, he didn't give us a contract. He didn't specify what he was going to do. All he gave us was an invoice to pay. I'm quite trusting in nature, you might say I was very naive but I didn't expect someone to be such a cowboy," Julia explained.
Unlike some cowboy builders, her roofer did actually turn up to "work" on her roof covering, but Julia almost wishes that he didn't. She said that after spending only a few hours working on it, he bodged the job so badly, he made the problem worse.
"He didn't rectify anything. When he said it was finished, and the scaffolding was taken down, we just believed them stupidly and then within two days of him leaving, it was heavily raining and loads and loads of water was pouring through the kitchen and bedroom ceiling," Julia explained.
It was only when a second roofer with a drone came to give her a quote to fix the poor workmanship, that she understood the extent of what the first roofer had done.
"He'd patched it up, badly. He nailed [above the bay window] which made more holes in the roof for the rain to come through.
"He left great big holes in [my tile] roof. The flashing had come off and he hadn't stuck it down. There were tiles missing. He broke our Velux window, he painted some kind of grey goo [on the flat part of the roof]... that did nothing. He didn't find the source of the leak. I can't really work out what he did except cause more damage.
"And to cap it all, he left a dead rat in the middle of our daughter's bedroom floor that he'd found in the loft. He didn't tell us. No apology or explanation, didn't tell me about it so my 13-year-old daughter walked in and got the shock of her life."
When Julia contacted the roofer to say the roof was still leaking, she was asked for more money. "When I complained, he said to pay him another £2,000 for scaffolding for him to come and rectify the work. Finally I said: 'no, I'm not going to throw good money after bad'. Now I've taken out a county court judgement against him."
Turning detective
Shortly after, Julia started looking into the roofer herself and realised all the telltale signs of a dodgy workman were there.
"What he gives as his company address isn't even a building, it's a market stall site. And he's spelt it wrong. He goes under various different names as when one company gets shut down he just starts up another one. And they all list different jobs. In one he's a paver, in another he's a tarmacker. He says he clears guttering; all these companies do different things."
She has now complained to Trading Standards, who she says are investigating the roofer and his companies.
Julia ended up spending another £5,000 on another roofer to fix the bodge job; she asked friends and neighbours on her social media for their personal recommendations this time.
"They put new tiles on the holes, they stuck down the flashing. They took before and after photographs so we could see what they'd done. They used scaffolding but it was much cheaper."
Luckily, Julia now has a roof that doesn't leak but, in her words, being "too trusting" lost her thousands of pounds, something she hopes by telling her story, others will be able to avoid.
Why isn't there licensing for roofers in the UK?
Unlike other trades such as plumbers and electricians, roofers and builders do not require any qualifications or licenses to practice.
However, to be able to sign off roofing work for building regulations roofers can sign up to the National Federation of Roofing Contractors (NFRC) Competent Roofer scheme. This can be a good place to start when looking for a roofing contractor.
A cowboy builders law was proposed by the Federation of Master Builders, but last year ministers decided not to pursue the compulsory licensing scheme. The legislation would have enabled consumers to be able to claim compensation as well as making it more difficult for cowboy builders and roofers to operate.
Get the Homebuilding & Renovating Newsletter
Bring your dream home to life with expert advice, how-to guides and design inspiration, direct to your inbox.
Amy spent over a decade in London editing and writing for The Daily Telegraph, MailOnline, and Metro.co.uk before moving to East Anglia where she began renovating a period property in rural Suffolk. During this time she also did some TV work at ITV Anglia and CBS as well as freelancing for Yahoo, AOL, ESPN and The Mirror. When the pandemic hit she switched to full-time building work on her renovation and spent nearly two years focusing solely on that. She's taken a hands-on DIY approach to the project, knocking down walls, restoring oak beams and laying slabs with the help of family members to save costs. She has largely focused on using natural materials, such as limestone, oak and sisal carpet, to put character back into the property that was largely removed during the eighties. The project has extended into the garden too, with the cottage's exterior completely re-landscaped with a digger and a new driveway added. She has dealt with de-listing a property as well as handling land disputes and conveyancing administration.