12-Year High in Mortgage Applications Leaves Banks Struggling
By Jack Woodfield published
Some lenders have increased their mortgage rates, or pulled certain products, which is particularly affecting first-time buyers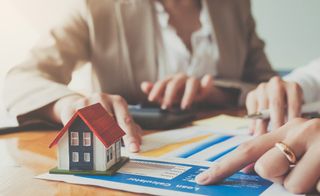 (Image credit: getty images)
Banks are struggling to cope with demand for mortgages following the housing market boom over the summer, experts report.
Halifax has announced that mortgage applications are now at a 12-year high, with competition to access deals increasing among first-time buyers, home movers and those looking to buy before renovating a house.
And this upturn in market activity since the easing of lockdown restrictions, coupled with the introduction of the stamp duty holiday, has led to some lenders - Halifax included - increasing rates to manage the demand.
Mortgage Rates on the Rise
On Friday, Halifax increased its rates on a range of products, including first-time buyer mortgages. One of the bank's two-year fixed-rate deals has increased from a rate of 2.5% to 3.11%, and this will particularly affect those with smaller deposits.
A Halifax spokesman said the lender was committed to offering borrowers a wide choice of mortgages, but this is evidence that the market is changing for prospective homeowners.
Pent-up demand has also seen Nationwide Building Society and Natwest recently increase the rates on some of their fixed-rate loans in recent weeks, from between 5% and 10%.
(MORE: Major self build mortgage updates)
Banks Applying Caution
The state of the UK economy amid the ongoing recession has led to banks tightening their lending criteria and pulling their riskiest mortgage products.
Around 32% of mortgage applications have been refused since the stamp duty holiday was announced, and tighter lending restrictions were imposed on furloughed workers in the ummer.
At the beginning of the year there were 386 95% mortgage products available, but on 1 October there were just 12, according to Moneyfacts Group.
Ian Gordon, an analyst at Investec, explains that reacting to financial issues brought on by the Covid-19 pandemic, such as customers requesting mortgage payment holidays, is also playing a part in rising rates.
Gordon told The Times: "To put it bluntly, banks have to claw back their revenues from somewhere. They have been so swamped with demand from home movers and first-time buyers that they have been able to price up across the board."
Mortgage Problems for First-Time Buyers
There is industry concern that the majority of rate rises have targeted small-deposit borrowers, who banks believe carry a higher lending risk. This is making it harder for first-time buyers to climb onto the property ladder.
"The problem for [first-time buyers] is they're excluded from the market, they just don't count in effect towards housing market activity or house prices," said Neal Hudson, a housing analyst at BuiltPlace.
In contrast, wealthier buyers are increasingly active in the market, buoyed by the stamp duty holiday and pent-up demand during lockdown. Sales of properties over £500,000 (the first £500,000 of all property sales from the tax) have surged in the third quarter of 2020 compared to 2019.
The market is changing, according to Richard Cardwell, senior valuer at Walton & Allen estate agents, and this, he says, is "bad news for first-time buyers".
In order to access the best deals, doing additional mortgage research is essential, according to Hanley Economic Building Society, especially for those with smaller deposits.
Jack has worked in journalism for 11 years and is the News Editor for Homebuilding & Renovating, a role he has had since 2019. He strives to break the most relevant and beneficial stories for self builders, extenders and renovators, including the latest news on the construction materials shortage and hydrogen heating. In 2021 he appeared on BBC's The World at One to discuss the government's planning reforms.
He enjoys testing new tools and gadgets, and having bought his first home in 2013, he has renovated every room and recently finished a garden renovation.
Homebuilding & Renovating Newsletter
Get the latest news, reviews and product advice straight to your inbox.
Thank you for signing up to Homebuilding. You will receive a verification email shortly.
There was a problem. Please refresh the page and try again.