Self Build Mortgages News: Major Updates From Dudley and The Melton Building Societies
By Jack Woodfield published
Two building societies commit to improving their self build mortgage products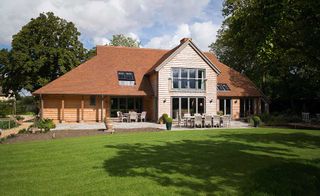 (Image credit: Jeremy Phillips)
Two major building societies have announced self build mortgage updates to increase the availability and accessibility of products to self builders.
Self build mortgages differ from traditional mortgages: where a traditional mortgage will release funds in one lump sum upon completion, a self build mortgage releases funds at key stages throughout the build project.
Dudley Launches New Self Build Mortgages
Dudley Building Society has launched a new set of self build mortgages, which are now available at up to 75% loan-to-value (LTV) at end valuation.
Dudley re-entered the lending marked last month, and has pinpointed a growing demand for self build mortgages. Sam Ward, commercial director at Dudley, said: "It is very exciting to see these products emerging. The self build sector is a growing area where we believe we can provide our broker partners with a well thought out and well-priced proposition."
The products have a maximum term of 35 years, and are discounted from Dudley's Standard Variate Rate (SVR) for the duration. Rates will vary depending on whether payments are made in advance or not.
If an applicant requires funding before each stage of a self build then the rate will be 4.74%, whereas when an applicant can fund each stage before drawing down the payment in arrears the rate will be 4.49%.
Dudley is also offering further discounts for self built eco homes: rates for advance and arrears eco products are 4.34% and 4.09%, respectively,
"We are particularly pleased to have been able to build in an advance drawdown option to our self build products as well as offering our eco build option at a special preferential rate," added Ward.
"With one in seven people desiring to build their own home, we are confident that demand for self build funding can only increase and we are delighted to be able to offer our introducers this facility for their customers."
(MORE: Use our free Build Cost Calculator for an accurate estimate of how much your dream home will cost to build)
Melton Reduces Self Build Mortgage Rates
In a bid to make its self build mortgages more accessible, The Melton Building Society has cut rates on its standard, and eco self build mortgages, by 50 basis points (a unit of measurement for interest rates).
For a standard self build mortgage, rates now start at 3.49% for a three-year product at up to 50% LTV, with a £500 fee. Eco self build mortgages are available at a three-year discount variable rate of 3.79 per cent up to 75%t LTV, also with a £500 fee.
Dan Atkinson, head of sales and marketing at Melton, said: "Self build plays a key role in increasing housing supply and we are committed to making this type of finance more accessible.
"Self build mortgages can seem a little daunting, however, the Melton's flexible criteria and attention to customers' specific circumstances means we are able to consider individual cases carefully and support both brokers and clients through the process."
Jack has worked in journalism for 11 years and is the News Editor for Homebuilding & Renovating, a role he has had since 2019. He strives to break the most relevant and beneficial stories for self builders, extenders and renovators, including the latest news on the construction materials shortage and hydrogen heating. In 2021 he appeared on BBC's The World at One to discuss the government's planning reforms.
He enjoys testing new tools and gadgets, and having bought his first home in 2013, he has renovated every room and recently finished a garden renovation.
Homebuilding & Renovating Newsletter
Get the latest news, reviews and product advice straight to your inbox.
Thank you for signing up to Homebuilding. You will receive a verification email shortly.
There was a problem. Please refresh the page and try again.