Mortgage News: Doing Your Research is Pivotal to Access Deals, Building Society Warns
Obtaining mortgages has become challenging amid the pandemic. One mortgage expert offers their advice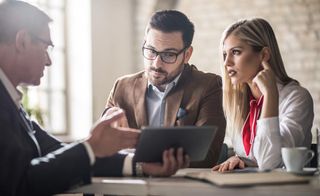 (Image credit: Getty Images)
Prospective homebuyers could find it harder to access mortgages in the short-term, and doing your research has never been so important to give yourself the best chance of mortgage success, Hanley Economic Building Society has warned.
The Covid-19 pandemic and subsequent economic downturn has seen lenders opt for caution in recent months, which is understandable considering the housing market freeze during lockdown.
Mortgages are now particularly hard to access, with 32% of mortgage applications refused since the stamp duty holiday was announced, and tighter lending restrictions being imposed on furloughed workers.
And with the UK entering recession in August, Hanley Economic Building Society says economic uncertainty will continue to affect the accessibility of mortgages in the coming months.
Anna Whitehead, a mortgage adviser at Hanley, discusses the current situation facing lenders, and how applicants can maximise their chances of mortgage success.
What can prospective homebuyers expect when applying for mortgages this year?
"A lack of availability is probably what to expect. Many lenders have backed away from offering higher loan-to-value (LTV) mortgages so first-time buyers may struggle to get on to the ladder in the first place, regardless of the stamp duty holiday. This then has a direct impact on those hoping to move home, as with fewer first-time buyers, those moving up the ladder or downsizing have a smaller pool of potential buyers."
How has the stamp duty holiday affected mortgage applications?
"This depends on each lender, but in the wider mortgage market in general it would appear that approximately 30% of prospective purchasers have had their mortgage declined since the introduction of the stamp duty holiday. This could be for various reasons and complications with their applications but it would be naive to suggest it wasn't part of the reason.
"Lenders are generally more cautious these days, so applicants who have acquired more debt or have seen their incomes reduced due to Covid-19 and the subsequent lockdown, or those who took advantage of mortgage holidays, could now have to work harder to gain a mortgage."
How can prospective homebuyers reduce the risk of rejection?
"Do your research – that is the biggest piece of advice we can offer and it's so simple. Research everything from what type of build you want to who your mortgage provider will be and speak to as many people as possible who are experts in the area."
How have self build and renovation mortgages been affected this year?
"Most projects were forced to be put on hold during lockdown and it had an effect much wider than just the financing of a build. Tradespeople were unable to work or were furloughed, building suppliers for materials obviously shut for a long period and although these materials are slowly becoming available again – there is a lot of work to catch up on. Every link in the chain of a self build project has become affected by the pandemic so mortgage applications did slow down, simply because projects were paused or didn't start.
"Now, we are seeing projects start up again and our applications are moving. Currently, applying for a mortgage is still similar to before March, but as the pandemic takes a bigger grip on our economy the future of applying for a mortgage for self build is uncertain"
(MORE: Self Build Mortgages)
Jack is News Editor of Homebuilding & Renovating and strives to break the most relevant and beneficial stories for self builders and renovators. Having bought his first home in 2013, he and his wife have renovated almost every room and recently finished a garden renovation. Jack reports on all of the latest news that could affect your project.
Homebuilding & Renovating Newsletter
Get the latest news, reviews and product advice straight to your inbox.
Thank you for signing up to Homebuilding. You will receive a verification email shortly.
There was a problem. Please refresh the page and try again.